News
Volkswagen
the compact 204 hp electric sports car almost traces price with the Volkswagen ID.3
And it came: CUPRA Born, what is the first 100% electric car of the sports firm, disembarks in the Spanish market. At the moment in a single mechanical variant of 204 CV, two finishes, and starting from a price from 38.610 euros no associated discounts.
The requests to get the services of this new offspring of CUPRA they are already open in Spain. Not surprisingly, this zero-emission compact has already started production at the Zwickau plant (Germany), which now only houses electric models and where the Volkswagen ID.3 e is also manufactured. ID.4.
In this marketing start it is offered with the standard equipment, in addition to the launch variant Launch Edition, More complete. The range will be completed later, for example with the arrival of the e-Boost package, which will increase its delivery to 231 CV and which will be launched at the end of this 2021.
In price the CUPRA Born is not far from the Volkswagen ID.3: in the most affordable Pro version and with the same mechanics (204 hp and 58 kWh battery) the German starts at 38,860 euros. In other words, El Born is slightly cheaper.
The CUPRA Born credentials
The CUPRA Born is therefore launched in Spain with its most powerful option, which equips a propeller of 150 kW (204 CV) y 310 Nm, drawing its energy from a lithium-ion battery 58 kWh capacity, which gives it an autonomy of 424 km (WLTP).
With these ingredients, and in this version, this electric compact signs a maximum speed of 160 km/h (electronically limited) and acceleration from standstill to 100 km / h of 7.3 seconds or up to 50 km / h in 2.9 seconds.
Thus, what will be the access CUPRA Born remains to be arrived, with a 110 kW (150 hp) motor and 45 kWh battery, which will be cheaper. Although we will have to wait to know its price, in the provisionals that were available in the configurator this summer was set at about 31,600 euros.
And given that the final price with the 204 hp engine is about 1,900 euros more expensive than the provisional also published, it is understood that rwill wave the 33,000 euros.
Among the credentials of the CUPRA Born we find a rweight delivery 50:50 and elements at the service of dynamics: progressive steering, sports suspension or dynamic control of DCC chassis, which allows its behavior to be varied depending on the driving mode: Range, Comfort, Individual or CUPRA.
On the other hand, the 58 kWh battery supports both alternating current (AC) and direct current (DC) charges, and promises to go from 5% to 80% in 35 minutes plugged into a 120 kW outlet.
What equips the CUPRA electric compact?
Among the standard equipment of the CUPRA Born We find for example Full LED headlights, 18-inch wheels, electric and heated side mirrors, aluminum sports pedalboard, the 5.3-inch Digital Cockpit instrumentation or heated CUPRA sports steering wheel with haptic feedback.
However, the Launch Edition add more benefits without overpricing such as Head-Up Display with augmented reality or a wide range of driving assistance systems (in the standard we only find the fatigue detector).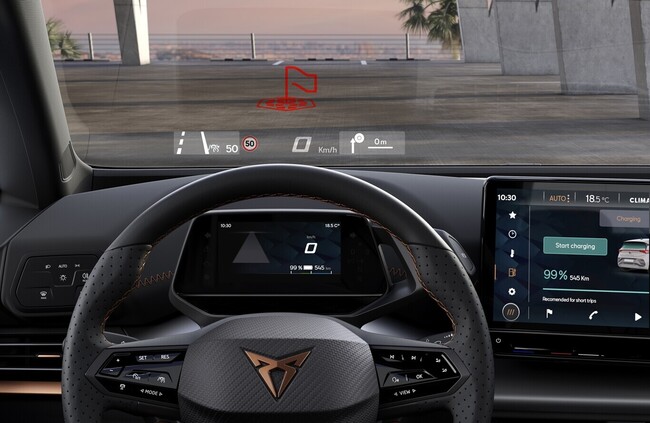 These include adaptive and predictive cruise control (ACC) with travel assistant, automatic emergency braking with pedestrian detection, the active lane keeping system or the traffic sign recognition system.
In addition, the CUPRA Born is accompanied by domestic charging solutions, offering various Wallbox options: CUPRA Charger (which is plug & play), CUPRA Charger Connect (which offers Wi-Fi connection) or CUPRA Charger Pro (with 4G and Wi-Fi).
From its most basic version, it includes mode 2 and mode 3 charging cables as standard.
Prices for Spain of the CUPRA Born
The CUPRA Born ranges between 38.610 euros in its basic variant and the 43.370 euros in the Launch Edition, no discounts applied.
Both can adhere to MOVES III purchase incentives plan, as they fall within the price limit: 45,000 euros before VAT (54,450 euros). Thus, you can enjoy discounts of 4,500 euros o 7,000 euros depending on whether an old vehicle is scrapped or not.
This means that the compact electric sports car can stay at 31,610 euros with the maximum bonus applied.
| | p.v.p |
| --- | --- |
| cupra born 150 kW (204 CV) 58 kWh | 38.610 euros |
| CUPRA BORN 150 KW (204 CV) 58 KWH Launch Edition | 43.370 euros |
In Motorpasión | We tested the CUPRA Formentor VZ5: 390 hp and a dream set-up for the most exclusive CUPRA | The evocative announcement of the CUPRA Formentor, or how CUPRA turns to emotional marketing to sell cars