News
Fire TV Stick 4K Max: New streaming stick brings Dolby Vision, Dolby Atmos and Wi-Fi 6
Amazon is updating the premium version of its TV stick: The Fire TV Stick 4K Max is significantly faster than its predecessor and supports Dolby Vision and Dolby Atmos. Wi-Fi 6 is supposed to ensure smooth 4K streams.
Amazon states that the new generation of the stick with its quad-core processor with 1.8 GHz and 2 GB of RAM is around 40% more powerful than the previous generation. Smooth streaming should still be possible even if severalWi-Fi 6 connected devices are in operation.
The Fire TV Stick 4K Max supports 4K UHD, HDR and HDR10 + as well as Dolby Vision and Dolby Atmos. The scope of delivery includes the new Fire TV remote control, which offers four buttons for direct access to the streaming services Amazon Prime Video, Netflix, Disney + and Amazon Music. If you have compatible TVs or soundbars, you can use the remote control to switch the devices on and off and change the volume.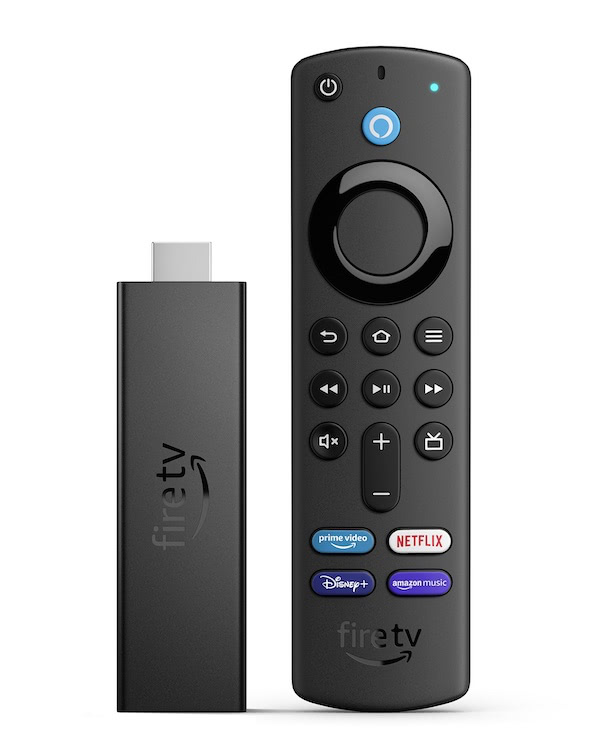 The new Fire TV Stick 4K Max is also the first streaming stick from Amazon that enables picture-in-picture live video. With the function you can see the pictures from compatible surveillance cameras or the Ring-Videotürklingel can be displayed on the television without having to interrupt the program.
Fire TV Stick 4K Max: Price and availability
The streaming stick can now can be pre-ordered for around 65 euros* and will be delivered from October 7th. By the way: The previous model, which also supports 4K, is currently on sale on Amazon and comes with a A 50 percent discount is available for 29.99 euros*.
Display / Last update on 09/10/2021 at 9:22 am / Affiliate Links * / Images: Amazon