News
mandatory helmet for scooters, infractions that subtract more points and other changes that come
The reform of the Traffic Law, Circulation of Motor Vehicles and Road Safety orders its final stretch. They are already addressing amendments presented on the draft of the regulation that contemplates changes for the card for points and other aspects of circulation and traffic. It is estimated that the final approval will be in October.
The new regulation was approved in March by the Council of Ministers and then sent for parliamentary processing, which has been on the table for months. The next September 22 a new meeting will take place to discuss further amendments and define definitive changes of the regulations.
What modifications are being contemplated and how will they affect drivers? What amendments are being debated or have been admitted? We go over it.
Scooters must wear a helmet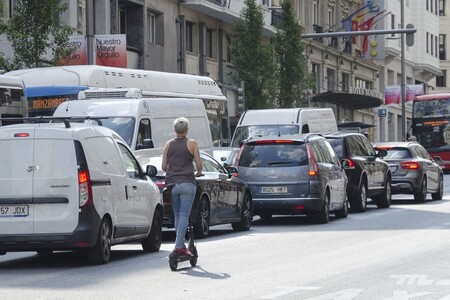 One of the proposals debated in this amendment period is that of force to wear a helmet to the drivers of Personal Mobility Vehicles (VPM) or electric scooters.
Regarding this aspect, the PSOE, United We Can, PP, PNV and Citizens have requested modifications, since this requirement was outside the new regulation for this type of vehicle that came into force in January 2021, as well as, for example, that of setting a minimum age to drive them.
In the new regulation, electric scooters were being considered vehicles for all purposes, and for example they were expressly prohibited from circulating on the sidewalk, in addition to interurban roads, crossings, highways, highways or urban tunnels, limiting their use to urban roads or segregated lanes, among other aspects.
Thus, in this new reform the obligation to wear a helmet will finally be added in the case of these users, although we will have to wait for the final text to know the terms in which this imposition is defined.
A laps with the prohibition of exceeding the maximum speed to overtake
On the other hand, it is also on the table to admit or not the prohibition of exceeding the maximum speed by 20 km / h to overtake on conventional roads. A change that the DGT defended through its Twitter account noting that "nothing happens to go behind a truck."
This measure has been of the most controversial of the reform, being criticized by associations of drivers and motorcyclists, who consider an attack against road safety.
This is the case of Associated European Motorists (AEA): "it is often necessary to have a power reserve and finish overtaking as soon as possible"And from Mutua Motera they pointed out that in the event of an unforeseen event, it is necessary to be able to" both brake and overtake ", since not doing so can lead to an accident.
On the other hand, Luis Montoro, Honorary President of the Spanish Foundation for Road Safety (FESVIAL), values ​​that "there are arguments to maintain the current situation, but there are many more safety reasons that advise not to exceed the generic speed limits in overtaking by 20 km / h ".
In addition, it also defends, as does the DGT, that Spain is the only European country that allows exceeding the maximum speed to overtake on conventional.
📢 Changes in the draft bill to reform the #VialSecurityLaw

➡️The possibility of exceeding the limit of 20 km / h is eliminated #speed on conventional roads in #advertent. This standard does not exist in any EU country.#ChangeNormasTraffic #MasSeguridad pic.twitter.com/Wsf5MwdAnn

– Directorate General Traffic (@DGTes) November 11, 2020
It must be remembered that the generic maximum speed limit in conventional for cars or motorcycles, and other vehicles weighing less than 3,500 kg, is 90 km/h, being able to be of 100 km / h in those with physical separation between the two directions of circulation. For his part trucks and other heavy vehicles must circulate a maximum of 80 km/h.
Six points for using the mobile phone behind the wheel and other card changes for points
Beyond prohibiting exceeding the maximum speed in overtaking, in the battery of changes approved in the reform of the Road Safety Law, the majority are related to the card by points, with several infractions that will go on to subtract more points:
– Mobile phone misuse, six points. Currently it supposes the subtraction of three points. Also in the text it is detailed that the deduction of these points will be applied for driving holding by hand mobile phone devices. It does not change the fine that will remain in 200 euros (serious offense), despite the fact that fouls involving the subtraction of six points are classified as very serious.
– Do not use a seat belt, child restraint systems, helmet or other protection elements, four points. Now these infractions are punished with three points. In the change it is also added that misuse them It will also be sanctioned with said deduction of points from the card, and it is understood that it will also apply to users of scooters. All are serious infractions, which involve 200 lots, which will not change either.
– Radar detectors: changes to regulation of this type of device, since not only will its use be sanctioned as up to now, but also take it installed in the car. In this way, having this system in the vehicle will also become a serious offense, which translates into 200 euros of fine and the subtraction of three points of the card.
On the other hand, the changes in the regulations also contemplate modifications for the recovery of card points, as well as new prohibitions express for practical tests of obtaining permits:
– Using unauthorized intercom devices in the tests for get driving license o en points recovery courses: either by attending, or collaborating, with this type of communicators in the practical exams will be considered a very serious offense and will carry a fine of 500 euros. In addition, the candidate will have to re-appear for the tests within six months. Traffic details that it is usually a common fraud in these tests.
– Two years without committing infractions to recover the 12 points: this period is unified for those drivers who have lost points and as long as their total balance of driving license points is not zero.
– Two additional points will be awarded for the completion of safe driving courses. Those drivers who pass courses of this type will receive two extra points, although they must always have a positive balance. The maximum will remain at 15 points.
In Motorpasión | The most common car breakdowns that are caused by vices, manias and bad habits of the driver | From the hilarious viral video of the cyclist against the driver who runs a traffic light to the debate on limits with traffic regulations