News
Naturgy proposes the MWh at 60 euros and Iberdrola fights back
The electricity price it keeps going up, day after day. In Spain, more than in the rest of Europe. Today, the price has reached up to a new maximum of 152.32 euros per MWh, a level that until now had never been registered in Spain.
In a system in which the price is free, nothing prevents companies from lowering prices to attract new customers, in anticipation of future price drops. Naturgy has opened the ban by offering its electricity at half price. Then Iberdrola He fights Naturgy with a fixed price of electricity for five years. A price war could be brewing that would benefit the consumer.
The president of Naturgy, Francisco Reynés, has announcedthe possibility that the eleven million customers who have their regulated tariff linked to the pool price can contract a new tariff as of September 15.
With this new rate, customers would pay the MWh 60 euros instead of the more than 120 euros MWh that they have been paying for weeks. The company claims to be able to offer the cost of energy at a much lower price than the current one for the next 24 months, without additional conditions and without permanence.
Iberdrola, for its part, is preparing a new campaign with a set of "personalized" prices, lower than the current regulated rates and "guaranteed for five years" to, according to the company, "give users peace of mind".
Actually, it looks like the beginning of a tariff war between power companies From which customers should, in theory, win, as it would lower the final price on the invoice. And that, at a time, in which you want to promote use of electric car and plug-in hybrid, it can only be good news.
There is no disruptive energy company that can drive prices down
Even so, we cannot help but think that the impact of this price war, while real, will not be especially noticeable. In the energy sector, as well as in the internet, a truly disruptive company is missing, as it was Free in France in the telecommunications and internet access sector.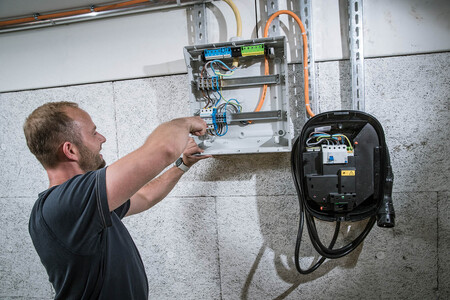 After making a fortune with services for him Minitel In 1982, a service similar to the current internet but in which the French state company provided the terminal (the service had 10 million users), Xavier Niel creates Free, a free internet provider and develops one of the first " box "of the market in which with the same device receive television, telephone and internet at the same time.
And it proposes it at a monthly price of 29.99 euros, with free calls to France, Europe and a half, whether they were to landlines or mobiles. When any internet provider, and only internet, then asked between 45 and 69 euros.
The rest of the companies had to continue on their way and today, fiber internet services, television and telephony in the neighboring country cost between 37 and 40 euros per month, a little more if we add mobile telephony. And Free continues to be the market leader. At present, in Spain the average price of these same services is about 77 euros.
So that, as consumers, we see lower electricity prices there are several solutions. For example, one of them happens to use nuclear energy to meet the demand when renewables cannot work due to the weather.
When renewables do not supply enough, thermal power plants that burn natural gas and emit CO₂ are pulled. And one of the reasons for the higher price is to be found precisely in the CO₂ emission rights. And these are going to become progressively more expensive, since they were invented precisely to discourage the use of technologies that emit CO₂. But the real price drop will come when an energy company dares to successfully enter a price war.
In Motorpasión | We tested the 351 hp Ford Mustang Mach-E: a fast electric SUV with good autonomy but with some points for improvement | With so much demand for lithium for electric car batteries, we are on the verge of a new pollution problem