News
The FIA ​​has lost the Formula 1 World Championship, and not only because of the accident of Max Verstappen and Lewis Hamilton
The FIA ​​has lost the Formula 1 World Championship. Like a bad referee in a soccer game, who starts out wanting to be the coolest and ends up totally overwhelmed by the situation. That of shaking hands and taking arms. And the Italian Grand Prix was the most daunting exhibition, with Spa's permission, that we talked about.
Not only because the accident between Max Verstappen and Lewis Hamilton, which ended with a curious three-position sanction on the Dutchman that could have an even more curious explanation, if not for all the incidents with which they turned a blind eye, and with which they did not. It gives the feeling, once again, that for the FIA ​​it is all chance.
The duel between Verstappen and Hamilton can go awry in the remaining races
Without a doubt, the most tense moment of the race, and of the entire season, was the accident between Max Verstappen and Lewis Hamilton. Again, the two contenders for the title met on the track, and again they starred in two incidents as sports cars that ended with both drivers out of the race.
The first collision was on the first lap of the race, when Verstappen ruthlessly cornered Hamilton abroad from the second chicane of Monza. An illegal maneuver if we stick to the regulations, but with which the FIA ​​usually turns a blind eye, when not applaud. So the pilots already do it with impunity.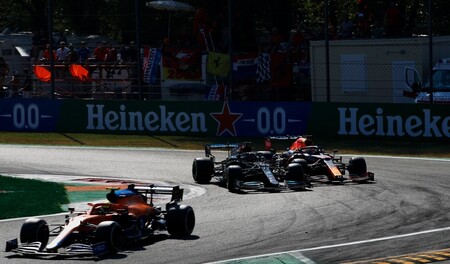 So where they give them they take them. In the middle of the race, after a terrible pit stop by Max Verstappen and a bad pit stop by Lewis Hamilton, the two miuras returned to the track in a position to fight for position. Hamilton was ahead, yes, but on cold tires, while Verstappen already brought them in temperature.
Verstappen accelerated the braking on the outside taking advantage of his better grip and put himself in parallel with Hamilton, something that according to the official FIA document … he could not do! The FIA ​​considers that Verstappen could not fight for that position because Hamilton was ahead, an argument that would serve for any overtaking.
But yes, Verstappen was put in parallel and there he received his own medicine. This time it was Hamilton who cornered him, did not leave him an inch and forced him to skip the chicane. But Verstappen did not. He preferred not to avoid an accident that basically benefited him, because at that point in the race the one who had the winners was Hamilton.
If you're going to score 3 positions for Max, score 3 for Lewis as well. Or 5 and 3 if you think it is more someone else's fault… It seemed to me that both of them have some fault, don't you think?

– Dani Juncadella (@dani_juncadella) September 12, 2021
In fact, it is seen in the wheel of Hamilton as in a moment, before closing the corner, hesitates to open up, let Verstappen pass and attack him on the next straight. With newer, softer tires and a more powerful engine, it was logical to think that Hamilton could have passed, although Verstappen would have been tremendously aggressive.
All of these are arguments to decide who should be sanctioned. The one who did not leave space or the one who did not want to avoid the accident? Both? None? It would have been the logical approach of the FIA, which has finally decided to give Verstappen three grid positions at the Russian Grand Prix.
It would be a respectable penalty were it not for Red Bull's plans are to change Verstappen's Honda engine in Sochi, mount the fourth unit and exit from the bottom of the grill. Something that Hamilton probably has to do at some point in the season as well. That is to say, they have imposed a 'no sanction' and kick forwards. Pure FIA.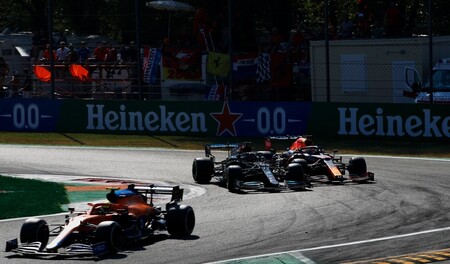 The worst thing is that this only serves to more people who think they have the right to revenge. That was probably what prompted Verstappen not to avoid the crash at Monza. After all, he was sent to the hospital at Silverstone and Hamilton celebrated that victory after a derisory penalty. Perhaps even more revenge is believed in.
In the end, Verstappen had the World Cup in his pocket before Hamilton and Valtteri Bottas they took it ahead in Silverstone and Hungary. Yes, there was a clash at Monza, but without any distribution of points. Will Hamilton now believe himself entitled to revenge? The Formula 1 World Championship is going to get too muddy, and a black flag in time would have prevented it.
By the way, the FIA ​​still does not even assess the withdrawal of bananas that cause cars to jump uncontrollably. If yesterday Verstappen's Red Bull landed on Hamilton's helmet it was because the FIA ​​sets up a speed bump at a time that makes the cars shoot out. All very safe, and it is not the first time.
"In football they call it a tactical foul," said Toto Wolff., the head of the Mercedes team, about the accident. Yes, like those of Silverstone and Hungary. But the referee has already gotten the game out of hand and his conscience is not clear enough to expel a player, no matter how stupid he may be.
Norris, Pérez and Stroll benefited from the FIA ​​lottery
The proof that the FIA ​​has lost the championship is that it is not only in the battle for the title that they cook beans. In Monza we saw a recital of nonsense by Michael Masi, starting with how they took the podium from Charles Leclerc with Ferrari at Monza. After the safety car he was second, but they did everything to him.
THIS IS HISTORICAL! THIS IS INCREDIBLE!

Hamilton and Verstappen KO. The two fighting to the limit. The two without giving in. The two to the gravel.# ItalyDAZNF1 🇮🇹 pic.twitter.com/793MVlFZiI

– DAZN Spain (@DAZN_ES) September 12, 2021
At the relaunch of the safety car Lando Norris took advantage of the outside of the Parabolic curve to pick up more top speed and pass Leclerc on the straight. As he had not yet exceeded the number of opportunities to gain a lead off the track, the FIA ​​allowed Norris to maintain that overtaking.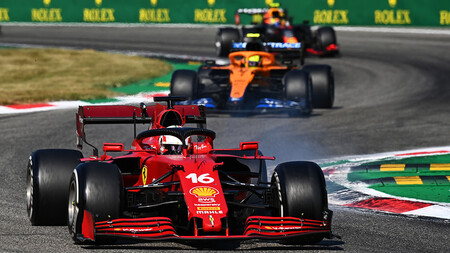 After Sergio Pérez directly skipped a curve to overtake Leclerc. The logical thing would be that it returns the position, but no. The FIA ​​decided to give him a five-second penalty. As if a Red Bull did not cost more to overtake a Ferrari than to put it five seconds ahead of it afterwards. Fortunately, and for justice, at least Pérez did not succeed.
This is already a common practice in the FIA. It happened precisely with Pérez and Leclerc at the Red Bull Ring, and once again the Mexican was greatly benefited. Hamilton or Verstappen could have taken note early in the race and pass Norris and Ricciardo skipping a curve. It wouldn't have taken them much to put them in five seconds later.
Another one who had to give and take at Monza was Lance Stroll, who first took his teammate, Sebastian Vettel off the track, and then did not respect the yellow flags. He kept accelerating, but that was not enough for the FIA ​​to sanction him. Fernando Alonso complained incredulously on his Instagram of another incomprehensible decision.
The randomness of the FIA's decisions means that there is no longer anything to go by. Esteban Ocon was sanctioned for a bolt to Vettel that when Leclerc did it to Hamilton in 2019, fighting for victory, he got away with it. The FIA ​​insists that it does not punish consequences, only acts, but there is a growing sense that they are simply dodging puddles without getting wet.
Masi's data regarding Whiting corroborate the randomness
There is a data that perfectly reflects how Formula 1 has changed since Charlie Whiting passed away before the first Grand Prix of 2019, when Michael Masi took his place. In the previous five years of the hybrid era, only three teams won, in the two and a half years since seven different teams have won.
And it is not that now there are more competitive teams than before. Upside down. Before there were three and now Ferrari has fallen from that list. But the races are more random, and that allows Esteban Ocon win with Alpine, Pierre Gasly with Alpha Tauri, Sergio Pérez with Racing Point or Daniel Ricciardo with McLaren.
Allowed foul play and red flags and safety cars abound. Short runs always produce more randomness. If the 2007 European Grand Prix had lasted five laps, Markus Winkelhock would have won, but it lasted 60 and Fernando Alonso won. A neighborhood team has more options to beat Real Madrid in a game at one minute than at 90. It is pure logic. Chance has more effect.
In the five years that Charlie Whiting led the hybrid era of Formula 1, only seven teams made the podium. In the half season that we have in 2021, eight different ones have already done it. Only Alfa Romeo and Haas are missing. Let's see how Masi manages to upload them. The variety is good, but in Formula 1 today there is not that level of competition, just randomness.
In Motorpasión | We tested the Ford Mustang Mach 1: a delicious, fast and thirsty 460 hp American beast | With so much demand for lithium for electric car batteries, we are on the verge of a new pollution problem