News
Fall for the OPPO Reno6 and 6 Pro thanks to this great promo from Bouygues Telecom
The latest OPPO products are at the best price at Bouygues Telecom. Thanks to a reduction, the OPPO Reno6 5G and 6 Pro 5G are respectively at 1 euro (+ 8 € / month) and 99 € (+ 8 € / month)
OPPO recently launched its new premium smartphones Reno6 and Reno6 Pro. Between daring design and technical characteristics perfectly in tune with the times, the two terminals strike a fine balance. For their launch, Bouygues Telecom is offering two particularly interesting reductions. Deferred reimbursement offers of 50 euros and 70 euros, respectively allow you to afford the OPPO Reno6 5G from 1 euro + 8 euros per month for 24 months, and the most opulent Reno6 Pro 5G at 99 euros + 8 euros per month for 24 months.
To take advantage of these excellent prices, it will also be necessary to subscribe respectively to the Sensation 60GB (for the Oppo Reno6) or 90GB (for the Oppo Reno6 Pro) packages from the operator. Two subscriptions that are perfectly in line with the positioning of smartphones: high-end, but without excess to find one of the best quality-price ratios of the moment.
Take advantage of the OPPO Reno6 offer
Take advantage of the offer on the OPPO Reno6 Pro
OPPO Reno6 5G and Reno6 Pro: the perfect balance
OPPO retains the DNA of the Reno series with these sixth efforts. It consists of offering very well balanced telephones. More than a flashy element, the firm seeks to offer flawless products, or at least with little compromise. As often, when looking for exuberance on one point, it is done to the detriment of other elements. OPPO therefore takes the opposite view and does so with great success. The standard Reno6 5G stands out more aesthetically by adopting a fairly "square" design that we see little in direct competition. This immediately gives it character. The Reno6 Pro 5G adopts an even more premium style with a curved screen on the sides.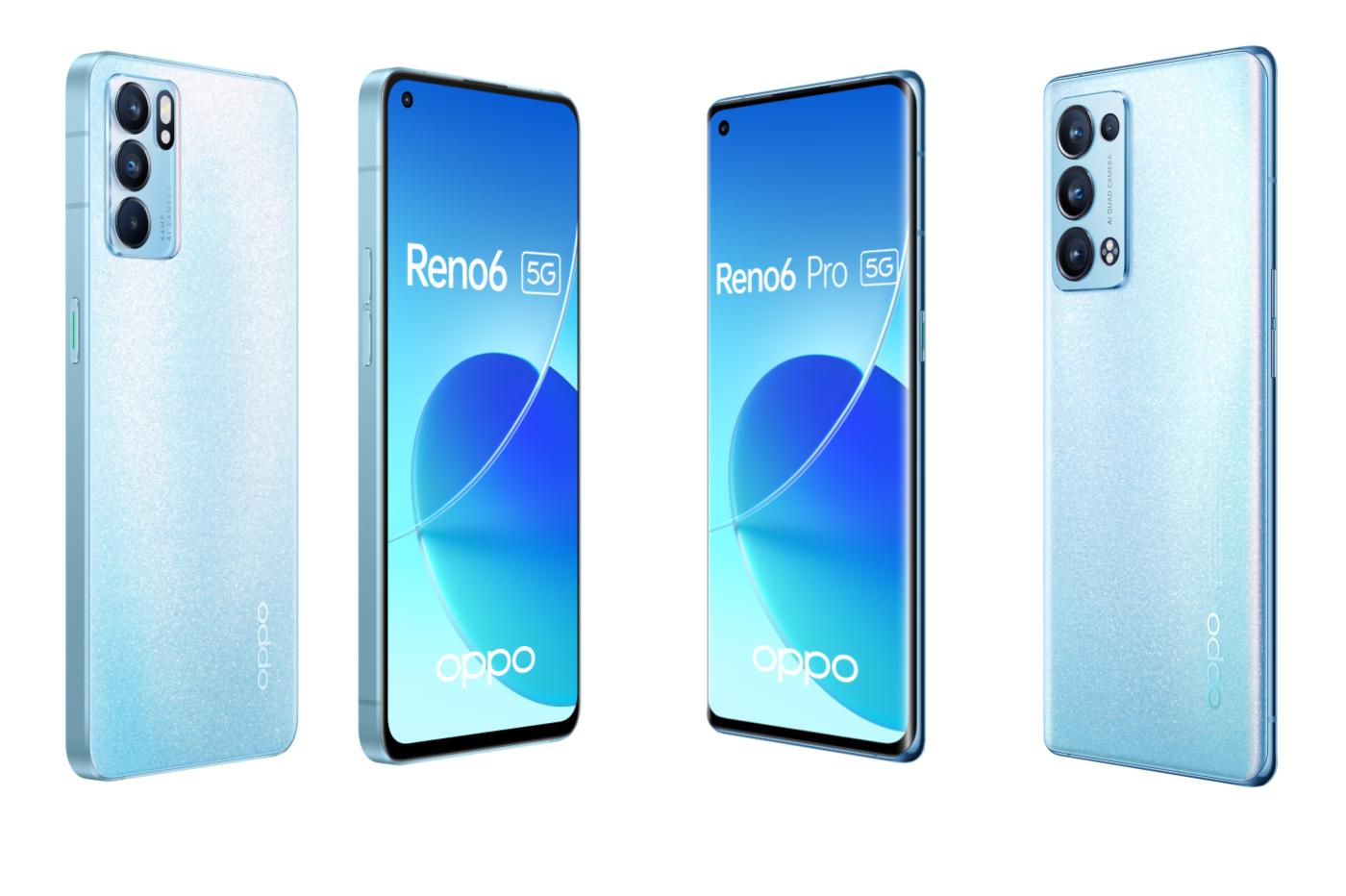 As for the technical sheet, again the key word is balance. You have everything you would expect from a top terminal at the end of 2021. It starts with a 6.43-inch AMOLED display with Full HD definition and a 90Hz refresh rate. cover is a Mediatek chip with the Dimensity 900, engraved in 6 nm, and supported by 8 GB of RAM. Better yet, the SoC supports 5G, perfectly consistent with the Sensation packages from Bouygues Telecom. We will talk about it below. When it comes to storage, you can count on 128 GB.
The photo revolves around a set of 3 sensors: a main one of 64 MP, an ultra wide angle of 8 MP and finally a Macro lens of 2 MP. It is also able to shoot in 4K at 30 frames per second. OPPO adds to this material several interesting software features such as Pro portrait mode to sculpt portraits worthy of the greatest or Video Focus Tracking which, as its name suggests, allows you to never lose focus on your subject.
OPPO also sticks to its patented (ultra) fast charging technology: SuperVOOC. It is here at 65W and can fully recharge the 4300 mAh battery in just 28 minutes, depending on the brand. What to keep a day away from a catch … by staying only half an hour near it when necessary.
Take advantage of the OPPO Reno6 offer
Take advantage of the offer on the OPPO Reno6 Pro
The Pro version is there for those who are still looking for good value for money, but with superior performance. The screen thus gains 0.12 inch for 6.55 diagonal. The panel is obviously still based on AMOLED technology and still at 90 Hz. Performance is revised upwards with a Qualcomm Snapdragon 870, 12 GB of RAM and 256 GB of storage. A configuration that will be difficult to fault. Of course, 5G is also in the game.
The photo part improves by moving to 4 sensors with the main Sony of 50 MP accompanied by three friends: an ultra wide-angle of 16 MP, a telephoto lens (2x optical, 5x hybrid and 20x digital) of 13 MP, and still the 2 MP macro sensor. 4K movies can now be shot at 60 fps and we have the same software features. The fast charge at 65W is still there to recharge the 4500 mAh of the battery in 31 minutes and leave for 2 days of autonomy according to the manufacturer. The same, only better.
Bouygues Telecom Sensation packages: complete and 5G
As its name suggests, the Sensation 60 GB package therefore logically integrates 60 GB of data, unlimited calls, SMS and MMS in France and from Europe, the DOM and Switzerland. In this data envelope, you also have 25 GB for the DOM, the EU and Switzerland.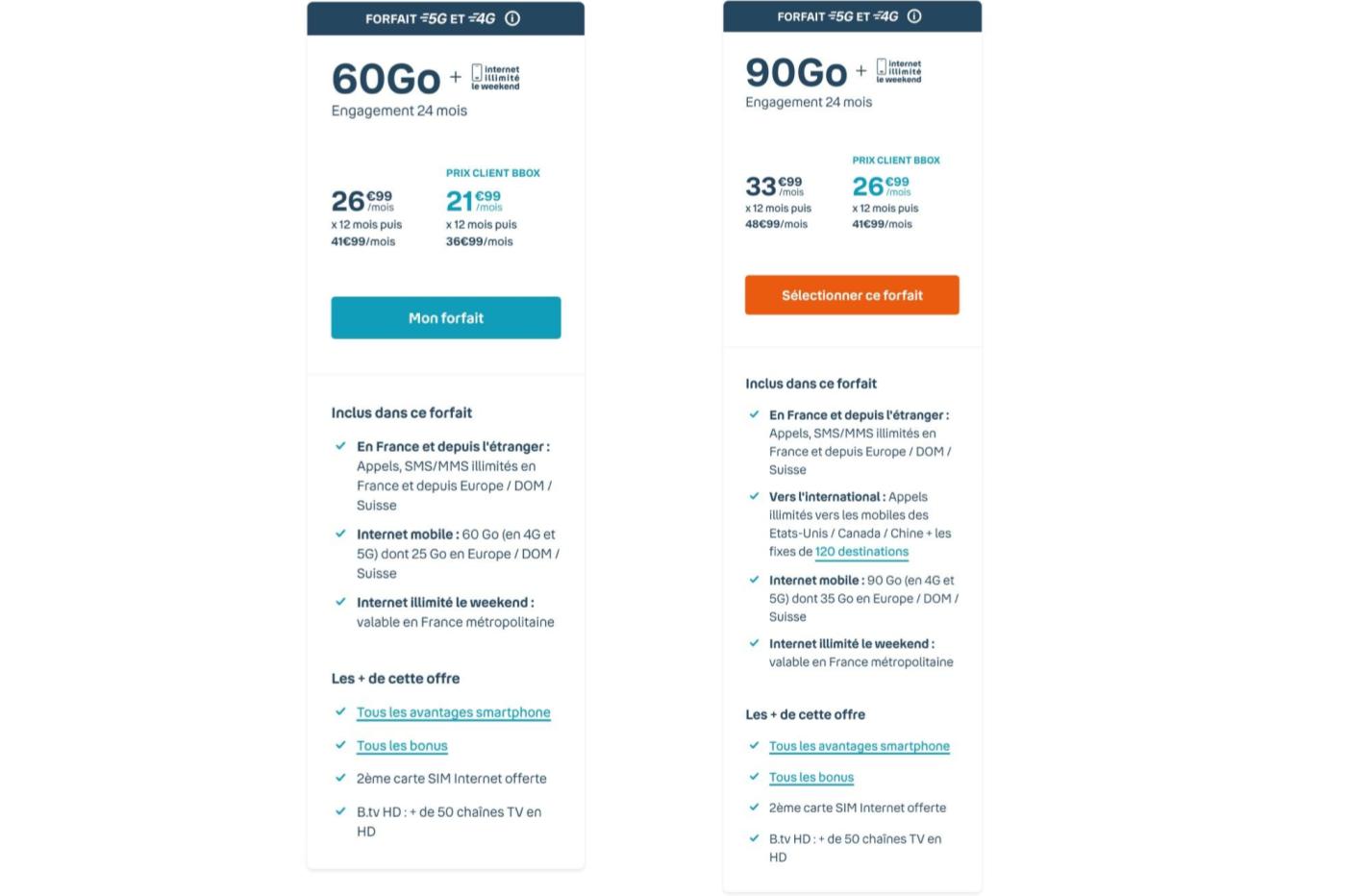 The other good news about this 60 GB package is that it is 5G compatible, so you can directly enjoy the new network standard with your OPPO Reno6 5G or Reno6 Pro 5G. Enough to satisfy your internet needs, especially since this subscription allows unlimited surfing on weekends. You also benefit from other options including access to Cafeyn (ex Le Kiosk) to read all the press. Finally, you also have a second SIM card offered, for your tablet for example.
The package Sensation 60 GB is offered at 26.99 euros per month for one year then 41.99 euros. If you are already a Box customer, you benefit from a reduction of 5 euros per month with no time limit. This therefore brings down this particularly complete package to 21.99 euros for 12 months then 36.99 euros.
The Sensation 90 GB package is similar, this time with 90 GB of data in 4G and 5G, including 35 for the EU, the DOM and Switzerland. Notable difference, however, you enjoy unlimited calls to mobiles in the USA / Canada / China as well as unlimited calls to landlines in 120 destinations. It is offered at 33.99 euros per month for one year then 48.99 euros. If you are already a Box customer, you benefit from a reduction of 7 euros per month. This therefore brings down this particularly complete package to 26.99 euros for 12 months then 41.99 euros.
Take advantage of the OPPO Reno6 offer