News
Pixel 6: Google's SoC Tensor finally disappointing?
The future flagship of the Mountain View firm can be seen on Geekbench, and it's a bit disappointing.
This year, Google has decided to get ahead of its calendar by lifting the veil, in August, on its new flagships, the Pixel 6 et Pixel 6 Pro. But since these smartphones will not be launched until the end of the year, the Mountain View firm has remained very discreet on the details.
If the design of the Pixel 6 is well known, in the end very little is known about its brand new Tensor chip, a SoC specially designed by Google. So far, the Californian company has indeed communicated no technical details on this chip… but it has just come to light thanks to a leaked benchmark.
The Pixel 6 Pro has just made its appearance on Geekbench, allowing us to have a first glimpse of the famous SoC Tensor. Thus, we learn that it uses the ARM v8 architecture and that it will have eight cores – two cores clocked at 2.80 GHz, two cores at 2.25 GHz and two thrifty cores at 1.80 GHz. GPU side, we can count on a Mali-G78. Above all, we can take a look at the scores obtained by this chip, and they are not really glorious.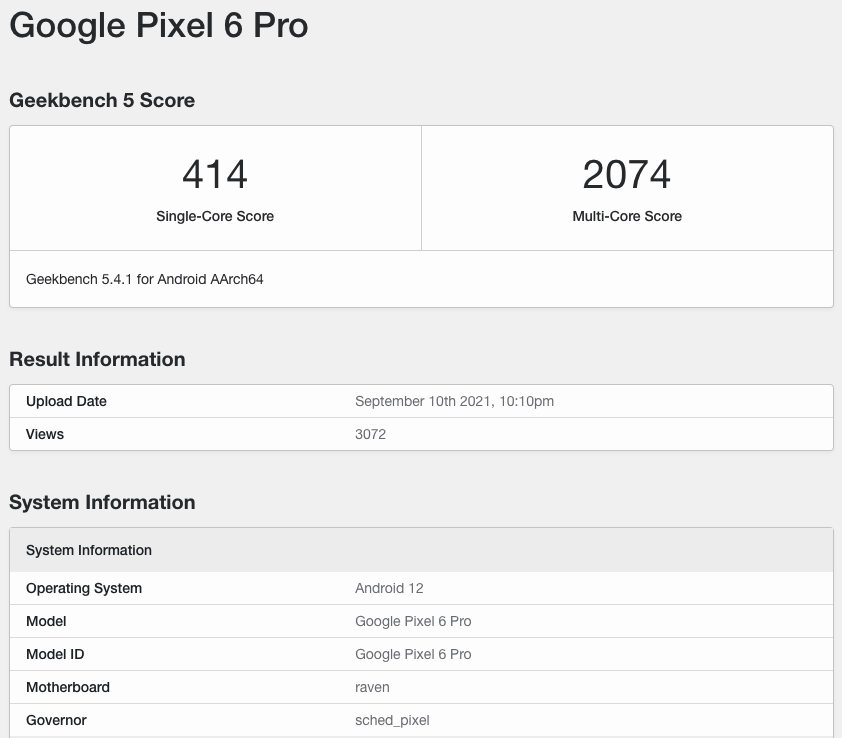 On Geekbench, Google's Tensor chip indeed obtained a score of 414 in single-core, and 2,074 in multi-core. We still beat the Snapdragon 765G of the Pixel 4a in multi-core, which scored 1,602 points, but not in single-core (585 points). If we make the comparison with a Galaxy S21 Ultra equipped with a Snapdragon 888, the SoC Tensor is literally crushed: 1,134 points in single-core and 3,322 points in multi-core.
Despite everything, these results should be put into perspective. Already, nothing tells us that this benchmark is really authentic, even if we do find the name of « Google Pixel 6 Pro » on Geekbench. Then, the Pixel 6 is still in development, and this chip is still set to evolve by the launch of the smartphone, just like Android 12. Finally, raw power is one thing, and optimization is another. By handling the software, the hardware and developing the SoC yourself, Google could get the most out of it, without necessarily needing an avalanche of power.
Google Pixel 4a 5G at the best price Base price: 499 €
See more offers