News
Sergio Pérez's performance has plummeted since he renewed and Red Bull pays for it in the constructors' world championship
After Sergio Pérez claimed victory in his sixth career as a Red Bull driver it seemed that the energy drink brand had finally found the second pilot who could help Max Verstappen. However, the Italian Grand Prix was the fourteenth race of the season and Pérez's performance is becoming highly debatable.
Sergio Pérez is still stuck in fifth place in the World Cup of drivers, even behind Lando Norris's McLaren, and has only accumulated two podiums in so far these seasons. All this with the same car with which Max Verstappen is leading the world championship, and he could practically be a champion without the misfortunes that he has accumulated.
Pérez has only two podium finishes in fourteen races with a winning Red Bull
Monza was the latest example that Pérez's performance is far from what could be expected. Did A lousy rating, yeah, giving Verstappen the slipstream, but nothing different from what Valtteri Bottas did with Lewis Hamilton and that did not stop him from taking pole position. Bottas is the reflection of Pérez, and even in the Finn's worst year he is ahead.
Then the race came to Pérez's territory. After the accident between Verstappen and Hamilton the second Red Bull was in a very beneficial position to, at the very least, have been on the podium, or at least to cut some points with Mercedes in the constructors' world championship. But he was wrong again.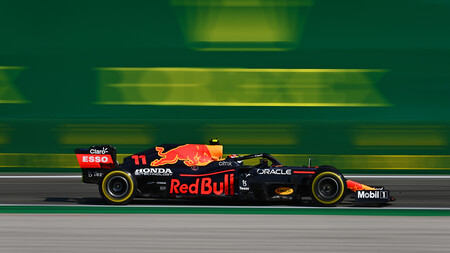 He jumped a curve to pass Charles Leclerc when the Ferrari had left enough space to pass him cleanly. Pérez received a logical sanction for this that made him lose the podium and the position with Bottas, so once again Mercedes extends its advantage over Red Bull in the constructors' world championship.
Perez's problems are being paid by Red Bull in the constructors' world championship. Mercedes already scores 18 pointsAnd if Bottas starts to drive more freed, as we saw in Monza, the Germans will have two cars with which to strategically attack Verstappen, as they already did in Zandvoort. Red Bull needs Pérez's reaction.
It is true that Pérez has had bad luck such as the Hungaroring, but he also won his career, that of Baku, by a blowout from Verstappen. With the leader's car, and in a world championship of only two teams, it is not acceptable to take only two podiums in fourteen races. In his worst year, Bottas has already been eight. Errors like those of Spa or Silverstone weigh heavily.
Since Red Bull announced the renewal of Pérez for another year it seems that the level of the Mexican has dropped. But you shouldn't relax too much, because the move to place Alexander Albon in Williams It responds to a need: to keep a replacement rider warm in case someone doesn't measure up, be it at Red Bull or Alpha Tauri.
In Motorpasión | We flew in Extreme E's CUPRA, a wild electric racing car with Jutta Kleinschmidt at the wheel | There is hope for combustion engines with synthetic fuels: Haru Oni ​​goes live with Porsche and Siemens Energy