News
The Surpass 26 'electric bike is almost free, we explain how to enjoy it
It's back to school! It is therefore time to take advantage of promotions to equip yourself with an electric bike in order to avoid public transport as much as possible, or even the car. Today, the interesting offer comes to us from Cdiscount Surpass 26 " electric bike sold at an excellent price: 599 euros.
This Combined electric bike Surpass 26 ′ is ideal for all your urban and peri-urban trips, its low spanning allowing frequent stops with ease. Very comfortable to use thanks to its upright driving position, this bike allows you to travel long distances without fatigue thanks to the electric assistance which is activated on the first turns of the pedals.
Take advantage of the offer at Cdiscount
Indeed, this VAE is equipped with a 250W motor, installed on the rear wheel, making it possible to reach up to 25 km / h (there are 3 speed modes). There is also a Shimano 6-speed derailleur that will help you climb hills, but also to roll at more than 25 km / h without assistance. The bike is equipped with front and rear lights, reflectors, a luggage rack, a kickstand and a bell. There is also an LCD screen on the handlebars that allows you to turn the device on and off, choose between 3 levels of assistance, turn on the lights and check the battery level.
The bike's battery is removable which makes the charging possibilities very practical. Either you charge directly with the battery on the bike, or you remove the battery, if for example you want to leave the bike in your garage or in the bike room of your building, and you charge it at home. Its range varies between 35-40 km, depending on the weight of the cyclist, the route taken and the level of electric assistance used.
Finally, the Surpass 26 ′ has disc brakes which guarantee a shorter stopping distance.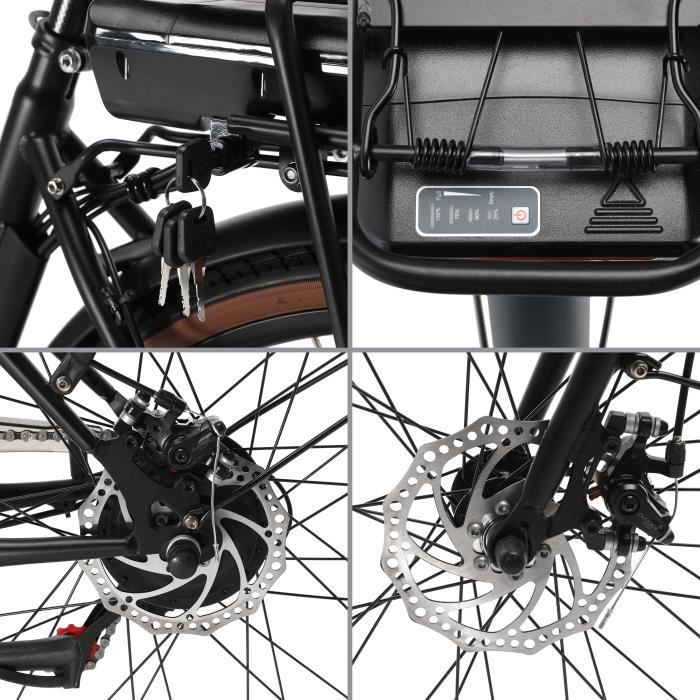 The Surpass 26 ′ is currently at a reduced price at Cdiscount since you can have it at 599 euros and if you are a "Cdiscount at will" member, it is even possible to recover 50 euros in your fund for a future purchase on the site. A good padlock for example! But you can also lower the price of this bike thanks to a lot of local and national aids.
Take advantage of the offer at Cdiscount
For the purchase of a bicycle (VAE), assistance is available everywhere in France and can go up to € 500!
In the Paris region: three cumulative schemes
On the front line facing the problem of road and public transport congestion, large cities are the first to encourage their citizens to opt for the electric bicycle. In Paris – which claims around 1000 km of cycle routes, three systems are superimposed:
In the Paris region, the territory of Grand Paris Seine Ouest also offers a grant of € 200, and this amount is doubled by the towns of Boulogne-Billancourt, Meudon and Sèvres, while Chaville offers additional assistance of € 250 for the purchase of a second VAE. Other Ile-de-France municipalities offer similar systems (€ 250 in Bougival, up to € 500 in Rueil-Malmaison).
Different systems depending on the metropolis
Several regions offer assistance for the purchase of a VAE: we are talking aboutmobility eco-voucher in Occitania (200 €), a subsidy reserved for subscribers of the Aléop network in Pays de la Loire (100 € for a VAE, 200 € for a folding bike) and a premium corresponding to 25% of the price of the electric bike in Corsica within the limit of € 500. In Marseille, it is the Department of Bouches-du-Rhône which controls a device capped at 400 €. But it is mainly inter-municipal authorities that subsidize the purchase of an electrically-assisted bicycle:
The ecological bonus for non-taxable people
For people with modest resources (reference tax income per share less than or equal to € 13,489), the State has implemented an electric bicycle bonus. Payment of this subsidy is conditional on obtaining local aid: its amount will be identical to the latter within the limit of € 200. Saint-Etienne the Metropolis As such, offers a subsidy of € 200 for taxable persons and € 100 for those who are eligible for the state ecological bonus, so that the addition of the two also reaches € 200.
Take advantage of the offer at Cdiscount
New aids for buying an electric bike for a few days
The climate law includes a support measure for the purchase of an electrically assisted bicycle (VAE). The decree published on July 25 thus includes aid that can amount to 40% of the purchase price, with a ceiling set at € 1,500. To be able to claim the maximum amount, you have to set your sights on a model at € 3,250, a price that is not incongruous for high-end models.
Please note, this aid is linked to the scrapping bonus for an old car: to be able to receive the sum, you will therefore have to dispose of your polluting car. Motorists who prefer a car to an VAE will be able to obtain from their scrapping bonus a bonus of up to € 6,000, a sum reduced by € 1,000 since July 1. Here too, a price criterion is retained: to obtain the maximum amount, the selected electric vehicle must cost less than € 45,000.