Volvo has just introduced the entry-level version of the SUV eléctrico XC40 Recharge. Aesthetically it will be identical to its predecessor, but unlike the Volvo XC40 Recharge Twin of 408 CV, this interesting variant has a unique 231 hp engine located on the front axle and a battery with slightly less capacity.
Due to its performance and characteristics, the new rival to other C-SUVs in its category such as the Audi Q4 e-tron or the Lexus UX 300e, is already available in some markets from 45,079 euros.
Up to 400 km of autonomy with a battery of 69 kWh capacity
In addition to being a less powerful version than the twin-engine Twin, the more accessible variant of the electric Volvo XC40 Recharge differs by having a more contained capacity battery, which has 69 kWh gross.
This battery gives the electric SUV a range of 400 km according to the WLTP combined cycle, slightly less than the 418 km achieved by the Twin version with a 78 kWh gross capacity battery. For recharging, on a fast charging pole it is able to pass 10 to 80% battery in just 32 minutes.
This new version of the XC40 Recharge is already available in some markets and can also be ordered online. The brand configurator It offers three finishes: the most basic "Core", the intermediate "Plus" and the superior "Pro".
A very complete standard equipment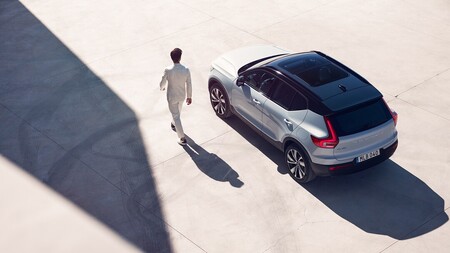 The Core trim level includes items such as illuminated vanity mirrors, power tailgate, rear view camera, hill descent control, 19-inch dual-spoke black wheels, dual-zone climate control, 12-inch digital instrumentation, and a 9-inch center screen. inches. The Plus version adds, among others, adaptive cruise control, alarm and heat pump for 1,923 euros.
Regarding the Pro finish or higher, for an additional 5,713 euros Compared to the Core, it adds memory driver's seat, full-LED headlights, 360-degree camera, rear and side parking assistance, panoramic roof and Harman Kardom's signature hi-fi with integrated subwoofer.
Other available options are tinted windows for 393 euros, retractable tow ball for 938 euros, or different high power three phase cables for 303 euros each.
Since the introduction of the XC40 Recharge last year, as pointed out by the head of the technology department Henrik Green, some changes to software and powertrain of the two variants of the XC40 Recharge, "so now they offer greater efficiency and autonomy."
The vehicle, which has the possibility of equipping an infotainment system based on the Android operating system and integrating Google technologies and services (such as Google Assistant, Google Maps or Google Play), wirelessly receives relevant software and operating system updates.
The new single-engine variant of the XC40 Recharge is manufactured at Volvo's plants in Ghent (Belgium) and Luqiao (China) and markets that it has not already done will reach it. at the end of this year.
In Motorpasión | England will require all new homes and offices to include smart chargers for electric cars