News
Enjoy an immediate 30% discount on many LEGO sets!
For this weekend, the FNAC is offering an immediate 30% discount on a selection of LEGO sets!
Fan of LEGO? It's time to take advantage of an immediate 30% reduction on a large number of LEGO sets at FNAC, on Star Wars, Super Mario, Hidden Side, Harry Potter or even Disney and even Technic licenses! Here is a selection of 5 sets at great prices, an ideal gift to offer yourself or to offer. Do not hesitate to discover the complete selection while there is stock.
Discover the entire LEGO selection at -30%
LEGO Star Wars Episode IX – TIE Sith Hunter (75272)
Fly First Order missions with this buildable TIE Sith Fighter (75272) model featuring a stunning design! The TIE Fighter features an opening minifigure cockpit and 2 spring-loaded missiles. This Sith TIE Hunter set includes 3 minifigures: a First Order TIE Pilot, a Knight of Ren and Finn, with weapons to build your First Order battles against the Resistance. This set can be combined with the hunter X-wing de Poe Dameron (75273) for even more fun.
Take advantage of the offer at 45.49 euros instead of 64.99 euros
LEGO Super Mario – Bill Bourrins Barrage Expansion Set (71366)
If you are already equipped with the Lego Super Mario starter set, here is the Barrage expansion by Bill Bourrins! The latter includes a top with 2 Bill Bourrins who "fly" and a rotating platform with 2 levels of difficulty (with or without studs). An enemy Maskass and a Super Mushroom make the game even more exciting.
Take advantage of the offer at 18.19 euros instead of 25.99 euros
LEGO Star Wars – Action Battle Echo Base Defense (75241)
Discover a new gaming experience with the Action Battle Defense of the Echo Base. This set includes a rebel base entrance gate, blaster tower, trench section with probe droid, and an Imperial AT-AT Walker. Opponents load their powerful cannons and take turns shooting each other at their targets to blast the Rebel Soldier and Snowtrooper minifigures into the air, open the rebel base door and crash the AT-AT to the ground. . This LEGO Star Wars set includes 5 minifigures.
Take advantage of the offer at 39.89 euros instead of 46.99 euros
LEGO Harry Potter Advent Calendar 2020 (75981)
This LEGO Harry Potter Advent Calendar is the 2020 version, but for the price you can go! Behind each of the 24 windows hides a new toy or a new figurine from the Harry Potter saga. As the big day draws near, kids can recreate Christmas scenes at Hogwarts, including the amazing Yule Ball! You can combine the 24 Advent Calendar gifts to recreate their favorite scenes from the Harry Potter films and experience stories and adventures born of your imagination. The calendar includes minifigures – Harry Potter, Hermione Granger, Ron Weasley, Padma Patil, Parvati Patil, and Cho Chang – as well as buildable models, such as a miniature version of Beauxbatons' carriage and a table with an ice castle.
Take advantage of the offer at 16 euros instead of 22.99 euros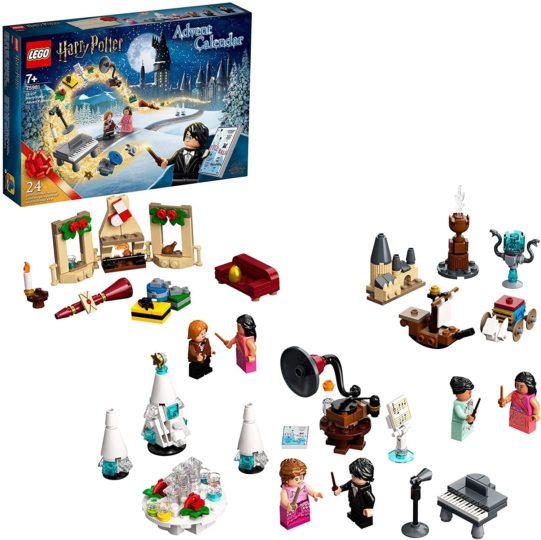 Share the excitement and fun of a fun fair with your child with the Crazy Carnival of Buzz and Woody set from Disney Pixar's Toy Story! This set is designed to be fun and easy for preschoolers and toddlers. It features a colorful shooter with a large board and laser cannon as well as a building base, a Terrorantulus attraction with adjustable arms, 2 bumper cars with a building frame and an ice cream shop with a crate, a table, benches and a panel. Not to mention the figurines of Woody, Buzz L'Eclair and The Shepherdess, plus Ducky and Bunny figurines.
Take advantage of the offer at 32.89 euros instead of 46.99 euros