Apple
iPhone 12 mini: Compact Apple cell phone on sale at notebooksbilliger.de
BARGAIN
The iPhone 12 mini is on offer at notebooksbilliger.de. You can get the compact Apple mobile phone for a short time at a bargain price as part of Black Week.
Until September 27th at notebooksbilliger.de the "Black Week"During the campaign, you buy many technology products such as Laptops and Cell phones at affordable prices. The dealer attracts with discounts of up to 50 percent. Among other things, the iPhone 12 mini is available at a very good price. The compact Apple cell phone is rarely this cheap.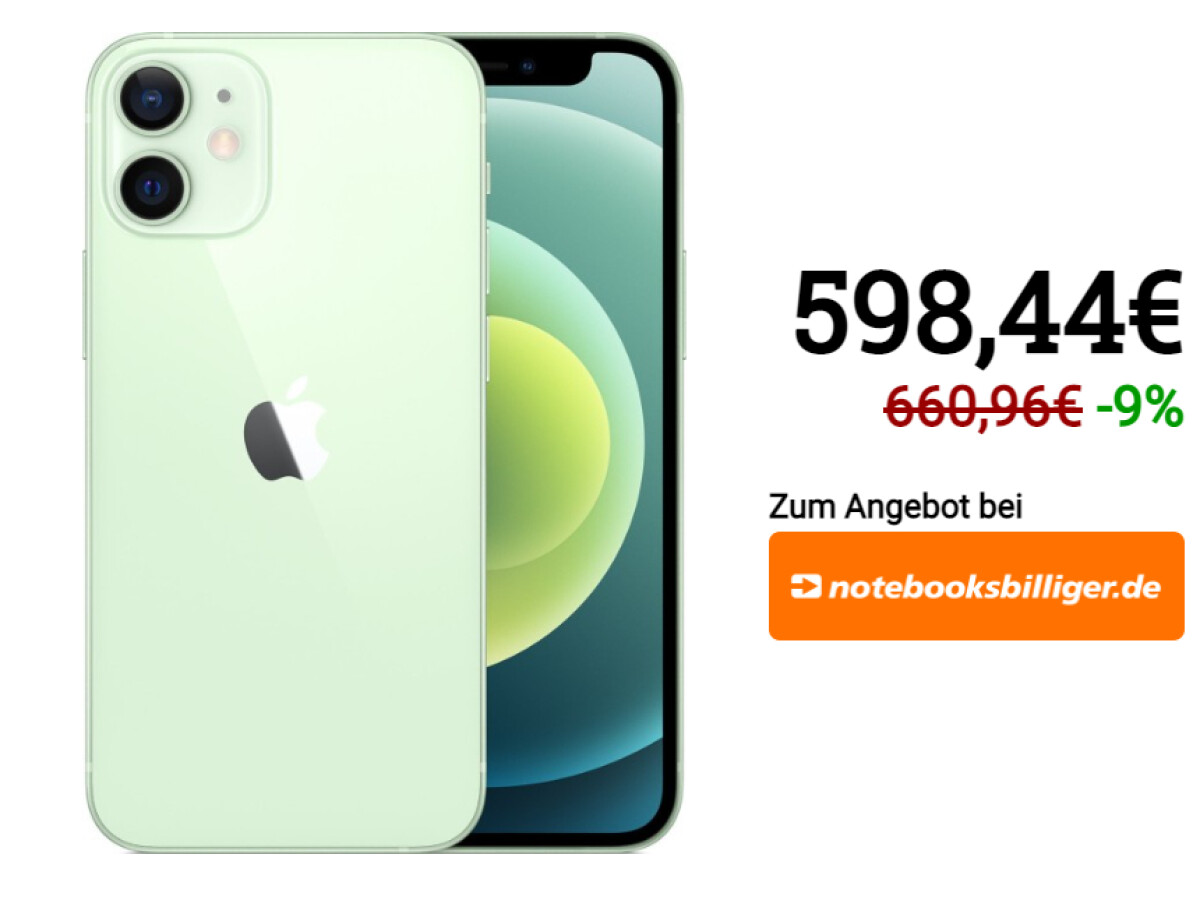 NETZWELT may receive a commission from the dealer for links on this page. More info.
Apple iPhone 12 mini | 64 Gigabyte Speicher

5.4-inch display

A14 Bionic processor

12-Megapixel-Dual-Kamera
The iPhone 12 mini with 64 gigabytes of memory is currently the cheapest at notebooksbilliger.de. You only pay 598.44 euros for the mobile phone if you enter the voucher code "DAILYNBBMI" when ordering. Until recently, 799 euros were due directly from Apple. At other retailers, prices only start from 632 euros in the color green.
To the offer at notebooksbilliger.de
advertisement
Offer in detail

That iPhone 12 mini At 5.4 inches, it is more compact than the regular iPhone 12. Nevertheless, the small model has all the functions of the larger one. For example, the fast Apple A14 processor and the dual camera with 12 megapixels are used.
We have that iPhone 12 mini tested for you. Above all, we were impressed by the good performance and the high-quality workmanship. The cameras also made a positive impression. However, we didn't like the comparatively short battery life as much. Nevertheless, the mobile phone was able to get a very good 8.4 out of a possible 10 points.
If you are looking for a compact cell phone and want to use Apple devices, you can't go wrong with the iPhone 12 mini. Even if it is with the iPhone 13 mini Now there is a successor, the predecessor still offers a lot of performance and will be supplied with updates for many years to come.
The following link will take you to the other special offers at notebooksbilliger.de.
at notebooksbilliger.de to the action*
advertisement
Never miss an offer

Current deals can be found in our section "bargain". In order not to miss a deal, you should also subscribe to our bargain newsletter. In this we regularly provide you with the best offers from the technology sector.
" Tip: The best VPN providers for more security and data protection