News
This new project wants to promote the hydrogen car in Spain with 50 new hydrogenerators
Naturgy, Enagás and Exolum have formed Win4H2 (Win for Hydrogen), to boost the hydrogen car in Spain, focusing on building an infrastructure of production, distribution and supply of green hydrogen.
The hydrogen fuel cell electric cars They are a good alternative to combustion, but at the moment manufacturers are betting little on them in addition to the fact that the charging infrastructure is very deficient.
Hydrogen generators every 300 km
This project was born to develop the use of green hydrogen in the mobility sector throughout the national territory and, for this, the construction of a network of 50 hydrogenerators in a first phase that will cover all of peninsular Spain.
With the construction of these stations, it will be tried that there is a homogeneous penetration so that any user can choose to buy a vehicle with a fuel cell and that can have a guaranteed supply.
The objective is to create corridors through the territory, establishing a network of renewable hydrogen supply points with a distance of 300 km between them and cover the entire country, allowing the establishment of national logistics routes with a guarantee of supply and its connection with international routes.
The first route to be enabled will be between the towns of Madrid, Valencia and Murcia / Cartagena, as well as interconnecting them through a hydrogen corridor, thus facilitating movement between these areas by means of fuel cell vehicles.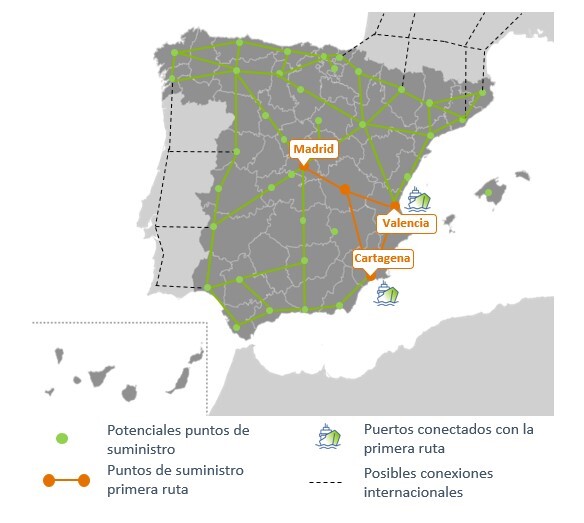 The choice of this first route has been carried out taking into account the high volume of heavy transport, both goods and passengers.
Once this first corridor is enabled, the plan of supply for the rest of the country and thus have a complete national hydrogen charging network for anyone who wants to opt for this mobility.
In each of these locations, the necessary infrastructures will be designed, built and operated to supply the hydrogen demand that is initially identified, making it possible to scale up to meet the increases in demand at all times as they occur.
This is a project that is necessary if you want to increase the use of vehicles with a hydrogen fuel cell in the country since, without hydrogenerators – right now in Spain there is only one and it is from Toyota– It is very difficult to include this type of alternative mobility.
Today in Spain only two hydrogen fuel cell-powered cars are marketed: the Toyota Mirai and the Hyundai Nexo. Thanks to this type of project, the supply of these vehicles can also be boosted, which, for the moment, is very limited.
In Motorpasión | Electric cars set the trend of the future, as shown by the Munich Motor Show