Boursorama Banque is relaunching its Pink Week-end. For a few days, you can touch 130 euros for a first account opening. Online banking is not only the most generous and the cheapest, but above all it is the most flexible of the entire market.
Boursorama Banque gives you yet another reason to open an account with it. Not only is it free and unconditional, it also earns you money. From this Friday morning (October 8, 2021) until Monday evening, the largest French online bank is offering you a premium of up to 130 euros for any first registration.
To obtain the maximum premium, nothing could be simpler: it will be necessary to subscribe to the Ultim account which is the standard formula of the bank. When registering, remember to use the code PW130 to trigger the bonus special Pink Weekend.
I take advantage of the 130 € offered
Boursorama Banque is the most flexible on the market when it comes to the welcome bonus. It is the only bank to offer a reward for an account that is free, without conditions and without commitment. All you have to do is activate your account and order the Visa Ultim bank card to receive 130 euros. Outside of this high point, the remuneration is 80 euros for such an action.
Boursorama Banque, the n ° 1 bank
In recent years, Boursorama Banque has stepped up the pace of customer acquisition. By constantly reducing the cost of an account (55% of customers paid no fees in 2020), by always improving the quality of the offer and by granting bonuses to new customers, she has done everything to attract people.
With 3 million customers, online banking is now very far ahead of its first runner-up ING, which has stagnated around one million users. It must be said that neither ING, nor Hello bank !, nor Monabanq are able to compete with the quality of the Boursorama Banque offer.
The latter has the status of "Cheapest bank in France" for 13 years (also including traditional banks) thanks to an ultra competitive offer. As part of this Pink Weekend, Boursorama Banque allows you to receive an inflated bonus for any opening of a current account… free.
I take advantage of the 130 € offered
This concerns the Boursorama Ultim account which is none other than the standard online banking account. It will give you access to a current account but also a bank card equivalent to a Visa Premier (in particular on insurance and guarantees) for 0 € per month. The only condition is that you have to carry out at least one operation per month for it to remain free.
Beyond the account and the CB, the Ultim formula of Boursorama Banque also gives you access to a whole range of banking products. Online banking is as complete as any traditional establishment: savings, stock market, loans, insurance, you can make it a main account if necessary. It should be noted that customer support was once again distinguished in 2021 by retaining first place on the Customer Relations Podium.

Bank the less expensive

Apple Pay, Google Pay

Carte premium free

Free payments abroad
Current account
Conditions: No income condition – Welcome and Ultim cards
Annual fees: € 0 • Initial deposit: € 300
Check deposit: ✔ • Cash deposit: ✘
Bank card
Monthly cost of the card: 0 €
Euro zone withdrawals: Free • Euro zone payments: Free
Withdrawals in foreign currency: 1.69% • Payments in foreign currency: Free
Proposed cards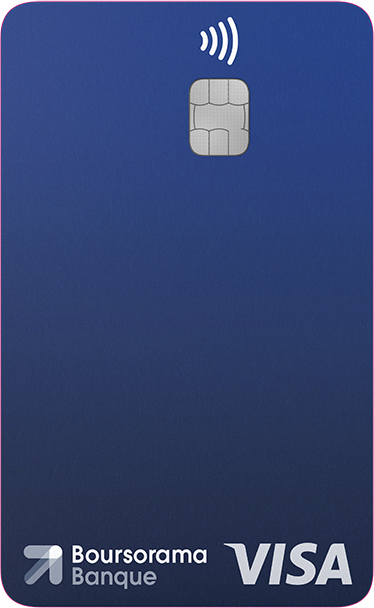 Mobile payment
SEE MORE
1
Conditions for obtaining the bonus
Opening a Boursorama Ultim account is not very demanding: you have to be a major customer, residing in France and… that's it. Online banking will not ask you for income conditions (no minimum income imposed) or domiciliation. Of course, she will not ask you to make her account a main account either.
Once you have completed the subscription form, you will need to send Boursorama Banque supporting documents (identity and address). In return, the online bank will send you your new RIB. Once you have made a first transfer on this one, the bank will trigger a first payment of 50 euros.
To receive the rest and reach 130 euros, you will then have to order your Visa Ultim bank card. This is also free, so it's more of a symbolic step to grant you the end of the bonus. So you will receive 80 euros more when this step is completed. Note that for those who prefer the Welcome limited account (lower ceilings, no overdraft), the second part of the premium is only 30 euros.
That said, this Welcome account has struggled to position itself since the update of the Ultim formula last December. Indeed, the latter is more flexible, more complete and always free, it therefore beats the Welcome formula at all levels. You might as well take advantage of it since it will also give you access to this nice bonus of 130 euros for this Pink Weekend.
I take advantage of the 130 € offered
When Boursorama Banque organizes a Pink Weekend, it's always euphoria. Indeed, customers tend to wait until this moment to open an account. They can receive a premium of 130 euros – against 80 in normal times – without any additional conditions. If you were intending to open a bank account online, now is the perfect time to do so. Online banking has never offered higher compensation, it's the most you can get.
As a reminder, the special operation led by Boursorama Banque takes place from October 8 to 11 at midnight. To be sure you don't miss it, we invite you to start the form now. You can always come back to it later if you haven't completed it.