News
Not all old cars are classic or historic cars – these are the requirements
The age in cars is a topic that has become fashionable. It is one of the determining factors when receiving the DGT environmental badge (among other factors) and therefore be affected by traffic restrictions.
Today we are going to see the differences between a classic car and a car that is simply older. Neither an old car is always a classic car, nor does a classic have to be old, nor does a classic necessarily have to be a historic car.
What is a classic car
A tall car is just that, a vehicle that has already spent a good handful of years and has lost its youth. On the other hand, a classic car is another story.
Input for what a car classified as classic must be at least 25 years old. If the vehicle has not reached that age, it will never be treated as a classic, including special insurance or reductions in municipal road tax, for example, although there are exceptions that depend on the regulations of each municipality.
What is a historic car
A step beyond classic cars are those considered as historic cars, and the requirements to be treated as such are a bit (quite) more complex.
It is not enough to have completed a minimum age of 30 years. Historic cars have to stand out for their uniqueness and as far as possible not having been modified during their already long life. On the other hand, the 'vintage tuning' is allowed, that is, the contemporary modifications of the car.
In order for a car to be collected as a historic one, the DGT collects three key points:
From there you have to follow a series of very specific steps to be able to register a car as historic, although it must be said that the original license plate (with an H, four numbers and three letters).
That the Autonomous Community classify the vehicle as historical after an inspection in an official laboratory.
Pass a technical inspection prior to registration in the province where you want to register.
Issuance of the new technical data sheet as a historical record where the limitations and exemptions to the circulation of the vehicle are collected.
The next step is to gather all the necessary documentation, including the application form duly completed, the proof of payment of the registration fee, the resolution of the Autonomous Community, the new technical file and the proof of payment of the corresponding taxes.
In addition, you also have to contribute four color photographs of the vehicle (in front, behind and on both sides) and the registration certificate.
The processing can be done in person at Headquarters or through the internet, and has a cost of 98,78 euros for automobiles and 27,57 euros for mopeds.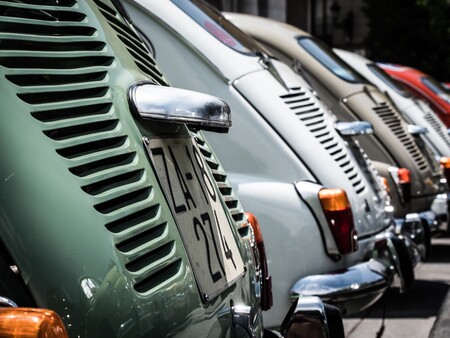 With the new historical car registration you can access a number of benefits. The first of them is that by being classified as historical, these cars are required special care, they are pampered vehicles and recognition as historical allows them to have a higher sale value.
Beyond economics, on a practical level, historic vehicles see extended deadlines when passing the ITV. They can have terms of between two (if they are between 25 and 35 years old) and four years (if they are more than 45 years old) depending on the car, instead of the annual term.
In addition, they can also have other benefits such as reduction or exemption of road tax (at the discretion of each municipality) or cheaper insurance (depending on the insurer and meeting certain requirements such as a maximum annual mileage).
In Motorpasión | Who can pass the ITV for you