News
is the first driver since 1997 to finish a Formula 1 race without changing tires
The Turkish Grand Prix was not exactly the most exciting race of this Formula 1 season, but it did leave us a record for history: Esteban Ocon became the first pilot since 1997 to finish a full Formula 1 race on the same tires he started it on.
The French Alpine rider started on intermediate tires and those are the same tires that he reached the finish line 58 laps later. Total, one hour and 33 minutes on the wet track of Istanbul Park in which the Pirelli intermediate tires held out by a pure miracle, because they finished very badly.
Ocon took a very lucky but suffered point thanks to his feat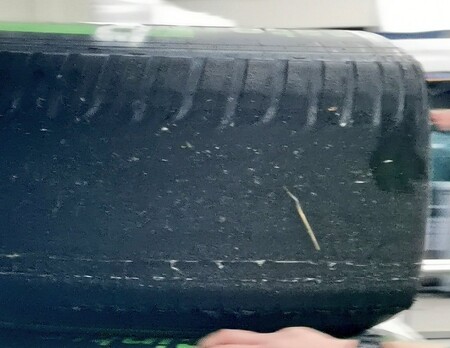 Since 1997 we haven't seen a driver finish a full race on the same tires he started on. Then Mika Salo did it at the Monaco Grand Prix with his Ford-powered Tyrrell, also in the water, and it earned him a fifth place finish. They were the only points he scored all season. Also 2005 is an exception, since it was mandatory to do the whole race with the same rubber.
To reach from Salo to Ocon we have been through many pilots who have not made stops in the pits. Races interrupted, or directly canceled, with a red flag did not require a pit stop, but either the tires were changed with a red flag or not all laps of the race were completed.
The strategy did not go wrong for Ocon, albeit narrowly. Before the parade dance I was between eleventh and twelfth position, but thanks to his strategy he finished tenth and adds Alpine's only point in Turkey, since Fernando Alonso was taken ahead at the start. A feat.
Also other drivers, such as Charles Leclerc or Lewis Hamilton, flirted with the possibility of finishing the race without changing the tires, but they regretted on the way before the risk of a puncture. Ocon's tires came to the pits practically on the canvas, with holes that showed that the blowout was imminent.
In fact, Ocon's final laps were at a lousy pace, extremely slow, and he passed the finish line tenth with just seven tenths of an advantage over Antonio Giovinazzi's Alfa Romeo. Ocon was lucky to be the last driver bent at the head of the race and thus not having to go one more turn.
58 laps worth of wear 😮@OconEsteban took his tyres to the limit 🔎#TurkishGP 🇹🇷 # F1 pic.twitter.com/Vzg7Felw2C

– Formula 1 (@ F1) October 10, 2021
The actual Formula 1 regulations prevent finishing a dry race without changing tires, since it is mandatory to mount at least two different compounds. However, in wet races that rule disappears, allowing feats like that of Ocon, who scored an epic point and made history along the way.
In Motorpasión |We tested the most powerful Volvo XC60: a plug-in hybrid that leaves you wanting more | "They can't say we had it easy": We spoke with Álex Palou after being IndyCar champion