News
the first compostable laptop?
With its new Aspire Vero, Acer offers an environmentally friendly device made from recycled materials.
Acer today unveils the Aspire Vero, a laptop computer that is part of an eco-responsible approach. Indeed, the brand has decided to go further in its environmental commitments with a device designed from renewable materials,
Indeed, the chassis and the backlit keys of the Aspire Vero comprise respectively 30 and 50% recycled plastic. The same goes for the packaging, made from 100% recycled cardboard. And once the device is unpacked, the box can be recycled a second time or act as a stand for the computer.
And it's not just the materials that are involved; the software will also be entitled to its dose of ecology with VeroSense. This is a software solution that should save energy, and therefore extend the life of its 48 Wh battery. The concept is not new, and resembles the energy saving mode already present on some devices. But Acer pushes the cursor a little further with four performance modes, up to Eco + mode. The latter allows you to deactivate some of the critical functions of the device to ensure "Extreme battery saving". Enough to complete a last e-mail or finalize a document before the fateful blackout.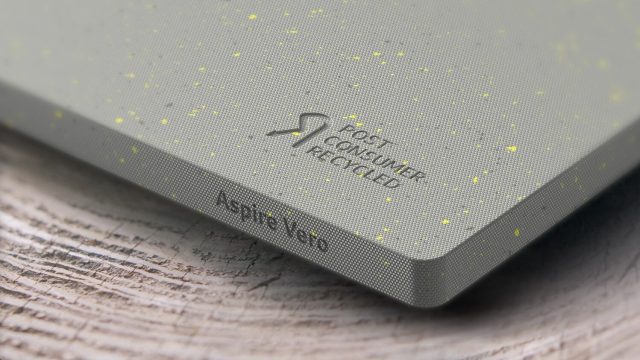 A versatile companion
The device will be available in two versions. Both will be equipped with a latest generation Intel processor. The most economical model will be entitled to an i5-1155G7 clocked at 4.5 GHz, against an i7-1195G7 at 5GHz for the more high-end model. Both models can accommodate up to 24 GB of RAM (8 GB of "on-board" RAM, and 16 GB of So-DIMM memory). No dedicated graphics card, however; it will be necessary to be satisfied with the integrated graphics controller.
Both models will benefit from an NVMe SSD, available in 512 GB or 1 TB. In terms of connectivity, the device must have the Wi-F-6 standard, one USB Type-C port, two USB A 3.2 ports. , a full-size HDMI 2.0 port, and a combo jack.
A configuration which imposes some restrictions at the level of the slab. It will indeed be content with a 15.6 "matte IPS panel, with a resolution of 1920 x 1080. It should therefore be a versatile device, perfectly suited to all everyday office tasks. On the other hand, it will be more complicated to play or to carry out more demanding work in good conditions.