News
Acer unveils a laptop PC … with a stereoscopic 3D screen!
Acer today unveiled its new ConceptD notebooks for creators, including one with stereoscopic 3D display.
Acer today introduces its all-new ConceptD 7 SpacialLabs Edition, a particularly muscular workstation tucked away in a sleek laptop.
Its 16-inch screen embeds a technology that is unique to our knowledge in its category: it benefits from SpatialLabs Go, a technology unveiled last May that makes it possible to transform at leisure a good old 2D image into stereoscopic 3D content. And all in real time and without additional glasses or headphones, please!
A proposal to say the least intriguing for a laptop, but oh how promising if it works as promised. In theory, such a system could revolutionize the way many trades work. We obviously think of 3D modelers or animators, for whom a true three-dimensional display is a still unattainable dream.
Acer has also had the good idea to integrate additional modules for some of the star software in the industry, such as the essential Zbrush. An association that we would be very curious to discover! It could also benefit engineers, architects, or any other trade that carries out computer-aided design.
Powerful, original … and inevitably very expensive
Obviously, to make such a system work, one can expect a muscular configuration. Unsurprisingly, the ConceptD 7 beats the heavyweight category with an RTX 3080, an 11th generation Intel Core H-series CPU, and 64GB of DDR4 RAm. The whole thing will serve as a very beautiful 4K UHD Pantone certified screen, with 100% coverage of the Adobe RGB gamut; everything an artist can expect from a machine designed for the pros.
To ensure the continuity of the stereoscopic effect, a pair of cameras will follow the position and movement of the subject's eyes. The image is then projected differentially to each eye. This implies a perfectly foreseeable limitation of this apparatus; this mode of projection will most certainly be limited to one observer at a time. Not ideal for taking a look at the work of a colleague or employee …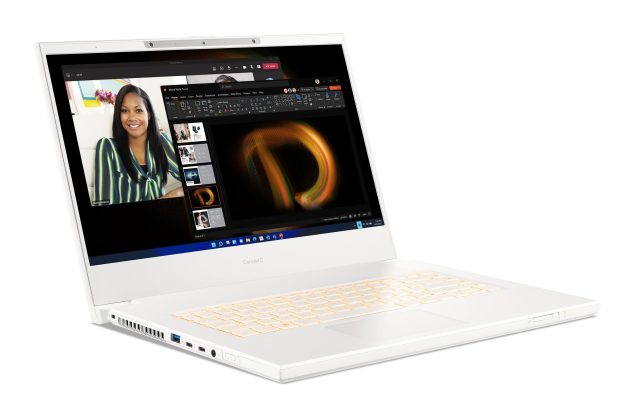 Acer is also launching the SpatialLabs developer site, where developers can access various tools such as the Unreal Engin plug-in designed for the occasion. As part of this program, developers work with Acer on innovative content, applications and projects. We can for example cite a virtual tour platform for architects, or a virtual showroom that could be used by a dealer. Applications that are still fairly minimalist and a bit gimmicky, but which have the merit of giving ideas for the future.
To afford this particularly intriguing device, however, you will have to put your hand in the wallet. Niche technology requires, it will be displayed at 3599 € when it was launched in next december.
Two other versions without the 3D display
If the device overall appeals to you but this technology does not particularly inspire you, Acer has also declined its range in two other more affordable devices, under the name ConceptD 3.
The first, soberly baptized Acer Concept D 3 16:10, is a standard hinged laptop that has more or less the same technical characteristics than ConceptD 7, less stereoscopic technology. The only real difference is to look for on the side of the graphics card. Exit, the RTX 3080; this version includes an Nvidia T1200, much less powerful in game but just as capable in terms of productivity. This model will be sold between 1799€ (version standard) et 1899€ (Pro version), and will be released in next december.
The second, the ConceptD 3 Donkey Convertible, is almost identical to its twin shown above. But as you might have guessed by now, this is a convertible version. Once turned over, the device takes on the air of a digital graphics station, like a Wacom Cintiq.
The machine is also tactile and comes with the excellent Wacom stylus – a safe bet in the industry. It can therefore be transformed at will into an inclined work plane; enough to allow an artist to quickly realize a brilliant inspiration. This model will be sold between 2099 € (standard version) and 2199€ (Pro version), and will also be released in next december.