The price of electricity has been very high for months. And has the light has risen so much, that there are hours in which, which for the driver of a Tesla, is cheaper to charge in a Supercharger of the brand, away from home, than charging it at home.
Currently recharging on a Supercharger of Tesla has a cost of 0.31 euros per kWh. While the price for those who have a regulated tariff, at times of greatest consumption, usually from 7:00 p.m. to 8:00 p.m., has a cost of 0.33 euros per kWh, according to the REE price curve. Not counting VAT and the cost of the power section (s) that would have to be added.
It is true that an electric car is not usually charged at 8:00 p.m. In the case of this past night, the price of kWh was 0.23 euros at 11:00 p.m. on October 12 to go down to 0.19 euros per kWh at 04:00 a.m. today.
Luckily, at least for now, it's still more interesting to charge at home at night than in a Tesla Supercharger. However, sometimes, for whatever reasons, it is necessary to charge the car at a time that is not the most suitable, for example, at 6:00 p.m. And today, at six in the afternoon, the price of the kWh will be 0.30 euros per kWh (plus power and VAT). And there is no color there It is more convenient to go to a Supercharger of the brand.
It is cheaper to recharge in a Tesla Supercagardor … and in one of Ionity
If electricity prices continue to rise, drivers who own an electric car of a brand that is part of the consortium Ionity And that they have the annual subscription to the contracted service, the kWh will also be cheaper at an Ionity charging station than at home, depending on what hours. And that Ionity is not exactly a cheap network.
Let us remember that Ionity is a consortium made up of the brands of the Volkswagen group (Audi, Skoda, Porsche, Volkswagen y en breve CUPRA), those of the Hyundai group (Hyundai y Kia), those of the BMW group (BMW y MINI) and by Ford. With the annual subscription of 17.99 euros per month for the Ionity Passport, the price per kWh for any electric car of these brands is 0.35 euros in Spain, VAT included. Today, from 7:00 p.m. to 8:00 p.m., the price per kWh on the regulated market, at home, will be 0.33 kWh (without VAT).
Not counting the cost and VAT of the power section and only adding VAT, the price of the kWh at home from seven to eight in the afternoon will be 0.399 euros, that is, 40 euro cents. Yes, it is more expensive than Ionity. Although it is true that the price of the annual subscription has not been impacted in this quick calculation, as it is variable and the more we use the Ionity points, the less impact it will have on the total cost per kWh.
Even so, it is significant that at certain times it is cheaper to recharge the car in a Tesla Supercharger and practically the same or cheaper in Ionity, depending on the use we make of that network. Again, it is true that it is usual to charge at night, but even if it is on a specific basis, sometimes we may need to recharge from 6:00 p.m. or 8:00 p.m.
The high cost of energy is having a negative impact on all families and on industry in general, which is a great consumer of energy. But if that upward trend is not broken, nor is it going to help promote electric mobility.
While it is true that, calculator in hand, electricity for the car is still cheaper than gasoline, the vast majority of motorists look at what it costs us to "fill the tank" and not the overall cost. And it is for this reason that diesel triumphed in Europe in previous decades. It did not matter that the car and its maintenance were more expensive than gasoline, when filling the tank, diesel was cheaper.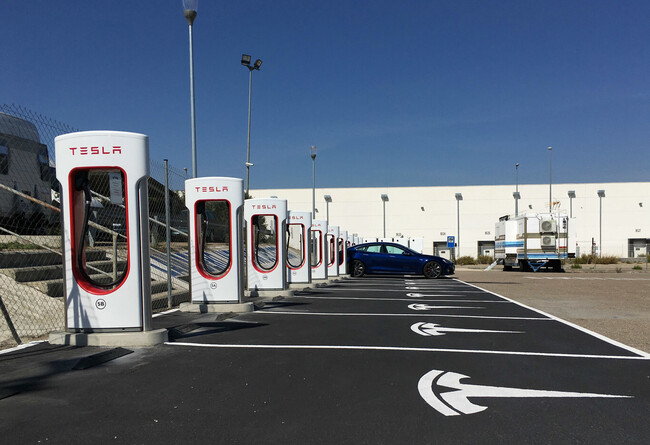 Something similar could happen with the electric car. The first buyers, very focused on the subject and with a lot of information, know that the electric car is still cheaper compared to its gasoline or diesel equivalent, even in the current situation. But to be able to sell en masse, you have to convince the majority, not only to the pioneers and the convinced of the first hour. And with these electricity prices, it will not be easy.
In Motorpasión | We tested the 351 hp Ford Mustang Mach-E: a fast electric SUV with good autonomy but with some points for improvement | The best chargers for electric cars and plug-in hybrid cars in 2021