News
High voltage! This 1,835 hp Chinese electric hypercar promises to reach 420 km / h and dethrone the Rimac Nevera
This hypercar with futuristic aesthetics and two electric motors that give it a combined power of 1,835 hp and a torque of neither more nor less than 12.000 Nm (yes, you read that right) wants to hit the market next year in the form of a limited edition, with a unit price more than affordable for its characteristics. Its about Farnova Othello: an almost science fiction prototype.
Come straight from the future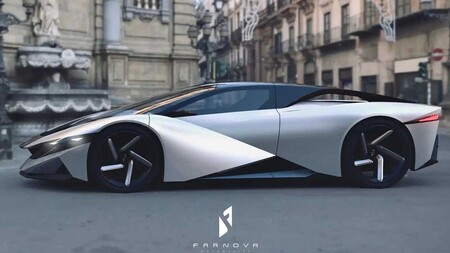 To the concern of European manufacturers, China's offensive on electrified supercars is proceeding slowly but steadily. A few months ago at the Shanghai Show, it was revealed the Hongqi S9 production: a plug-in hybrid with 1,400 hp and a design whose lines vaguely recall the king of the chrono: the undeniable Bugatti Chiron, with which it intends to rival.
However, the protagonist of this post goes a step further than his Asian compatriot and unlike the S9, it is a pure electric hypercar whose aesthetics impact, but no less than the technical specifications that its manufacturer has revealed for the moment.
And it is that in addition to carrying two electric motors that reach a total power of 1,860 HP and provide four-wheel drive, the latest creation from Farnova Automotive announces an incredible torque of 12,000 Nm and a maximum autonomy of 600 kilometers thanks to a pack of 75 kWh batteries signed by the Swedish manufacturer Northvolt.
The Farnova Othello only weighs 1,350 kilos and thanks to its attributes it is capable of accelerate from 0 to 100 km / h in just 1.9 seconds and to reach 300 km / h in 8.5 seconds, while its top speed is 420 km / h, according to the manufacturer.
If these figures are confirmed in the definitive homologation tests, we would be facing the new fastest electric hypercar in the world, capable of dethroning even the imposing Rimac Fridge which currently holds the crown with 1,914 CV, figures 0 to 100 km / h in 1.9 seconds and have one maximum speed of 412 km / h.
With a most evocative name, the Othello project was born from the collaboration between the Chinese manufacturer Farnova Automotive and Qiantu Motors, which provided the chassis of its K50 supercar as a starting point for the prototype.
The objective of its creators is that it reaches the market next year, in a series limited to 200 units and with a unit price of only 244.000 euros. We will have to wait to know the real outcome of this promising project on paper.
In Motorpasión | We tested the Aston Martin DBS Superleggera Volante, a 725 hp and 900 Nm beast dressed in a couture suit