News
what is changing today
Today, RATP is launching the gradual abandonment of metro ticket books in around a hundred Parisian stations.
After years of loyal service, the T + ticket book is withdrawing. The RATP intends to modernize its offer, by focusing on dematerialized securities. Since October 14, many Parisian stations have stopped selling cardboard tickets. However, single tickets will continue to be available at ATMs.
For the Parisian transport authority, the goal is to offer new more advantageous and practical alternatives for occasional users and visitors. Goodbye demagnetized or lost tickets, now it's the smartphone and the various cards offered that become travelers' allies.
A hundred stations
Despite everything, this abandonment will be gradual in Paris, and only a hundred stations are currently concerned. From this Thursday, it will no longer be possible to buy a book of ten tickets. In January 2022, the end of the sale of t + ticket books to ATMs will concern 176 additional stations, until total abandonment in mars 2022 at counters and terminals.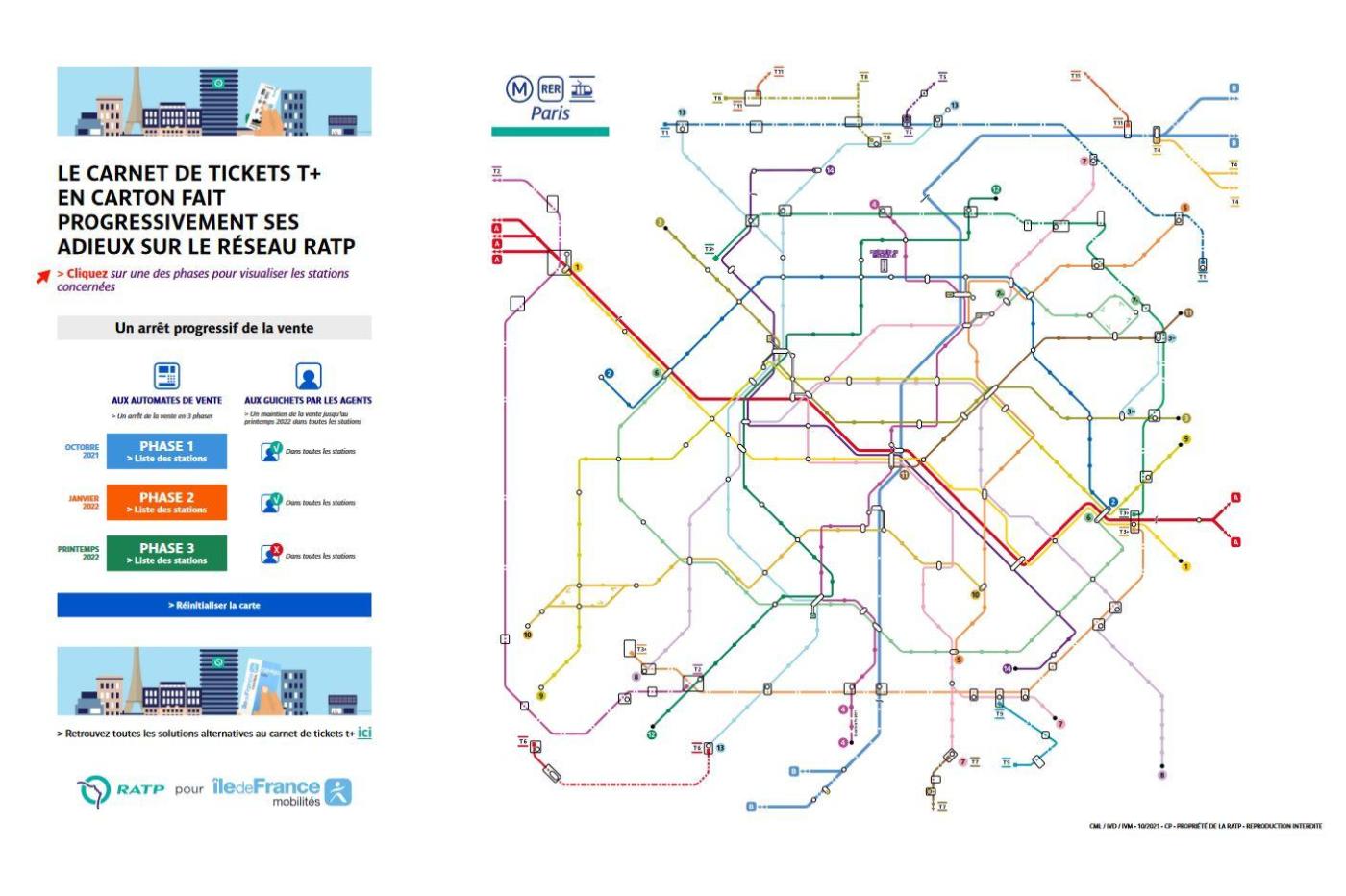 What alternatives?
For occasional travelers, the RATP has launched the Navigo Freedom +. Presented in the form of a card, this pass counts each passage and deducts the amount due at the end of the month. This solution is aimed particularly at those for whom a monthly plan is not the ideal and most economical solution. The trip is billed 1,49 euros, but if you make several trips during the day, you will only pay 7.50 euros maximum. If you benefit from a reduced rate, each trip will cost you 0.74 euros (except Orlybus or Roissybus). If you don't travel the following month, you pay nothing!
To make life easier for tourists, Navigo Easy offers to load several virtual notebooks on a physical pass, marketed at only 2 euros. Sold in stations and stations or in RATP-approved shops, the Navigo Easy can be used to load single tickets, ski passes Navigo Day, and even Navigo Youth Weekend. You can also add virtual notebooks to the kiosk or to the Bonjour RATP application. It is offered to 14,90 euros, against 16.90 euros for its physical version. Note that the Navigo Easy is valid for 10 years.
Finally, if you prefer to travel by bus, but not every day, you can use your smartphone to buy a ticket. All you need to do is request a breakdown assistance ticket by text message. When you see your bus approaching, send Bus (line number) by SMS to 93100. Concretely, to take bus number 21, send BUS21 before boarding. The controllers will then ask you to present this message to validate the title. The ticket is charged 2 euros.
For more information, visit the RATP website.