News
with this invention, Roborock will revolutionize the way you do housework
The new Roborock is not just a stick vacuum. The premium brand has invented a vacuum cleaner that will be the answer to all your worries. Impeccable.
Roborock is a brand that we no longer present. It is a major player in the segment of robot vacuum cleaners and high-end cordless vacuum cleaners. It has managed to make a name for itself to compete with brands that have long been established in the niche. Today, Roborock returns with a new kind of product that will revolutionize the way you clean: le Roborock Dyad.
This cordless vacuum cleaner has one very important feature: it is able to mop in addition to removing dust. Thanks to it you can therefore vacuum and mop at the same time. This saves a lot of time – but also a gain in efficiency. Because in addition to removing dust and other dirt, the Dyad cleans stains on the floor with its mop mode.
Roborock's Dyad will be available from November 11 at 9:00 am sharp. In the limit of the available stock, its launch price will be 353 euros instead of 449 euros. Exclusively on AliExpress, you can order it from that date. Before November 11, we strongly advise you to "Add to Cart" the product to save a step (and save time). At Roborock, every launch is a success and the stock disappears in a few minutes.
To discover the Roborock Dyad, it's here:
Dyad: vacuuming and washing in a single gesture
The Roborock Dyad is therefore not a stick vacuum like the others. It is a multi-function vacuum cleaner: it vacuums, cleans and even dries the floor after its passage thanks to its suction power. In a single step, you get rid of dirt, stains and liquids.
Imagine, for example, a bowl of cereal and its milk spilled on the floor: with the Dyad you can clean everything in a single gesture. No need to find a sponge or absorbent paper and then painfully pick up the cereals. Roborock has worked the product to create a high performance cleaning machine. To try it is to adopt it.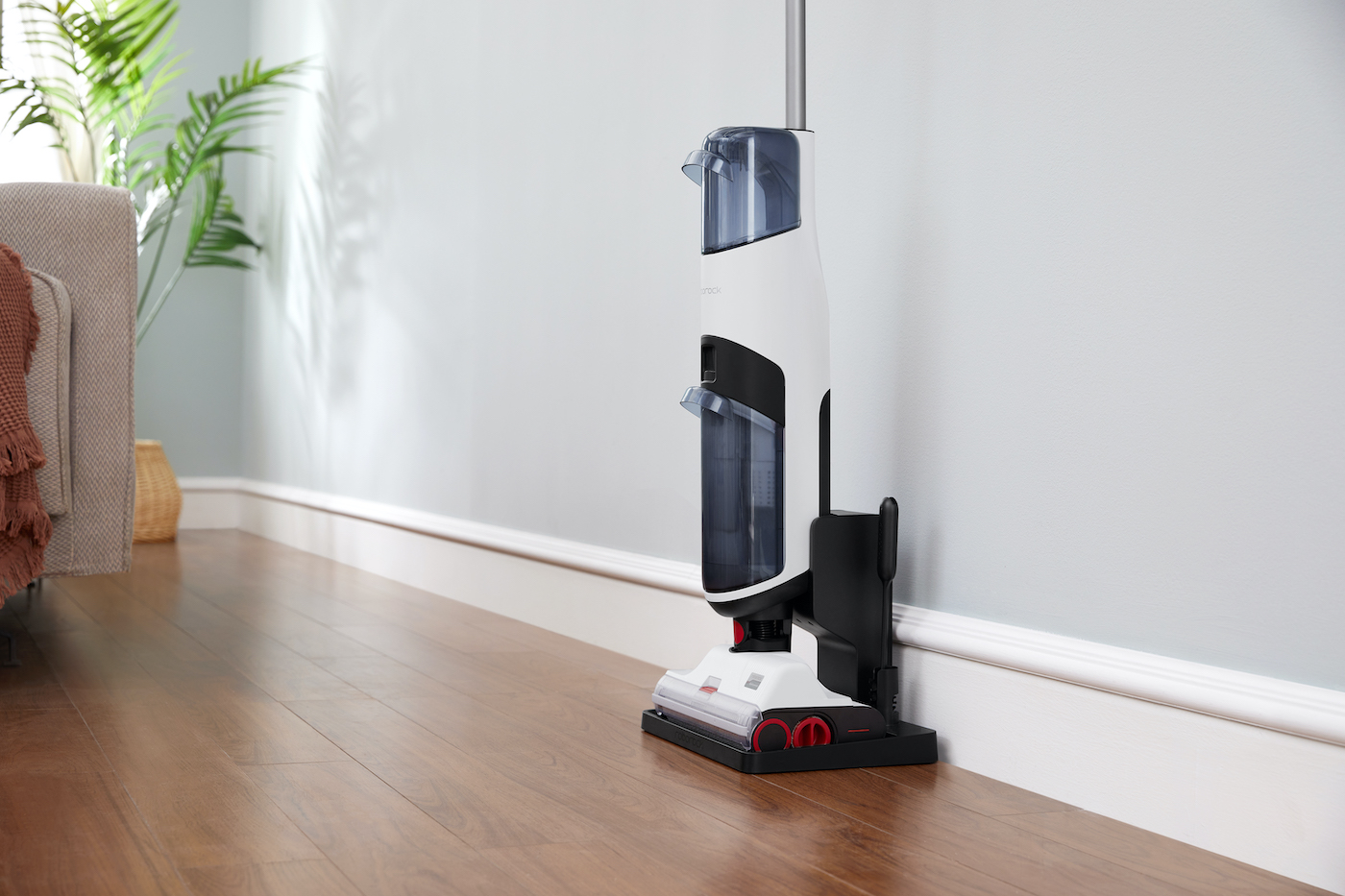 To achieve this result, the Roborock Dyad has two motors to operate three rollers in opposite directions which allow vacuuming and washing at the same time. You will also find two tanks, one for clean water of 0.85 L and another for dirty water of 0.63 L. A grid will act as a filter to retain the largest dirt. This configuration is still unique on the market for the time being..
In practice, as you pass the Dyad, clean water is sprayed over the rollers to clean up the dirt while the dirty water rises to the appropriate tank. Tea, yogurt, sauces… everything can be cleaned. Better still, thanks to the power of its suction, the Roborock Dyad can dry the water deposited almost instantly. Everything is done in no time, you no longer have to wait for the ground to dry before you can move around your home.
Cordless vacuum cleaner, the Dyad obviously works on battery. Roborock did it right with a 5,000mAh battery that can last 35 minutes on a single charge. Largely sufficient to clean most homes since this corresponds roughly to an area of ​​280 m2. The charger is also included in the box.
The Dyad at a knockdown price for its launch
Good news if you want to take advantage of the Roborock Dyad: it is at a reduced price for its launch. Officially marketed in France at 449 euros, you can afford it for 353 euros * thanks to AliExpress. The world leader in e-commerce and the brand have teamed up to offer this exceptional reduction for the Single Day which will be held on November 11 and 12.
So you only have two days to take advantage of this unmissable promotion… and maybe even less because the offer is valid while stocks last. Considering the promotion and expectation around the Roborock Dyad, it is very possible that stocks are melting like snow in the sun. We therefore advise you not to hesitate too long.
Tip to pre-order it cheaper
To make sure you have the Dyad at the advantageous price when it becomes available on November 11 and 12, AliExpress advises you to take advantage of a trick: it should "Add to Cart" this vacuum cleaner to save a few seconds prior to this date. On November 11 at 9:00 am sharp, you will have to go to the site and validate the order. In your shopping cart on AliExpress, you will see that the product will have dropped from 449 euros to 353 euros. On condition of arriving on time.
To discover the Roborock Dyad, it's here:
* This is an indicative price in euros converted from the US dollar. The Roborock Dyad is sold in dollars on AliExpress, so the actual final price may be slightly different depending on currency rates.