A few weeks ago it was confirmed the arrival of the Ford Brondo Raptor, but while the wildest variant of the Bronco arrives, the Fords have decided to continue expanding the family with the Ford Bronco DR.
The DR thing comes from Desert Racer, and precedes the arrival of a very beast destined to run through the desert in limited edition and equipped with the almighty 5.0 V8 Coyote engine that the Ford Mustang uses.
Ford Bronco DR: radical offroad without compromise
Ok, yeah, it's not going to be available to everyone. The Ford Bronco DR is a creation of Ford Performance destined to continue to break records in offroad racing. And is that the blue oval have been very clear from the beginning and want the bronco Go back to being that 4×4 with racing genes.
Designed to compete in the 2022 SCORE Baja 1000, the Bronco DR will be a limited edition of just 50 units that Ford will carefully distribute to just a few select customers at a price of $ 200,000 (slightly more than 170,000 euros to change). It is also a 100% racing car that cannot be homologated for driving on the road.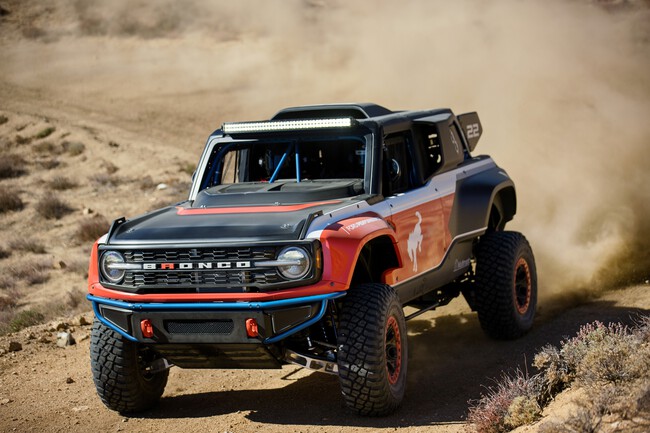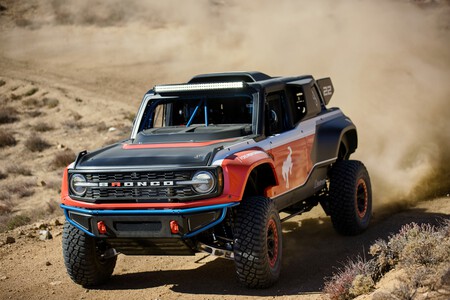 This desert animal is practically a racing prototype in which nothing has been left unaltered. Starting from the standard chassis, Ford Performance has developed a set with elongated and reinforced suspensions with Multimatic shock absorbers with travels 55.1% and 56.8% wider at the front and rear respectively than in the Bronco Badlands.
The wheels are 17-inch beadlock rims shod with huge 37-inch BFGoodrich Mud-Terrain T / A KM3 tires supported by new aluminum control arms. All reinforced by an interior roll cage that also serves as a reinforcement for the structure.
The body dispenses with everything unnecessary, uses massive steel bumpers and the wheel arches have been widened almost infinitely. The off-road angles have been modified with 47º, 37º and 33º for the attack, exit and ventral dimensions.
All panels now become fiber and the glazed surfaces have simply passed away. The supplementary lighting elements and a modified rear part to house a spare wheel cannot be absent.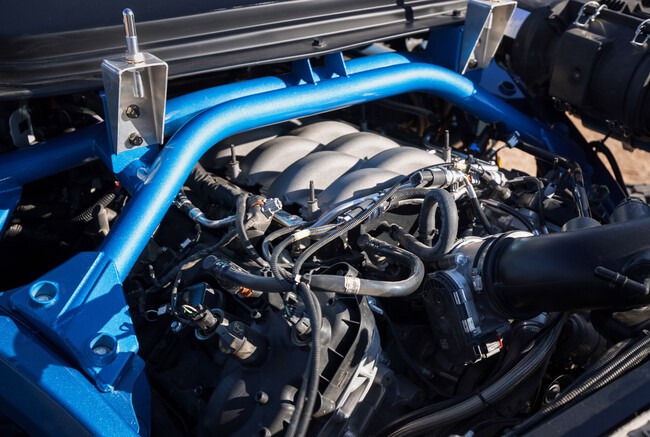 And under the hood? Well, in vain there is no longer a V6 engine. Now the portentous has been placed Block 5.0 V8 Coyote with a power not specified by the manufacturer but higher than 400 hp.
Of course all that power is directed to all four wheels via a new 10R80 racing transmission with a transfer inherited from the Ford F-150 and electronically locking front and rear differentials.
Curiously, the standard brake equipment has not been reinforced, preserving the original rotors on which more resistant pads now bite to avoid overheating.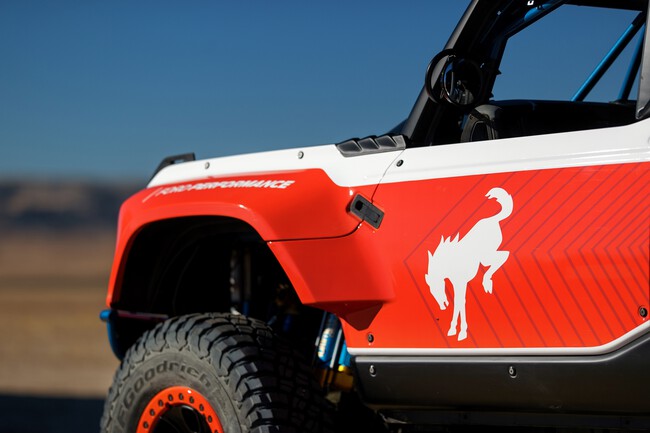 In Motorpasión | The Opel Omega Evolution 500 is a unicorn with a racing engine born for the DTM and that Opel tried to sell at its dealerships