This week the SEMA Show in Las Vegas and ToyotaLike many manufacturers, it could not be absent from the professional personalization salon. While there will be a horde of Toyota Supra ready, the Japanese brand has created a sensation with its camperized and retro-styled Toyota Tacoma pick-up.
Baptized Tacozilla Tacoma Camper, this pick-up camper offers almost the same comforts as a small house with the mobility of a true all-rounder.
La Tacozilla starts from a base of Toyota Tacoma TRD Sport, although the Toyota Motorsports Garage team has modified its platform significantly. The chassis had to be redesigned since the original did not allow the installation of the camper part in the conditions that the people of Toyota wanted.
The conversion could have been done with the stock chassis, but since the team wanted the rear compartment to be comfortable enough for a 6ft person to stand, they had to modify the chassis.
Speaking of chassis, the modified suspension gives 5 cm more free height relative to a stock Tacoma TRD, something the 33-inch diameter General Tire Grabber X3 off-road tires help with as well.
Campers based on pick-ups of the brand from the seventies and eighties, such as the Toyota Chinook, have been the point of inspiration for the Toyota Motorsports Garage.
The white paint adorned with yellow, orange and bronze stripes recalls those times. Interestingly, the combination of retro styling in a current design like the Tacoma works very well and the results are quite elegant.
The same comforts as at home, but in a Toyota
The camper compartment is possibly the most impressive part of this proposal. its structure and exterior panels are made of aluminum. On the outside, there are no hard creases or straight lines marking the sidewalls, as Toyota has wanted to round out the edges of the caravan to better suit the styling of the Tacoma.
This attention to detail is also appreciated in areas such as the back door, which required more than 100 hours of work to complete.
As we walk through the door, we meet teak flooring, a full kitchen with appliances, a full bathroom with a hot shower, and of course a 3D printed dining table. The table can be hung on the wall, as if it were a painting, thus freeing up space to rest or sleep.
In addition, it has a unique opening for passage between the driver's cab and the camper frame. You don't have to go outside to get from one place to another.
Unfortunately for the followers of the van life, the Tacozilla is just aconcept car created expressly for the SEMA Show. That said, if Toyota via TRD does not dare to sell something like that, it gives me that more than one company specialized in converting vehicles into camper vans will dare to make a similar proposal.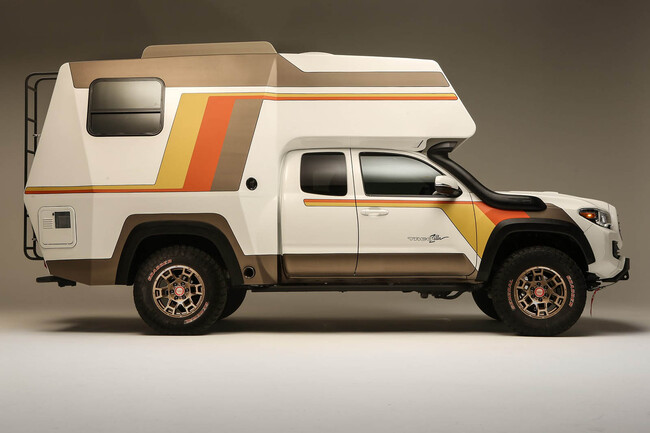 In Motorpasión | We tested the Toyota Land Cruiser: a 4×4 that juggles ride quality and off-road performance