The Dreame T30 is the latest premium cordless vacuum cleaner from the brand of the same name. It is considered the only real alternative to the most powerful models from Dyson. With this Black Friday before its time, it becomes almost 3 times cheaper than it.
The T30 is the latest cordless vacuum cleaner unveiled by the Dreame brand. The latter has been available since last June. It is the direct rival of the latest Dyson V12 and V15 with an engine that runs up to 150,000 times per minute. From a value for money point of view, however, Dreame is more convincing than its English competitor.
If the Dreame T30 is presented as a premium cordless vacuum cleaner, its price remains accessible. Still, the features and performance of this device are just as high end as the Dysons. During Single Day, an operation that will take place on AliExpress on Thursday, November 11, this Dreame T30 will be priced at 279 euros instead of 459 euros. We explain to you how to take advantage of it below.
Why wait until Single Day to buy it? Single Day is a worldwide event that takes place over a single day. To take advantage of the Dreame T30 for the occasion, you must add the vacuum cleaner to your basket now. Why ? Because this is your only chance to take advantage of the lowest price (279 euros) on November 11 at 9:00 am sharp. This is when Single Day begins. Everything starts in a few seconds, so you have to put the product in the basket (displayed at 324 €): on D-Day, you will have to enter the code 11AE45 to obtain an additional discount (279 €) and pay for your order. If you think too much, it will all be gone.
For those who do not (yet) know Single Day, this day is the biggest business transaction in the world. The sales volumes generated on the single day of November 11 are 10x greater than those of Black Friday on Amazon. To achieve its very high sales targets, AliExpress does not hesitate to drop prices heavily, as evidenced by this unprecedented offer on the Dreame T30.
How to buy the Dreame T30 on AliExpress?
AliExpress belongs to the Alibaba group, it is the largest e-merchant in the world. In recent years, it has continued to develop in Europe and France in order to compete with the big names in the sector such as Amazon, Cdiscount and others. To do this, it offers many references from major brands from tech including Dreame, Xiaomi, Apple or GoPro.
The Dreame T30 is among the best-selling products in AliExpress – it's no coincidence. Besides the undeniable quality of this cordless and bagless vacuum cleaner, the merchant does not skimp on the discounts. It offers the best price on this model with this special offer, no other competitor can do as well with a final price of 279 euros. He's a no-brainer, you have to take advantage of it quickly.
To benefit from the minimum price on the Dreame T30, you must add the code 11AE45. This is valid on all products whose price is between 299 and 399 euros of purchase. All codes displayed below can be used with the merchant catalog as of November 11 from 9:00 a.m. They are even cumulative with direct reductions.
11AE08: € 8 reduction for € 50 purchase
11AE11: € 11 reduction for € 70 purchase
11AE15: 15 € reduction for 110 € of purchase
11AE22: € 22 reduction for € 150 purchase
11AE30: 30 € reduction for 199 € of purchase
11AE60: 60 € reduction for 399 € of purchase
Currently, AliExpress is posting a price of 324 euros for the Dreame T30 for the Single Day. If he is already doing better than all of the other online merchants, he is outdoing himself with this additional code. To be sure to enjoy it on November 11 at 9 a.m., you must already add the cordless vacuum cleaner to your basket. It will be necessary to validate the order from this date to be sure to arrive on time.
Order the Dreame T30 cheaper
If you have already figured out how to buy the Dreame T30 at the best price, here is a pictorial explanation that confirms the procedure to be followed in AliExpress. In a purple box, the online merchant highlights the price which will be efficient from November 11 at 9 a.m., it is 324 euros. Thus, you must add the item to the cart by clicking on the dedicated box, it is framed in red in our image.
Therefore, you have the Dreame T30 in your basket. You must then go to AliExpress on November 11 at 9 a.m. to confirm the order. Remember to add the promo code 11AE45 before validating, this will increase the final price of the wireless vacuum cleaner to 279 euros. You are entitled to a discount of 4 euros more if you are a new customer, in which case you just have to click on the coupon available just under the purple box (see image below).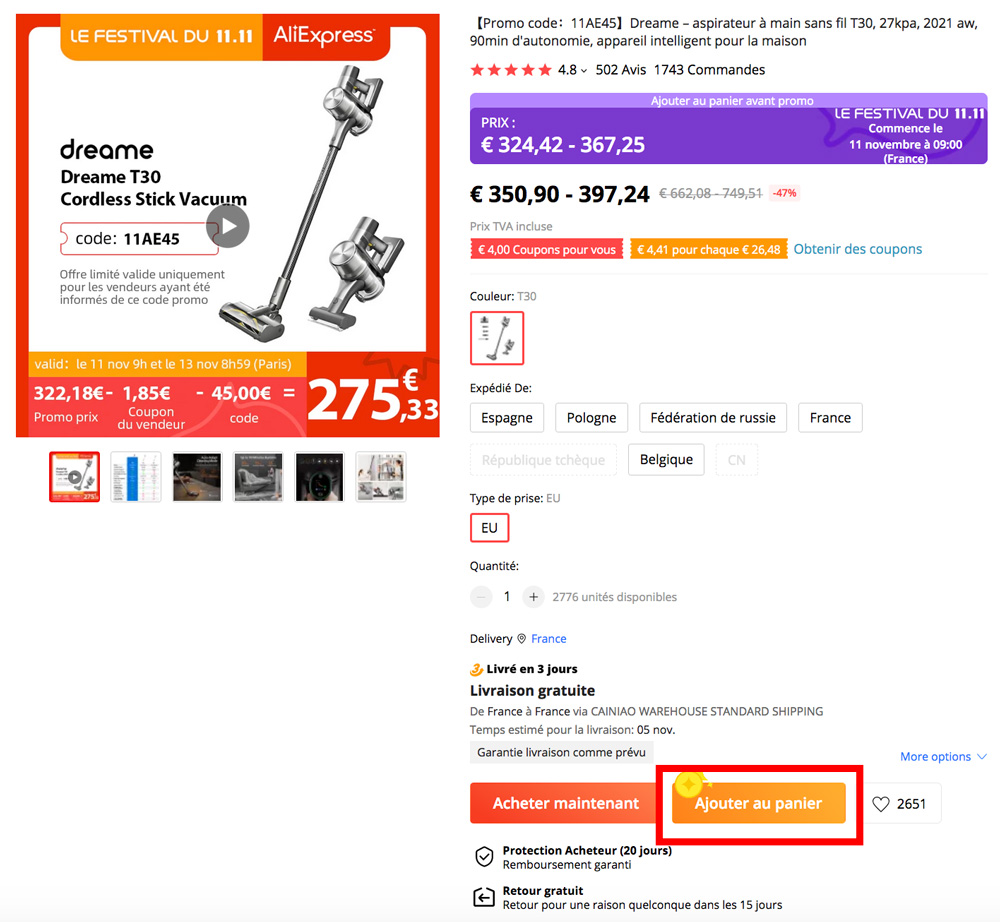 Single Day is a huge and one-off operation, which is why you have to secure your purchases before the official date of the event, which is November 11 at 9 a.m. This way, you can be sure that your account is created and that the Dreame T30 is already in your basket. This is an unprecedented operation for an online merchant, Amazon, Cdiscount and the others do not offer to save money in the same way.
AliExpress is committed to delivering the Dreame T30 to you within three days after ordering, knowing that shipping is free from warehouses located in France. On this robot vacuum cleaner, the withdrawal period is 20 days, this allows you to benefit from a second chance and a full refund.
If you do not know the technical characteristics of the Dreame T30, you can find the technical sheet of the cordless stick vacuum cleaner directly on AliExpress. In any case, you are guaranteed to choose a premium model that can last over time without losing its capabilities. All for an unprecedented quality-price ratio on this device which goes under the bar of 280 euros.
To discover the offer on the Dreame T30, it's here: