News
On Single Day, Boursorama Banque offers a free and unconstrained premium
During these 24 hours of Single Day, Boursorama Banque offers an XXL bonus to all its new customers. To get it, there are no conditions or commitments. The associated account is free and even includes a card equivalent to a Visa Premier.
Boursorama Banque is an online banking model. In recent years, it has evolved its offer to attract more than 3 million customers. Today, it is the largest establishment online and its model is attractive.
For the Single Day which takes place this Thursday, November 11, 2021, it offers an additional financial advantage to all its new customers. In this case, Boursorama offers a bonus of 130 euros for the very first Ultim account opening. When filling out the form, you will need to use the code SDAY130.
The latter is none other than the basic online banking account: it is free and without eligibility conditions (neither income, nor other). As a reminder, 55% of the customers of this bank did not have any fees in 2020. If you have a standard use of your bank account, there is a strong chance that it will be free for you too.
Boursorama Banque normally offers 80 euros for opening an account. This day, you therefore have the possibility of receiving 50 euros more (a total of 130 euros) for the same operation. This is the best offer that has ever been formalized by the bank. You better not miss it, it may not happen again this year.
An easy to earn bonus for Single Day
A few years ago, all online banks offered a welcome bonus to their customers. Since then, the time is over and they are very rare to do so. Worse still, they often impose drastic conditions to receive this bonus. And also, bank accounts are sometimes chargeable. In short, the landscape has changed significantly and credible players are increasingly rare.
Boursorama Banque is the only online bank to have kept this dynamic. This Single Day special bonus should definitely convince you. Of course, the premium should not be the only selection criterion for an establishment. That said, you can trust Boursorama Banque on everything else. It is also the cheapest bank in France for 13 years – and the best digital bank in Europe according to D-Rating.
To come now to obtaining the bonus of 130 euros, here is how it goes. You will receive a first payment of 50 euros when activating your current account. To do this, you must have transmitted the information and made a first payment (300 euros minimum) into your new Boursorama Banque account.
Then, you will receive a second premium of 80 euros for any activation of your bank card. This exceptional bonus will only be paid to you if you have chosen the Ultim formula. The latter corresponds to the basic account of the bank: it is the one which is in the majority among all its customers. Note that it also gives you access to a card similar to Visa Premier on premium insurance and guarantees. On the other hand, the Welcome limited account will only give you a bonus of 30 euros more.
Current account
Conditions: No income condition – Welcome and Ultim cards
Annual fees: € 0 • Initial deposit: € 300
Check deposit: ✔ • Cash deposit: ✘
Bank card
Monthly cost of the card: 0 €
Euro zone withdrawals: Free • Euro zone payments: Free
Withdrawals in foreign currency: 1.69% • Payments in foreign currency: Free
Proposed cards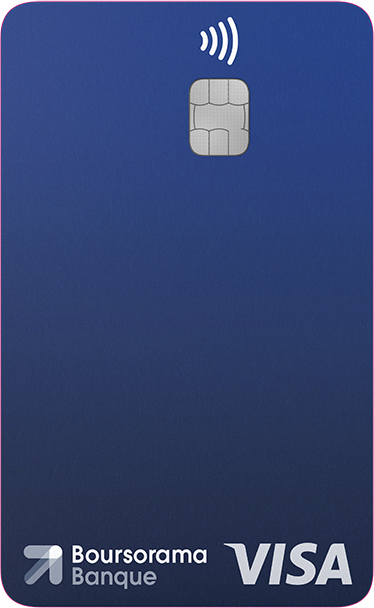 Mobile payment
SEE MORE
1
Crazy 24 hours at Boursorama Banque
In the last quarter, Boursorama Banque again garnered more than 160,000 new customers. Online banking wants to end the year on a high note and is therefore offering an exceptional bonus for the Single Day. It's the same thing we saw last year and the operation was a success.
To be eligible for this offer of 130 euros, you will have to subscribe absolutely on November 11 with the code SDAy130. It is only the completion of the form that is authentic. Note that Boursorama Banque always puts an end to its offer the next day around 9am. So you still have a bit of slack on the next day if you missed the official day of this operation.
To get tested all online banks, it turns out that Boursorama Banque is by far the best at all levels. On the products, it is irreproachable. Its default and completely free offer, on condition of carrying out one operation per month. Finally, all of its products such as savings, the stock market or loans are among the most aggressive on the market. In the end, you will save between 200 and 400 euros in bank charges per year at her place.
If you are worried about losing contact with a "physical" banking advisor, there are several things you should know. First of all, Boursorama Banque does not ask you to make your account a "main bank account". That is, you can already keep it next to your current account and see how it goes. Then, the bank offers customer support over extended hours and with product expertise (which is often not the case with a basic advisor). In 2021, it retained first place on the Customer Relations Podium – proof of its effectiveness.
To open a Boursorama Banque account, it's here: