Born in 2017, the European network of ultra-fast chargers IONITY has proposed to almost five times its charging points for cars and electric vehicles in the next four years: it aims to reach 2025 with 7,000 points compared to more than 1,500 what do you currently have.
For this, this joint venture owned by several car brands such as BMW, Ford, Mercedes, Hyundai o Kia, as well as the Volkswagen Group, will invest 700 million euros: upright in which each brand will put its grain of sand.
Everything to continue moving towards that goal set since its arrival, which is to install IONITY stations every 150 – 200 km throughout the European network.
Created to stand up to the Tesla network (that is now open to any car) IONITY chargers allow charging at a power of up to 350 kW with the European standard CCS (Combined Charging System). With the current numbers, it is still a long way off, as Tesla it already has more than 6,000 points in the Old Continent spread over about 600 stations.
Some 5,500 points and 600 more stations, and not only on highways and motorways
To this day, IONITY ultra-fast charging points already operational they look at 1.526, being distributed in 385 stations in 24 European countries. In addition, a total of 37 new ones are under construction. A figure that has been achieved in four years.
With these numbers in hand, the new objective of IONITY is at least ambitious, since reaching those 7,000 points supposes almost multiply by five your chargers in the same period of time: about 5,500 more. They will be located in about 1,000 stations, which in turn represents more than 600 more than now available.
In addition, although initially it had been planned that its stations would be installed on the main European roads, essentially highways and motorways, the new plan for 2025 also contemplates locating them as well. near big cities and throughout their busiest roads. Other locations such as shops, hotels or restaurants.
In this way, the new points will be distributed both in new facilities and in some current ones that have greater demand. The new stations, in addition, will have more points, which will range between six and 12, in order to reduce waiting times for users. IONITY also plans to acquire new land to locate its charging stations.
"With its focus on advancing and improving the offering of the charging network, the expansion of IONITY will play a key role in making electric vehicles more attractive," argues Markus Duesmann, CEO of Audi.
For his part, Jason Jeong, President of Kia Europe, explains that this new investment in IONITY "will mean a significant expansion of ultra-fast chargers throughout Europe" and that "more drivers than ever will be able to charge their vehicles quickly and easily".
Thus, the ultimate goal of this new investment is help boost the electric car in Europe, providing it with an infrastructure that allows it to be more viable. Although, as usual, this goes by neighborhood: the largest IONITY network is found in countries such as Germany or France.
Only 12 in Spain, where charging points are still a pending issue
Spain is not exactly in the lead when it comes to IONITY charging stations. Currently it only has 12, with six under construction.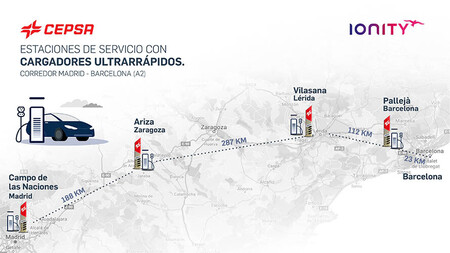 Of these, four of them correspond to their agreement with Cepsa and the first ultra-fast runner It was inaugurated just a year ago, on the A-2 and in four locations on this highway: Madrid (Field of Nations), Zaragoza (Ariza), Lleida (Vilasana) and Barcelona (Pallejà).
However, it also has stations in Mieres (Asturias), Pamplona (Navarra), Aranda del Duero (Burgos), Valdepeñas (Ciudad Real), Mérida (Badajoz), Lorca (Murcia), Casa Bermeja (Málaga) or near San Juan del Puerto (Huelva).
The marriage between Cepsa and IONITY also set goals that have not been achieved, since it was planned for 2021 that up to 35 Cepsa stations would have these 350 kW electric car chargers. At the moment, it has not been detailed how many of those more than 5,000 new chargers will correspond to our country.
On the other hand, also in Spain IONITY is far from the Tesla superchargers: those of the Californian firm are set at almost 250 points located in a total of 39 stations.
Beyond the IONITY network, Spain has 12,702 charging points public throughout the entire national territory, as detailed by Anfac based on Electromaps data.
Although in the third quarter of 2021 the accelerator was pressed with 855 new points, 95% of these they are with slow load, with a power of no more than 22 kW.
Secondly, Spain accounts for only 3.3% of all chargers in Europe, out of a total of 224,237, being the seventh country in the European ranking signed by the European Automobile Manufacturers Association (ACEA).
The European states with the most chargers for zero-emission vehicles are the Netherlands (66,665), France (45,751), Germany (44,538), Italy (13,073) and Sweden (10,370).
Therefore, there is still a long way to go to consolidate the electric car in Spain, whose market penetration is still very low: so far in 2021 represent 2.46% of the total market with 17,409 models enrolled.
Along with gas, they are at the tail of the alternatives that are sold in Spain, winning the non-plug-in hybrids, which include mild-hybrids, (with a share of 24.87% and 75,810 units) and PHEVs (with 4.81% of the total and 34,006 units).
The alternatives also follow the tail with respect to combustion mechanics, since they represent just over a third (33.68%) of the market mix, where thermals continue to command.
In Motorpasión | Which electric car to buy in 2021, from the Dacia Spring to the Tesla Model X | Ockham's razor for new electric cars that want to be cheap: big batteries, worthless interiors