The Magical Days B are already launched at Boulanger. Hundreds of products are on sale until Monday! We have selected the 5 nuggets not to be missed.
Exceptional offers, do you want some at Boulanger on the occasion of the Magical Days B. All departments pass through, to the delight of your wallet. Enough to prepare your Christmas presents quietly. We have put together a list of the best offers to find at Boulanger.
The Huawei Matebook 14 "at € 849.99
This is our little crush of the day: Boulanger smashes the price of the 14-inch Huawei Matebook. The price of this laptop tumbles to 849.99 euros instead of 1,249.99 euros.
An exceptional price compared to the quality of the product: the Huawei Matebook sports a beautiful 14-inch touch screen with a resolution of 2160 x 1440 pixels. Just that ! Under the hood, this laptop contains an 11th generation Intel Core i7 processor. Enough to do all the tasks you ask him to do in the blink of an eye. With a light weight (1.5 kg) and its impressive battery life of 11 hours, it goes with you everywhere. In short, the Huawei Matebook has it all, even its price.
Discover the offer at Boulanger
The Galaxy Watch4 Classic and Galaxy Buds + at € 299.99
Boulanger offers you a pack including the Galaxy Watch4 Classic connected watch (46 mm) and the TrueWireless Galaxy Buds + headphones. at 299.99 euros. Note that the watch alone is worth 399 euros. It is therefore a real godsend!
Hardly out, therefore, the Samsung Galaxy Watch4 is entitled to a nice offer at Boulanger for the Magic Days B. This new connected watch is adorned with a new operating system, WearOS, leaving Tizen (the home OS of Samsung) far behind it. Sleek and sleek, the Watch4 Classic owes its charm to its beautiful stainless steel dial and superb AMOLED screen.
The Galaxy Watch4 has more sophisticated health features, allowing you to measure your blood pressure or ECG, and even detect your BMI or muscle mass. Regarding Google applications, they are even more accessible thanks to the new OS.
As for the Galaxy Buds +, if they are not the last babies of Samsung, they remain good headphones released in February 2020 with excellent battery life and remarkable comfort. Currently worth 80 euros, having them in this pack at this price is interesting.
Discover the offer at Boulanger
And if you prefer the Galaxy Watch4 (40mm) on its own, it's yours for only 199 euros instead of 269 euros while stocks last.
The Galaxy Tab S7 FE pack at 499 €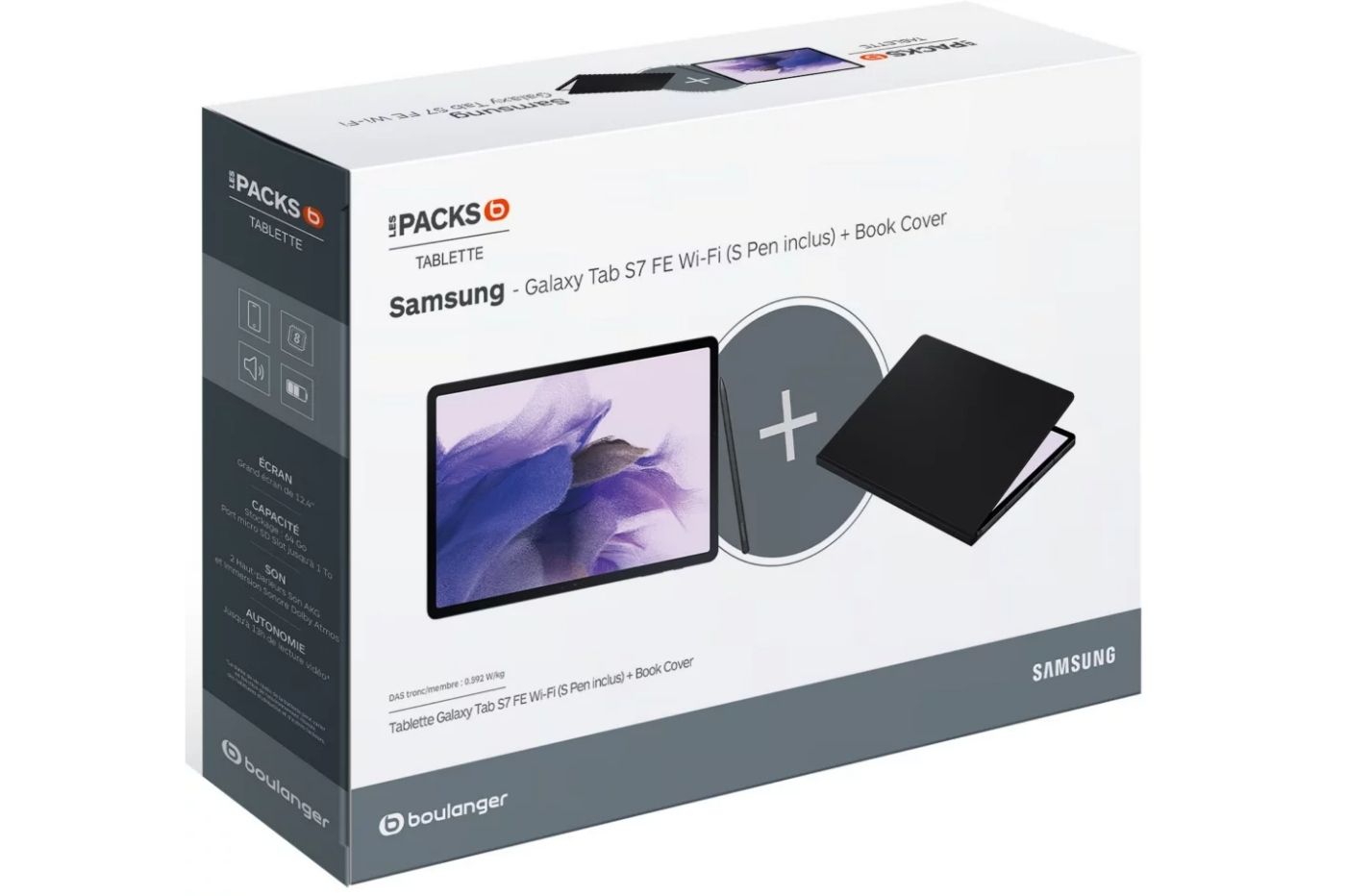 If you were looking for THE tablet, don't move. Boulanger offers you a very interesting pack which includes the Galaxy Tab S7 FE (S Pen included) as well as a protective shell for 499 euros instead of 698 euros. An immediate discount of almost 200 euros which is always welcome.
Light version at the level of the technical sheet of the Tab S7, the Galaxy Tab S7 FE tablet is also (and above all) more affordable! It sports a large 12.4-inch TFT LCD screen and an appreciable neat design. We love its very high battery life: you can use the Tab S7 FE for around 13 hours. A real happiness. And at this price, there is no hesitation …
Discover the offer at Boulanger
Samsung's 49 "PC gaming screen at € 749
Live your gaming experience to the fullest. With its large, immersive 49-inch curved display, Samsung is revolutionizing the way you play (and win). With an impressive resolution of 3840 x 1080 pixels, a response time of just 1 ms and a scan rate of 144 Hz, this is the perfect monitor for gamers.
On the occasion of Magic Days B, its price drops by 33%: it's yours for 749 euros instead of 1,131.50 euros. Be careful though: if all the products presented are available while stocks last, be aware that there are only 500 copies of this screen. gaming on discount ! Hurry to enjoy it.
Discover the offer at Boulanger
Acer's Chromebook at € 329
Last nugget of our (non-exhaustive) list of the best Magical Days B offers at Boulanger: the Acer Chromebook which is 329 euros instead of 429 euros. We're a fan of its 13.3-inch Full HD touchscreen that can even rotate to use it as a tablet. This computer stands out with a remarkable 14 hours of battery life and a light weight of 1.2 kg. In short, it is ideal to take it everywhere with you, especially at this price.
Discover the offer at Boulanger
Always more offers during Magic Days B!
Obviously, this is only a small selection of products at mini prices among hundreds of others at Boulanger. You will find your happiness at a low price in all departments of the brand, with the possibility of picking up your products in store.
If Magic Days B end this Monday evening, November 29, Boulanger's stocks are not expandable. We advise you not to delay in making your choice if a product tempts you, otherwise you risk being disappointed if it turns out to be out of stock …