Both electric cars that Peugeot has in its portfolio, the Peugeot e-208 and the Peugeot e-2008 they receive more autonomy. Both did not reach the market long ago, but the lion brand introduces new features that allow it to stretch its range between charges up to 362 km and 345 km, respectively.
That is, we are before the same e-208 and e-2008 already known, but with 8% more autonomy compared to the one they offer now. The new models already with this technical update incorporated will be available from early 2022.
Up to 40 km more autonomy in the city even at low temperatures
So much the utility Peugeot e-208 As the Peugeot e-2008 urban SUV are conceived, like the new Stellantis zero emissions, on the modular platform eCMP (Common Modular Platform).
Thus, both share mechanics, materialized in a block of 100 kW (136 CV) y 260 Nm maximum torque that draws its energy from a 50 kWh battery. Right now, with these credentials the e-208 homologates 340 km and the e-2008 320 km (WLTP).
But Peugeot improves this range by 22 km and 25 km, such that the Peugeot e-208 updated will sign the 362 km and the Peugeot e-2008 will do the same in 345 km. Both figures in the WLTP standard.
To achieve this more generous autonomy, they have been endowed with tires lower rolling resistance, rated A +, which will be available in versions with 16-inch (e-208) and 17-inch (e-2008) wheels.
But it is not the only thing, in addition, they have adjusted ratios in automatic gearbox in order to maximize autonomy above all at high speeds, that is to say when it circulates in highway or highway, as well as in other express ways.
Finally, its zero emissions mechanics have been equipped with a new heat pump that operates alongside a humidity sensor which is located in the upper area of ​​the windshield and optimizes the energy efficiency of the heating and air conditioning.
As detailed by the brand, what is detected by this sensor allows the recirculation of air inside the cabin to be controlled with greater precision, which helps to preserve the battery level by better maintaining the temperature inside the car.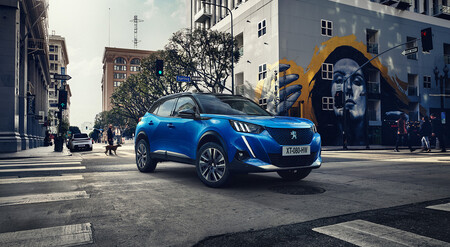 Peugeot ensures that this advance allows better management of battery power, which is especially appreciated at low temperatures, which is when it suffers the most. Thus, to close to 0ºC and on urban routes, the Peugeot e-208 and e-2008 will be able to see their autonomy increased in patient 40 km.
For the rest, no further changes are announced, so these two electrics will maintain the benefits that they already offer today: the 136 HP mechanics, in addition to their technologies such as the advanced holographic digital instrumentation i-Cockpit 3D or a wide range of driving assistance systems.
It remains to be seen how much they will become more expensive in price with these new advances, which will be revealed as their launch nears the market.
In Motorpasión | Am I ready to buy an electric car? Keys to know if it compensates | The best chargers for electric cars and plug-in hybrid cars in 2021