News
The three main traces that a dog has habitually got into a car and how to eliminate them
The dog is man's best friend, and as a best friend, he has every right in the world to travel in our car. But just like the cars of the people who smoke, having a dog can also leave its consequences in the car.
If there is any kind of trace that a dog has used a car, the value of the vehicle will go down. So it is important that if we are going to sell it we try to eliminate these traces as much as possible and that if we are going to buy it we demand that it be cleaned or that they make a reduction in the price of the car.
The type of dog and, above all, the level of care that has been given to the car to maintain it will make the consequences that dogs leave in our car are less or greater. The easiest way to prevent the dog from leaving its stamp on the car as much as possible is carry it in a carrier or put covers on the seats.
Also, the more cleaning is usual, the less dirt will accumulate in the car and the easier it will be to clean. Still, there are signs that a dog regularly uses the car that are difficult to eliminate. The easiest, but also more expensive, is to go to a specialist, although we can also try to solve the problem on our own.
Dog hair, ability to embed itself on any surface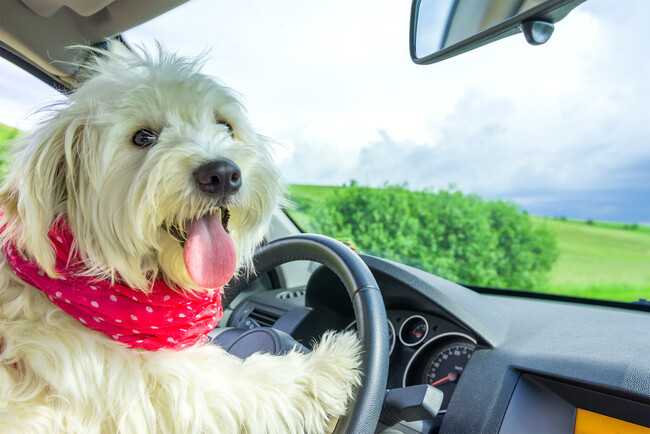 There are certain breeds of dog that they shed a lot of hair, the long and soft hair has a spatial capacity to embed itself in the upholstery, so the task of removing it from the car will be very arduous. It is not pretty to see hairs in the upholstery, but it is not only important on an aesthetic level, pet hair can also carry dust, dirt and mites, so it becomes a hygienic issue.
If hair has fallen on the car upholstery we can use a vaccum cleaner to remove it, even so, some hairs will resist. Moisture attracts hairs so use a wet rag or even a wet latex glove is going to attract a lot of those hairs. For the most resistant hairs we can use the hardest part of a velcro, adhesive tape or, much more specific and effective, use a hair remover roller that we can easily find in some stores.
ACE2ACE Pet Hair Remover and Rollers, Fur Remover Cleaning Brush for Cats and Dogs, washable and reusable Animals Hair Removal Brushes, for carpets, clothes and sofa
Dog fluids
Dogs, especially some breeds, they drool that leave their light sticky remains, especially on darker upholstery. It is also likely that if the dog is a puppy or becomes excessively nervous, urine may leak or even vomit, this leaves stains similar to those caused by grease.
The sooner you act Faced with these spots, the easier it is for them to disappear. If we can act quickly with the absorbent kitchen paper and then wipe it with a wet cleaning cloth, they will do a lot.
If we've already caught it late, a damp cloth (that is not very abrasive so as not to damage the upholstery) impregnated in an upholstery cleaning product will most likely make it disappear. There are Cleaning products specialized in eliminating this type of fluids.
Vanish Oxi Action – Special stain remover for Pet stains on carpets and upholstery, spray, without bleach – Pack of 3 x 750 ml
The scents of dogs, the invisible enemy
Like hair, the scent of dogs is capable of embedding itself in any fabric. The problem with the smell is that the owner's nose usually gets used to it and he doesn't perceive it, but when a non-regular enters that car he does smell it.
The dog's own hair accumulates part of its scent, so the less hair on the dog the car has, the less it will smell.
Ventilate the car very frequently, especially after the dog has been in it, it will make it more difficult for the smell to become embedded in any tissue.
One of the alternatives that dog owners often use a lot is use an air freshener. But in this way the smell is not eliminated, but it is camouflaged by putting a stronger aroma.
There are other more rudimentary systems such as using in the areas where the dog goes baking soda diluted in water or vinegar, but beware that there are certain upholstery that may not get along very well with these products.
The best for this is to use a product specialized in the elimination of odors in upholstery.
Maddox Detail – Remove Bad Smells – Eliminate Bad Odors, Bacteria, Germs and Fungi (500ml)
Note: some of the links posted here are from affiliates. Despite this, none of the mentioned vehicles have been proposed by either the brands or the sellers, their introduction being a unique decision of the team of editors.
If you are looking for a car …
You have the best offer of new and second-hand cars without leaving Motorpasión. At Carsbarter car finder More than 200,000 models are waiting for you to choose from, and you can deliver your car as part of the payment. In addition, in Car Purchase we publish daily selected offers by our editorial team, so you don't miss out on the most interesting prices.
In Motorpasión | How You Can Get An Extra Copy Of Your New Second Hand Car Keys