News
General Motors and Wuling up the ante on electric micro cars in China with the Nano EV for less than 7,000 euros
The Asian manufacturer Wuling and General Motors have already given the green light to the commercialization of the Nano EV in China: a "premium" version of the Hong Guang Mini EV, the cheapest electric car in the world – and one of the smallest – that already accumulates unprecedented success in its market. The main key to the success of the Hong Guang Mini EV is its low price, as "the car of the Asian people" ranges between about 3,700 and 5,600 euros To the change.
However, the Nano EV has a slightly higher cost and starts at about 6,900 euros to change. The price difference is motivated by its benefits, since among other things, this electric microcar has around 300 km of autonomy according to its manufacturer.
An increasingly crowded segment in Asia
With compact dimensions and very similar to those of its brother Hong Guang Mini EV of 2,497 mm long, 1,526 mm wide, 1,616 mm high, a wheelbase of 1,600 millimeters and a turning radius limited to 3.8 meters, the Wuling Nano EV aims to carve out a niche in crowded Asian cities (for now).
It will not be easy, since in addition to the fact that its segment is increasingly crowded (microcars are being decisive for EVs to have such a generous market share in the People's Republic), it is not exactly cheap compared to its competition. The Nano EV's arguments to differentiate itself revolve more around its capabilities.
The small two-seater electric car generates 24 kW of maximum power and 85 Nm of torque. Although its manufacturer does not specify the exact capacity of its battery pack, it ensures that with a full charge it achieves an approved autonomy of up to 305 kilometers (according to the NEDC cycle). The car can be purchased with a charger that allows up to 6.6 kW of power, and with it takes 4.5 hours to complete a charge.
According to General Motors, more than 40% of the Nano EV's body is made of high-strength steel for added safety. In addition, the car has among others electronic stability control, hill start assist, tire pressure monitoring system and reversing camera.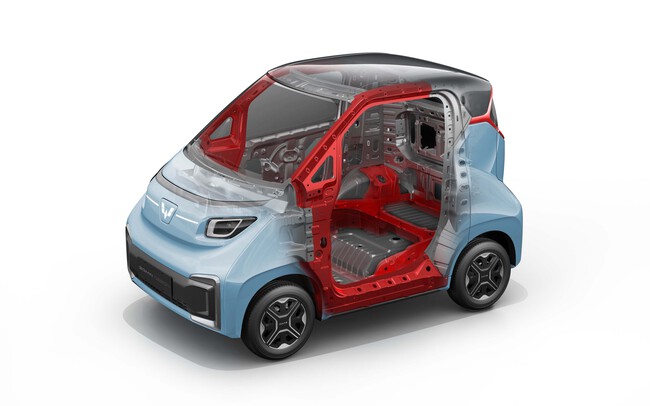 Regarding the range, there are three versions available of the Nano EV: the aforementioned access model, an intermediate one for about 7,500 euros and the most equipped, which sells for just over 8,300 euros. Undoubtedly, the massive sale of this model in China will give the brand a little more profit margin than in the case of its "little brother".
In our market, at least until the arrival of Silence 04, for the moment the electric car that most resembles it in price is he Dacia Spring electric (Plan MOVES III using), but it belongs to a different segment. By characteristics, the Nano EV is more similar to the Smart ForTwo EQ.
In Motorpasión | The Silence 04 electric microcar, manufactured in Barcelona, ​​will start at 7,500 euros