News
Zeuslap offers a handy 15.6-inch FullHD portable touch screen!
Zeuslap is a small brand that is rising in China, the latter notably manufactures portable screens like this latest 15.6-inch model which has the advantage of being tactile and offered at an extremely low price!
This portable screen can be very practical. Offering a 15.6-inch matte IPS panel with FullHD definition, this Zeuslap model is perfect for use as a second screen next to your laptop, but also as a screen for your smartphone during your travel or to play on your console, the Switch for example, so as not to monopolize your TV.
HDR compatible, with a response time of 4ms, a brightness of 220 cd/m and a viewing angle of 178°, the Zeuslap is equipped with fairly complete connectivity including a Thunderbolt Type C port , a mini HDMI input, a USB Type C Power Delivery port and a 3.5mm audio port. It also has an external speaker.
This model is quite compact for a 15.6″ external screen with dimensions of 22.7 x 35.8 cm and a thickness of 5 to 10 mm, all for a weight of 700g.
The use of this type of screen is quite practical especially since this model is tactile (10 points) and connected to a laptop under Windows for example, the latter will be perfectly recognized. Moreover, this screen does not have an internal battery, so you will have to either connect it to a charger or even an external battery. But for some devices such as a laptop or even a smartphone, the direct power supply from the battery of your device is sufficient, obviously this unloads the latter faster.
Note that with the Nintendo Switch, you don't need a particular dock, it works with the charger and the USB Type-C cable, both plugged in.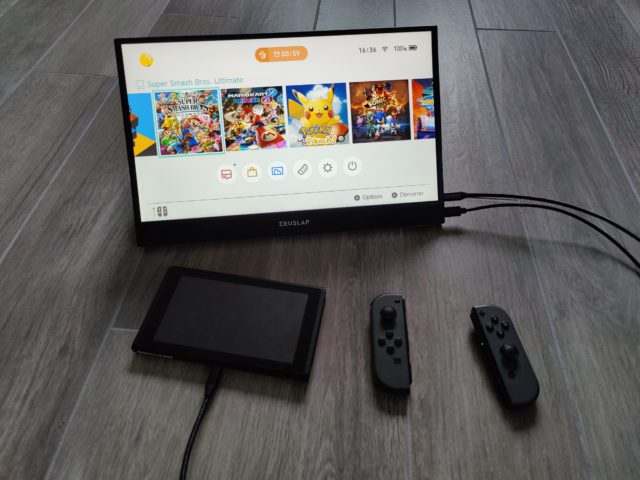 On the settings side, there are several available, but the ergonomics are not obvious. Everything is done via a button located on the side, but not very practical. The result is quite satisfactory, it also depends on your source and after a few adjustments, fortunately there are 6 rather well calibrated modes. Note however that the screen does not have memory, the settings will have to be redone each time.
This Zeuslap portable screen comes with many USB cables, charger, HDMI, as well as a screen protector and a protective case that also acts as a kickstand.
Where to buy it?
The Zeuslap model tested is the most expensive model, because touchscreen, it is available at Aliexpress around 150 euros with fast delivery!