News
a smart baby monitor to better monitor baby
The first days after the birth of a baby are extremely trying for parents! Close monitoring of the newborn is necessary, which can reduce sleep and increase stress at high speed.
Technology can allow young parents not to be completely monopolized by a newborn: in this arsenal, there is of course the baby monitor, but you still have to be very attentive. This is where artificial intelligence comes in. The Cubo AI, developed by the Taiwanese start-up Yunyun Tech, wants to effectively support parents during these very trying first months (and first years!).
Artificial intelligence to the rescue of parents
The Cubo AI is first and foremost a wide-angle and night-vision camera, as well as sensors that can detect crying, hear baby and talk to him through a two-way audio system (lullabies can also be activated remotely), to measure the temperature and humidity level of the room. There's also a night light, but no visible red light that would disturb the new little resident.
Artificial intelligence intervenes in several functionalities. The first is to detect baby's face, which can alert parents when the nose or mouth is covered, or when the child is in the wrong position. The Premium subscription, which is offered for one year with the purchase of the camera (then it is 4.99 € per month or 49.99 € per year), includes several additional services.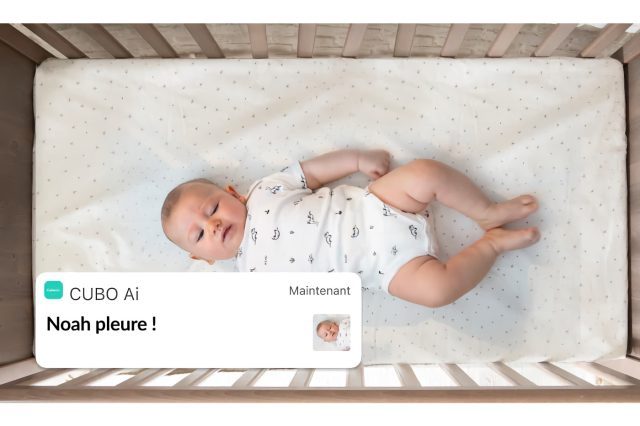 First there is sleep tracking and analysis: every night, Cubo AI records the number of hours the infant slept or cried, as well as the frequency of parental visits. These statistics allow parents to better manage baby's sleep while optimizing the day ahead.
More pleasing, the baby monitor automatically creates photo and video albums as soon as the camera detects a smile, a cry or when baby is agitated. The album is categorized by age and can be shared. In addition, a video replay option of the last 18 hours is also offered. When the child takes their first steps, Cubo AI can be configured to warn parents when they approach danger zones, to be determined in the companion application.
The product is sold from €209 with a wall support kit (€299 with three bed, floor and mobile supports).