News
IKEA launches Bluetooth speaker lantern compatible with Spotify Tap
IKEA continues to dig its furrow in the department of connected products, with a small event: the new Vappeby speaker is not only bright, but it is also Spotify Tap compatible.
IKEA continues to work with the online music and music streaming industry. After launching a range of connected products with Sonos, the Swedish furniture giant has teamed up with Spotify for a stunning new product. The Vappeby is indeed a mix between Bluetooth speaker and lantern.
A hybrid device
The Vappeby seems cut out for long camping evenings away from it all. Easy to carry with its integrated handle, the device emits a soft LED light. It is well suited to outdoor life thanks to its IP65 certification, which allows it to withstand splashes of water. In other words, the lantern will have no trouble working even in the rain, but just don't go taking it for a dip in the pool.
In addition to projecting light, this product is also capable of streaming music over 360 degrees. Just connect via Bluetooth with your smartphone and play your favorite songs. Once again, the Vappeby is really defined as a device made for wildlife without a power outlet! Speaking of which, the battery (with an unspecified autonomy) is recharged via USB-C. The cable is supplied, not the adapter.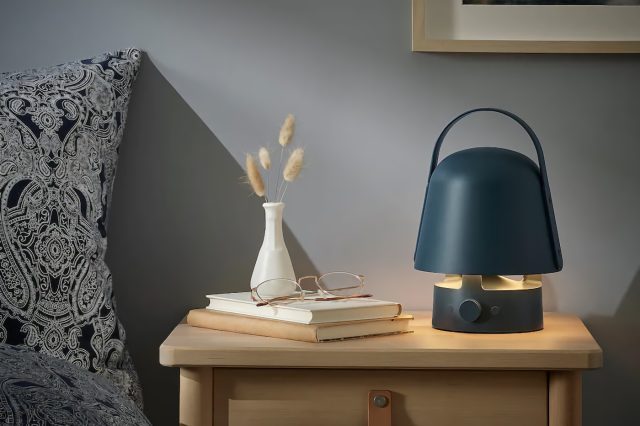 But what really makes it stand out is Spotify Tap support. By pressing the dedicated button, the device will play music from Spotify where you left off on your smartphone! And if you don't like the song, another click will offer a song recommendation based on your tastes. The integration of Spotify Tap is a first on this kind of product, it was until now only available on headphones.
In terms of connectivity, the Vappeby stops there: it is not possible to integrate it into a connected home, unlike other IKEA home automation products. The lantern is sold for $64.99 in the United States, for the moment it is not yet sold in France.