News
Samsung's Galaxy Book2 Pro and Pro 360 are here with exclusive deals
Samsung is unveiling new offers to celebrate the arrival of its Galaxy Book2 Pro and Galaxy Book2 Pro 360. They are still valid for a few more days…
After a hiatus of a few years, Samsung is making a comeback on the PC market with its promising Galaxy Book2 Pro and Galaxy Book2 Pro 360. Crowned kings of productivity and mobility, these two ultrabooks are already entitled to exclusive offers during the entire pre-order period which ends on March 31.
Ephemeral offers, limited stocks… We strongly recommend that you hurry if you hope to leave with the Galaxy Book2 Pro or the Galaxy Book2 Pro 360.
Lightness and power with the Galaxy Book2 Pro and Galaxy Book2 Pro 360
For its return to the market, Samsung is thoroughly. Its Galaxy Book2 Pro and Galaxy Book2 Pro 360 may have a slim and minimalist design and one lightweight, they have some under the hood and send heavy. The latest 12th Generation Intel Core i7 processor based on the Alder Lake architecture allows them to achieve stunning performance.
For lovers of multimedia content, the Galaxy Book2 Pro is equipped with a beautiful AMOLED display 13.3 inches or 15.6 inches with Full HD definition (1920 x 1080 pixels) and maximum visibility. What to take full eyes! If you often videoconference, the 1080p webcam is ideal since it offers a sharp and clean image as well as automatic framing. Video calls are even more intelligible thanks to AI-powered bi-directional noise reduction.
Multiple connections are present, with a Thunderbolt 4, a USB-C, a classic USB and a jack on the smallest Galaxy Book2 Pro. If you rely on an HDMI port, you will have to bet on the largest version. Nomads will be delighted: for perfect mobility, the Galaxy Book2 Pro promises a good autonomy of 21 hours on video with a 65W USB-C charger.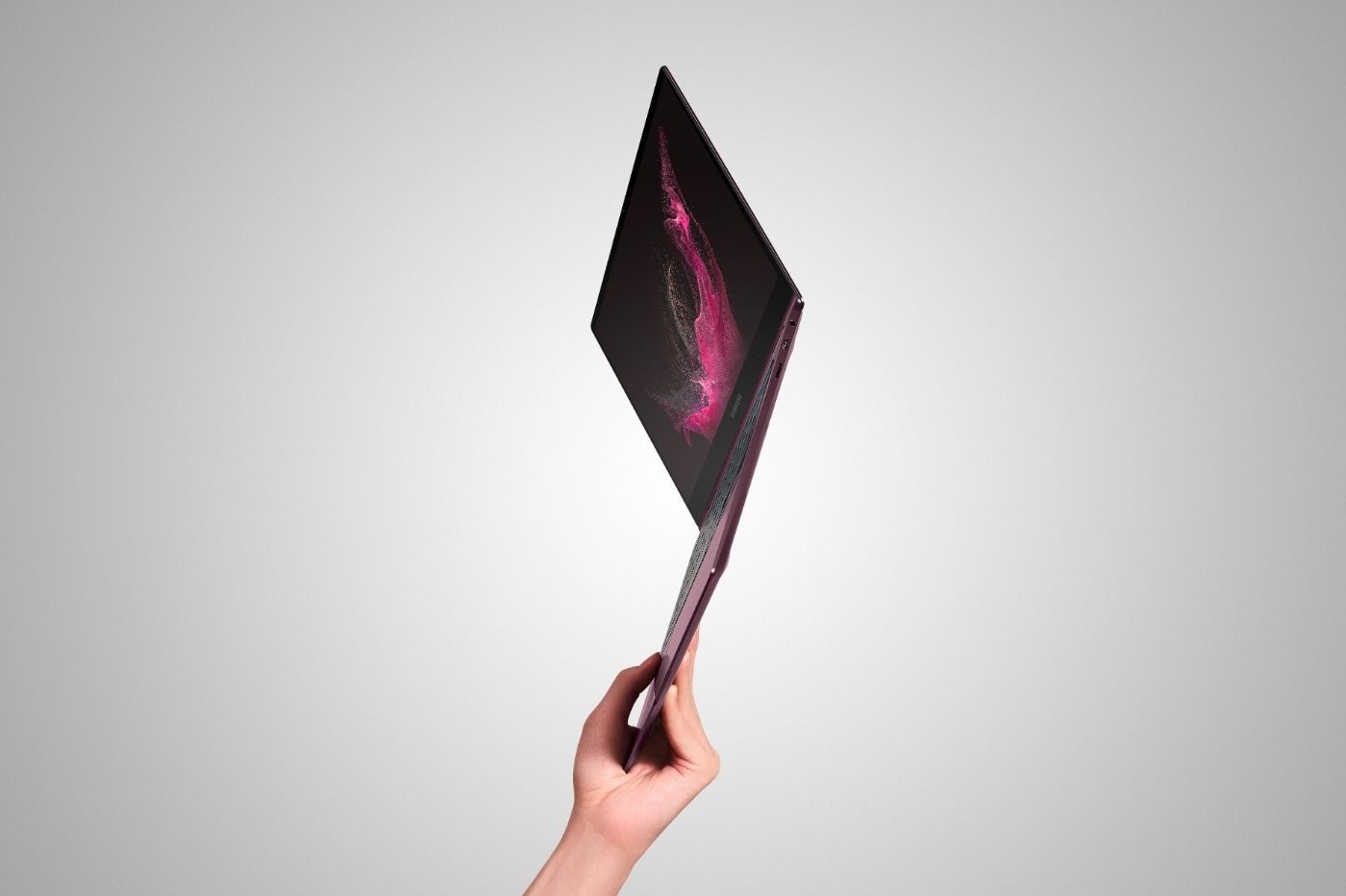 For its part, the Galaxy Book2 Pro 360 stands out with its screen capable of rotating 360 degrees to become a powerful touchscreen tablet. The S-Pen is even included! Slightly heavier than its static comrade, it remains a monster of mobility.
Galaxy Book2 Pro and Galaxy Book2 Pro 360: new offers
Samsung's return to the PC market is not happening in silence. The manufacturer wants to let everyone know and thus offers a shower of exclusive offers for the release of Galaxy Book2 Pro and Galaxy Book2 Pro 360.
Until March 31, the gifts are yours. Samsung offers you a 27-inch curved monitor, ideal for gaming or telecommuting in the best conditions, or a pair of Galaxy Buds Pro, which are among the best TrueWireless earphones today.
It would be a shame to stop on such a good path. Thus, Samsung offers you to lower the price of your Galaxy Book2 Pro or Galaxy Book2 Pro 360 thanks to a trade-in bonus on your old device of up to 300 euros. Finally, you earn 5% in Samsung Rewards points and enjoy free Samsung Care insurance for one year.
Walk away with the Galaxy Book2 Pro from 1299 euro or with its swivel version from 1599 euros and take advantage of the pre-order period to stock up on offers.