News
4 reasons behind this insolent success in 2022
Today, VPNs are tools that are anchored in the daily life of the French. Whether it is for browsing anonymously, circumventing censorship, accessing exclusive content or saving money online, they meet a wide variety of uses.
While antiviruses are in sharp decline, VPN software is experiencing thunderous growth. Millions of Internet users now use this type of service, both on their computer and their smartphone. The uses are multiple, which makes the product even more attractive. NordVPN and ExpressVPN have done much to democratize the discourse.
A world reference in the category and the only European player, NordVPN is a cybersecurity ogre. With a very strong foothold in France, it is also the only player to offer an advantageous price on its VPN during the French Days (May 4 to 9, 2022). You can enjoy it for only 2.77 euros per month + 1 month free + antivirus features included, i.e. more than 60% off. It costs 3 times less than its direct competitors.
Monthly price
Our opinion : A very good VPN for security and anonymity
SEE MORE
1
In France, these are approximately 28% of French people who use a VPN when they connect to the web. There are many reasons why this tool is so popular. Below we have listed some of them.
1) Browse anonymously
To understand the value of a VPN, you have to go back to how it works. By default, you connect to the internet with your router's IP address. The various websites on which you browse therefore know precisely the latter. The VPN is software that you will activate in the background (on a computer or mobile) and which will mask this IP address.
You can then become anonymous in the eyes of all. For example, you will be anonymous vis-à-vis your ISP who will therefore not know which sites you have consulted; you will also be anonymous to hackers who may try to enter your device (especially on public Wi-Fi networks); you will be anonymous to advertisers trying to target you with intrusive advertisements.
In short, the primary interest of VPN is to have true privacy when browsing the web. It's day-to-day convenience so you don't have to worry about your online activity. No one will ever know what you're doing, provided you use a no-log VPN (which doesn't store data). This is the case for example of a NordVPN or ExpressVPN.
2) Bypass censorship (or geo-blocks)
If you are in China, social networks like Facebook or Instagram are not accessible by default. In recent weeks, Russia has also blocked content from the West (and in particular social networks) to carry out its propaganda in the context of the war in Ukraine. Faced with these political blockages, you have to know how to react: a VPN will allow you to be virtually deported to another country and access this type of blocked content.
Once you have downloaded a VPN to a computer, tablet or smartphone, the interface is relatively simple: you have a connection button and a drop-down menu that allows you to choose your virtual geo-location country (ie the country where your IP address). If you are in China for example, you can choose a server in France to access all French content. From your sofa in Shanghai, you will have internet access as if you were based in Paris. It is magic !
Similarly, there is non-political censorship that prevents access to all content in the world. For example, if you are in France, you cannot access English BBC content. If you activate your VPN and choose a UK geo-location, you will therefore be able to connect to the internet and enjoy all British content – ​​such as the BBC.
3) Pay less for your holidays
You've probably noticed this already and it's frustrating. Some services use dynamic pricing to increase prices based on demand. If you go for example to the SNCF site or to airline sites, the prices can skyrocket from one minute to the next. When the site guesses that you are about to order a ticket, it will increase the price.
It is difficult to fight against the algorithms: once it has identified your IP address and your multiple connections on its site, it is impossible to find the lowest price. On the other hand, if you activate your VPN at that time (with a different IP address), the lower price will be applied again. All you have to do is activate the VPN and connect to the service, and book your trip directly. This will repay the cost of your VPN in one trip.
4) Access free content
On the internet, there are contents that are not available due to geoblocks. However, they are not necessarily illegal. This is why a VPN can provide you with a real solution. For example, they allow you to access sports competitions which are not necessarily broadcast in France (such as the NBA, NHL or North American NFL championships).
For researchers, a quality VPN also allows to access the Sci-Hub portal. The latter gives access to all the most popular scientific journals in the world for free. This promotes research but France is not of the same opinion. The website is therefore inaccessible in France but many foreign countries give it authorization. With a VPN, by moving to another European country, you will access this portal.
Beware of some VPNs
As with antivirus and all other software, care should always be taken when choosing your VPN. Indeed, there are more or less scrupulous actors who can use the data without your knowledge. This is extremely annoying especially in the case of a VPN that promotes your browsing privacy.
The first thing is that free VPNs are to be avoided. The latter are remunerated by reselling your data to finance their technical infrastructure. Then, VPNs that are extensions of antivirus software (like Bitdefender, Norton, Avast etc.) are strictly useless. They are far too limited (by the number of available servers and bandwidth) and by their speed.
In short, the best is to choose a pure-player in the industry like NordVPN or ExpressVPN. These two have the same market share in France, although the first is almost 3 times cheaper than the second. With the offer highlighted for this French Days operation, NordVPN even offers antivirus features that its rival ExpressVPN does not offer.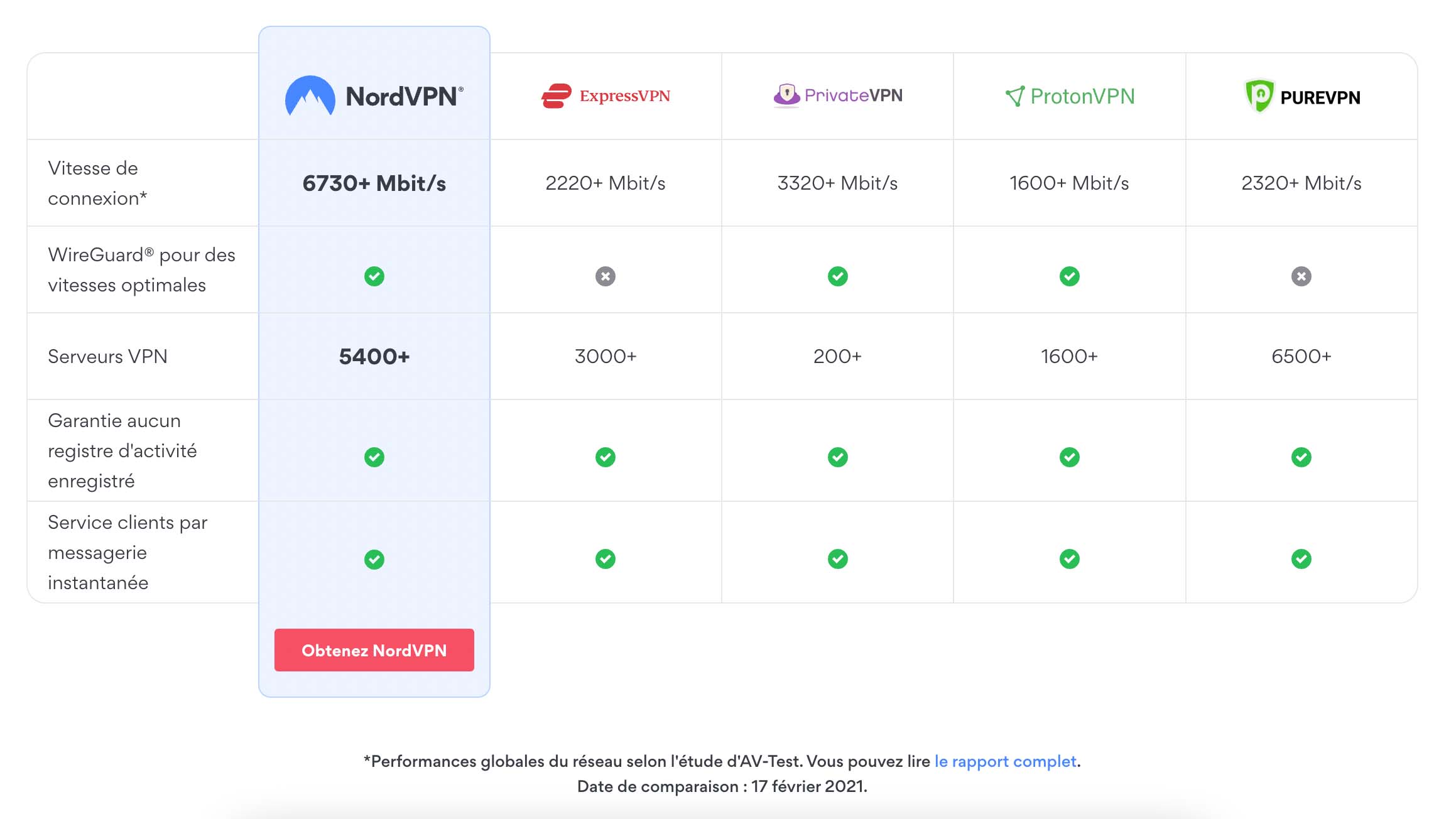 Whichever high-end VPN you choose, know one thing: you always have a 30-day trial to test the service. During this period, you can always cancel your subscription and get a full refund. If you need a VPN for a short period of time, it also allows you to have reliable and free software. That said, in the longer term, such a tool is essential to guarantee secure and serene navigation.
Monthly price
Our opinion : A very good VPN for security and anonymity
SEE MORE
1
Monthly price
Our opinion : One of the best VPNs on the market!
SEE MORE
2