News
Roomba i1 is iRobot's new 'essential' robot vacuum cleaner for €429
A iRobot expands its portfolio of robot vacuum cleaners available in Portugal with the new entry model, the Roomba i1. The new smart vacuum cleaner guarantees 10 times more suction power (versus the 600 series). Plus, it cleans in Straight Lines, recharges and picks up where it left off, plus Roomba build quality.
According to the leading consumer robot company, with the launch of Roomba i1 in Portugal we have a new Roomba with powerful performance and advanced features that will replace the popular "e" series. Note that the new model has a recommended retail price of 429 €.
This is the new Roomba i1, the entry-level robot vacuum cleaner from iRobot
Roomba i1 has 10 times more suction power (compared to the 600 series). However, iRobot still does not specify the exact suction power, measured in Pa (Pascal). However, he claims that the new model guarantees cleaning in straight lines and recharges and resumes cleaning from the place where he left off as upgrade of its predecessor.
In addition, it also has several custom cleaning features powered by the iRobot OS operating system. The product can also be controlled via the iRobot app for Android and iOS smartphones, free for both mobile platforms.
Simple and effective cleaning with the iRobot OS platform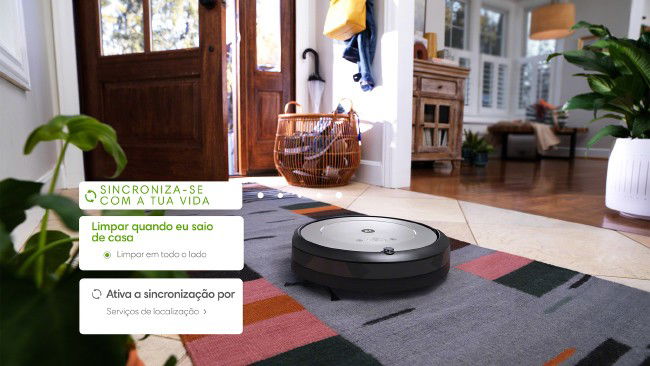 "A unique cleaning experience combined with the fact that the power and differentiation of our exclusive technologies are part of the DNA of our equipment", says José Silva, Country Manager of iRobot Portugal.
"We have a proven track record in developing products that make consumers' lives easier. Roomba i1 extends our range to deliver exceptional value and cleaning performance along with reliable technology and intuitive controls, as iRobotOS ensures cleaning is done right so you can focus on the most important things in your life. !"
Thanks to floor tracking sensors, the new Roomba® i1 cleans logically and objectively in straight lines. Plus, when it runs out of battery, Roomba i1 will return to the dock to charge and resume cleaning until the task is complete.
Up to 10x more vacuuming power compared to Roomba 600
On the other hand, pet hair and other stubborn dirt cannot overcome the suction power of the Roomba i1 robot vacuum, as it has up to 10x more suction capacity than the 600 series.
The 3-phase cleaning system includes a corner cleaning brush to reach the toughest places and two multi-surface rubber brushes. These are the "green brushes" that adapt to different types of floors, ideal for dealing with pet hair.
Plus, using patented Dirt Detect technology, Roomba i1 knows where dirt accumulates and focuses cleaning on those specific areas.
Smart functions via the iRobot Home app for Android and iOS
Like other Roomba models, the iRobot Home app is also a central part of the user experience on Roomba® i1. Thus, when powered by iRobot OS, the application allows you to obtain, in addition to the standard control, personalized cleaning experiences.
Note that this app is available for iOS and Android devices. In addition, iRobot's state-of-the-art artificial intelligence and ability to understand the home allows Roomba i1 to learn how you like to clean.
Roomba i1 recharges and resumes cleaning where it left off
So Roomba i1 will, over time, make personalized suggestions through the iRobot Home app. It will do this based on previous cleaning tasks or helpful cleaning suggestions during allergy season, or when the animals are changing fur.
The best of everything? Over time, iRobot will continue to provide new digital features that allow users to keep their robot always up to date.
Controllable via Siri, Google Assistant or Amazon's Alexa
What's more, until now we could easily trigger the cleaning through voice commands with Alexa or Google, (not available in Portuguese), now it's also compatible with Siri.
In short, by constantly evolving, iRobot wanted to provide consumers with absolutely nothing to do to get the cleaning started. Here whether you're heading out to work or for a walk, the Roomba i1 can start cleaning based on the user's geolocation. So, just leave the house, the Roomba i1 starts cleaning and when you return it finds the house clean.
Roomba i1 pricing and availability
The Roomba i1 robot vacuum cleaner arrives at major retailers during the month of May and is available for €429.
4gnews editors recommend: