Apple
"Look around" in Apple Maps: Street View alternative available in other German cities
APPLE
Apple Maps is expanding its Google Street View alternative "Ummachen" for two more German cities. You can now explore these metropolises from your iPhone.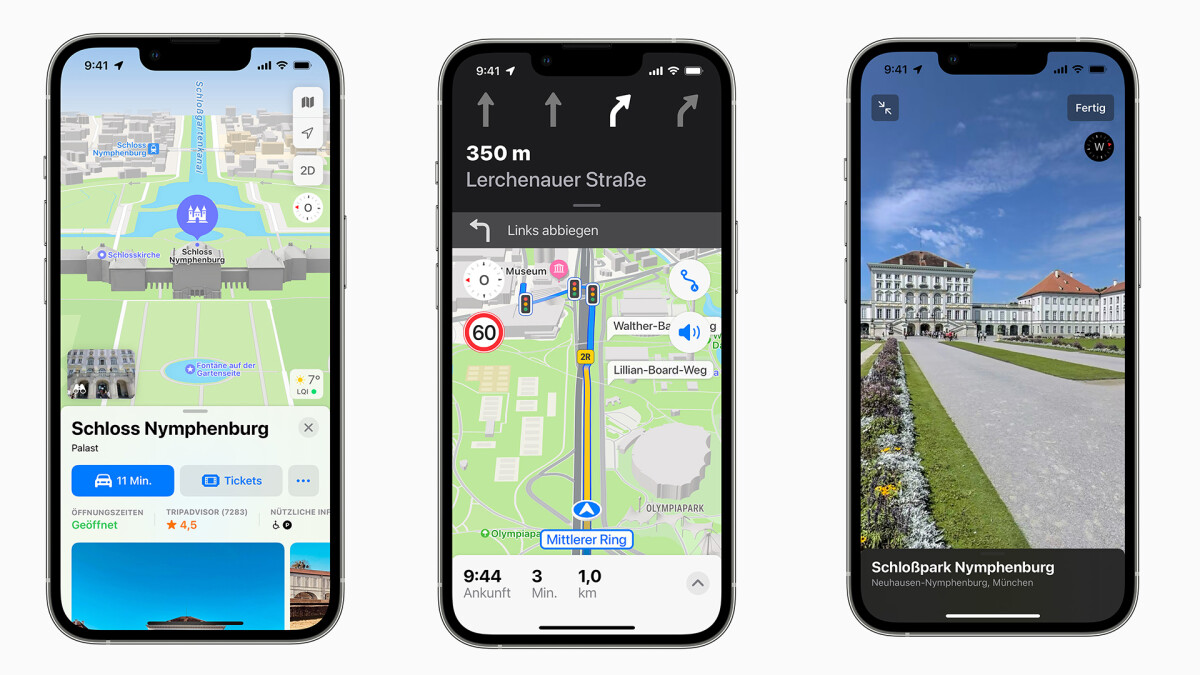 In Apple Maps, "Look Around" is a real alternative to Google Street View.
Munich was recently the first German city to receive the function.
Two other major cities are now following in Stuttgart and Frankfurt am Main.
Apple has continuously developed its "Apple Maps" map service in recent years. However, larger function updates were mostly limited to the USA and other individual regions. Recently the Navi-App then receive a comprehensive update package for Germany. Above all, commuters and pedestrians will benefit from the new functions.
Was Google with Streetview for years, Apple is gradually adding to Germany. The "Look around" function has been available in the USA for some time, and Munich has also been a virtual tour since April. Frankfurt am Main and Stuttgart are now also included.
Apple Maps: Innovations for Germany
Apple Maps gets new features in Germany.
In comparison with Google Maps, exploring in "Look Around" works more smoothly, and the photo quality of the recordings is also significantly better – but availability is still extremely limited.
Improved maps, more reliable navigation

With the latest update, the map app also offers improved map material for Germany. In addition to more than 60 sights in 3D (Brandenburg Gate, Elbphilharmonie and Co.), there is a more detailed ground cover and improved navigation.
Apple promises comprehensive views of streets, buildings, shopping malls and more, among other things. In addition, the navigation and control was also over voice assistant Siri improved. With "Siri Natural Language Guidance" there are now more natural, easier-to-understand instructions such as "Turn left at the next traffic light."
An integrated lane assistant is intended to help avoid wrong turns and missing exits by directing users to the correct lane in advance. In addition, the respective maximum speed in the App displayed.
Estimated time of arrival is easy to share with family and friends. It is now also possible to report danger spots or speed checks – you can use Siri for this too: "There's an accident ahead" or "There's something on the road".
Better directions for pedestrians, nothing new for cyclists

Pedestrians also benefit from the new update. Directions in augmented reality are now available for a few selected German cities. Buildings in Berlin, Frankfurt am Main, Hamburg, Cologne and Munich can be scanned with the iPhone. From this, the map app should determine the position and provide detailed directions in augmented reality.
Matching this, there are now over 1,000 curated tourist guides available to explore many cities around the world. Includes endorsements from the Washington Post, the National Park Foundation, and other brands. In addition to sights, you will also find suitable activities.
If you are by bike or E-Bike are on the road, everything stays the same. There are no new functions for cyclists with the current update. Apart from that, we would also like to tell you at this point specialized bike navigation apps guess, same goes for the Navigation while hiking.
Apple's built-in updates are a welcome addition to anyone using iPhone, iPadthe Apple Watch or are on the road via Carplay. In some places, the new features are serious competition for Google Maps, but the search engine giant is still clearly superior in the Street View area.
Don't miss anything with the NETWORK-Newsletter
Every Friday: The most informative and entertaining summary from the world of technology!