News
With the Scénic Vision, Renault lifts the veil on the future of its cars
Engaged for two years in a real "Renaulution", the Renault group has unveiled a concept car that embodies the manufacturer's commitments in terms of sustainable development. The Scénic Vision foreshadows the brand's future vehicles.
With the Scénic Vision, Renault embarked on the exercise of the concept car. A demonstration often quite pointless for car manufacturers who can have fun without having to commit to the production of this kind of vehicle. For Renault, however, it was a question of integrating into a car all of its commitments in terms of sustainable development, which will bring the group to carbon neutrality in Europe from 2040 (2050 worldwide).
A concept car that foreshadows future Renault cars
The Scénic Vision is a 100% electric family vehicle that operates in hybrid electric and hydrogen. The battery has a capacity of 40 kWh and its fuel cell is 16 kW. Renault has developed a "range extender" technology which enables a battery that is twice as light for the same range.
The concept car features a 160 kW synchronous electric motor, the 4.4 meter long car weighing 1.7 tonnes. 70% of the materials used are recycled, and more than 95% are recyclable, including the battery. The floor of the vehicle was composed by agglomeration of plastic waste; 30% of plastic is biobased. Instead of leather, Renault has chosen 100% recycled polyester.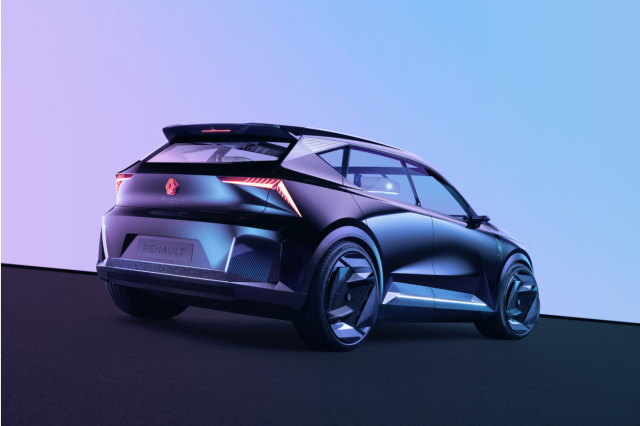 The manufacturer called on Jean-Michel Jarre for the audio equipment and the work on the acoustics. Each seat is equipped with microphones and loudspeakers to provide its own sound environment, while maintaining optimal communication. The artist also worked with Renault engineers to define the "sound signature" of the concept car.
The exterior of the vehicle announces the shapes of a new family model to be released in 2024. As for the interior design, it is a prospective study on the brand's future interiors. The Scénic Vision is therefore not a hit for nothing!