News
here are the first APS-C hybrids in RF mount
Canon has just announced the arrival of two new APS-C hybrid cameras on RF mount. The EOS R7 and EOS R10 mark a new turning point in the rich history of the Tokyo firm.
Four years after the announcement of the EOS R mirrorless camera rangeCanon finally marries the APS-C format to its RF mount. The firm announces the arrival of the first two APS-C hybrids of the EOS R system, with EOS R7 and EOS R10. A turning point for Canon which explains that it wants to bring "the technological advancements of the EOS R system in the very popular APS-C format". While Canon has worked hard to develop its fleet of hybrid cameras with 24×36 sensors and RF mount optics, fans of APS-C sensors were somewhat left behind. If Canon has the EF-M mount, the latter cannot compete due to the lack of ambition of its cameras and the rather limited choice of lenses.
The decision to develop devices with APS-C sensors in RF mount could also seal the fate of the EF-M mount. Today these are the ambitious EOS R7 and the "small" R10 that interest us.
Canon EOS R7: the APS-C hybrid for sports and wildlife photographers
The EOS R7 takes the codes of the EOS 7D series and at the same time takes over the reflex 7D Mark II. This box does not hide its ambitions and seeks to seduce wildlife and sports photographerss. The latter will be able to take advantage of the additional range of the APS-C format, Canon also emphasizing speed and autofocus. In this sense, it is intended more for experienced audiences to tame its 32.5 megapixel APS-C sensor which Canon enthusiasts will compare to the EOS 90D or M6 Mark II. The manufacturer also explains to us that it is indeed a "new sensor"; while the five-axis mechanical stabilization makes an appearance on an APS-C camera.
As a reminder, there is a crop factor of 1.6x (as on EF or EF-S SLRs), which means that a 70-200mm lens will offer a 112-320mm equivalent on an EOS R7.
In order to convince on his favorite playgrounds which are animal photography and sport; the EOS R7 provides a frame rate of shooting by mechanical shutter at 15 fps and climbs to 30 fps with the electronic shutter. Added to this is a maximum mechanical shutter speed of 1/8000 of a second with the mechanical shutter and 1/16000 in electronics. Featuring the latest DIGIC X processor, the case adds a RAW burst mode at 30 fps and a pre-shooting mode. It allows you to record images taken 0.5 seconds before pressing the shutter button.
The video is not left out with the possibility of film in 4K (UHD) at 30 fps without cropping, upsampled from 7K. We are also entitled to 4K at 60 fps and Full HD at 120 fps ; as well as a C-Log 3 mode. Another interesting development, the recording time is no longer limited to 30 minutes and the box ensures up to 6 hours of continuous recording.
And the design?
Regulars of the brand will not be out of place, the EOS R7 using the codes of other Canon cameras. Its approach is reminiscent of that of the EOS R5 and EOS R6, with however some subtleties such as the new wheel with integrated joystick. The case is also equipped with two new switches; one to switch from photo mode to video mode, the other to switch between AF and MF modes.
The case is rather complete with its dual SD card slot, compatible with UHS-II cards. It adds a USB-C port for data transfer, in addition to the classic micro-HDMI, headphone and microphone jacks. The EOS R7 is also certified "Made for iPhone" and adds Wifi and Bluetooth 4.2.
In terms of weight, the EOS R7 is a rather light weight with its 612 grams on the scale. The template is also contained and recalls the EOS R6 with dimensions of 132 x 90.4 x 91.7 mm.
Canon EOS R10: an APS-C hybrid with good reflexes
To accompany the EOS R7, Canon also offers a more modest EOS R10 as evidenced by the presence of "two digits". This case, which relies on versatility targets more photo and video enthusiasts who were waiting for a hybrid in APSC-C format on the EOS R system. The EOS R10 even eclipses its big brothers by taking the title of lightest body in the Canon catalog ; with a weight of only 429 grams. It is ahead of the "small" EOS 250D SLR with which it also shares the size. It can be compared to an EOS 90D in terms of its positioning in the manufacturer's range.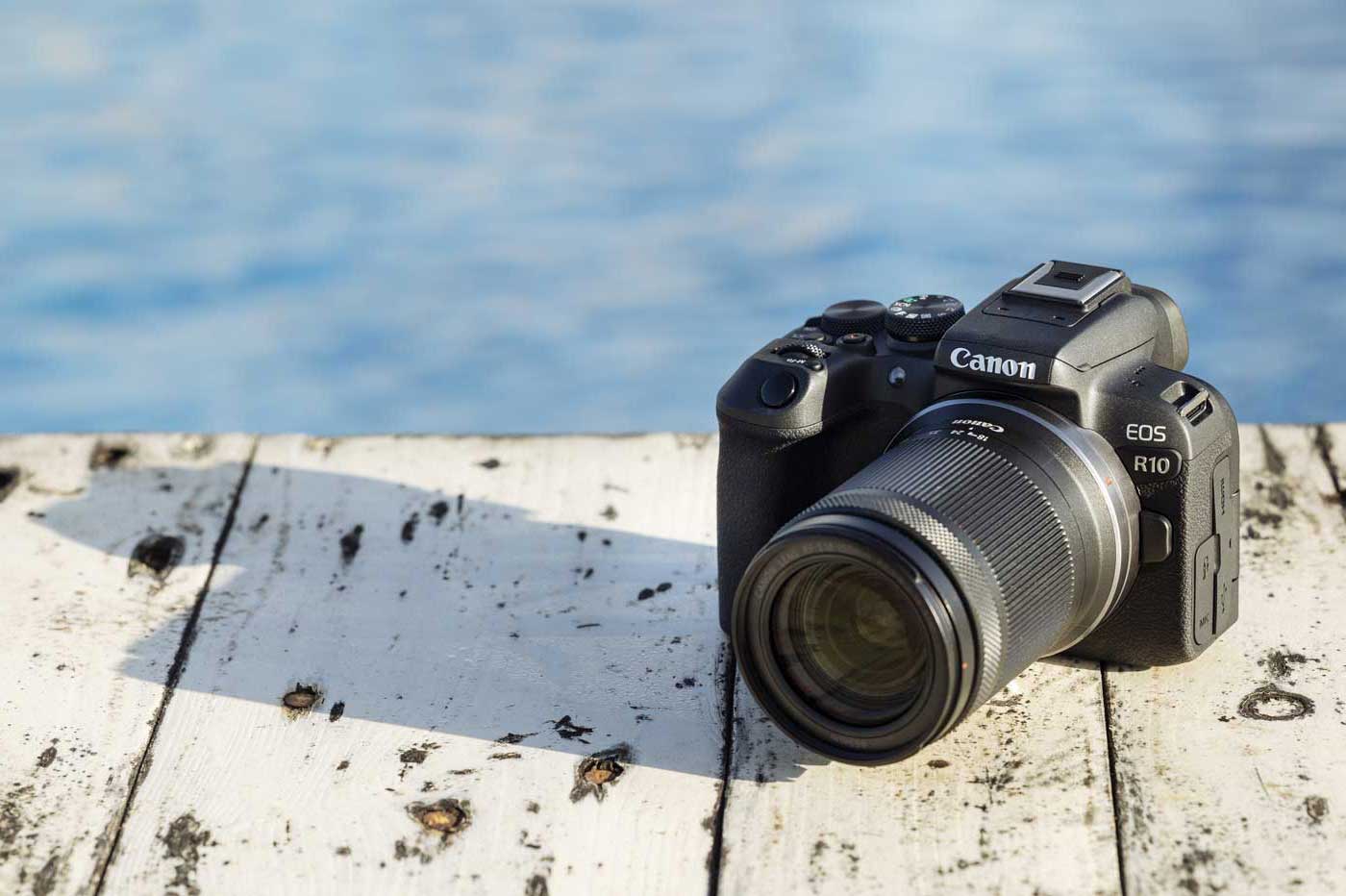 Like the R7, it is here a question of benefiting from the RF mount. The crop factor of 1.6x is present and the case offers compatibility with optical equipment in EF and EF-S mounts. Both Canon cameras are indeed delivered with an EF-RF adapter ring (see below). This small model has a 24.2MP APS-C sensor, but it ignores mechanical stabilization. Canon assures that it is a "new" sensor and explains that its EOS R10 offers a burst at 15 fps in mechanical shutter: and 23 fps in electronic shutter.
Light, compact and quite affordable
Great performance in perspective for a box that also ensures the tracking of humans, animals or even vehicles. We better understand the versatility touted by Canon, this EOS R10 being able to render proud services in many areas. He can even invite himself on wildlife or sports photography. The video provides a captures footage up to 4K at 30 fps, upsampled from 6K and without cropping. You can also access Full HD at 120 frames per second ; with the possibility of filming for 2 hours of affiliate. Indeed, it is no longer necessary to impose a recording limit of 30 minutes.
To accompany its new cameras, Canon inaugurates the passage of RF-S optics. Regulars will note that Canon is inspired by the reflex with the EF-S to offer the RF-S 18-45mm F4.5-6.3 IS STM and the RF-S 18-150mm F3.5-6.3 IS STM. The former is an ultra-compact zoom while the latter is a more versatile zoom.
Price and availability
The Canon EOS R10 will be available "end of July 2022", priced at 979.99 euros (naked with an included EF – EOS R adapter ring). It will also be available in two sets : the first adds the RF-S 18-45mm F4.5-6.3 IS STM zoom to display at 1 099,99 euros ; the second offers the RF-S 18-150mm F3.5-6.3 IS STM with a price of 1 379,99 euros.
Regarding l'EOS R7, it arrives at the end of June. Naked, it will be marketed at 1 499,99 euros and comes with an adapter ring for EF SLR lenses. A kit including the body and the RF-S 18-150mm F3.5-6.3 IS STM would show at 1 899,99 euros.
The two Canon zooms will also be available from the end of June. Count 349,99 euros pour le RF-S 18-45mm F4.5-6.3 IS STM et 569,99 euros pour le RF-S 18-150mm F3.5-6.3 IS STM.