Apple
iOS 16: supported devices, innovations, beta – you need to know about the new Apple system
APPLE IPHONE SE (2022)
Apple unveiled iOS 16 at WWDC 2022. We'll tell you which devices will receive the update, what innovations you can expect and when you can try out the iOS 16 beta.
The time for speculation is over. Apple gave a preview of iOS 16 at WWDC. The updates for iPhone are supposed to come along with the iPhone 14 appear in autumn. What innovations are included?
With iOS 16, Apple is focusing primarily on the lock screen and, according to software boss Craig Federighi, is giving it the "biggest update in iOS history".
lock screen

You can now not only change the background image, but also provide it with color filters. The color, size and font of the clock and date display can also be adjusted. Furthermore, the lock screen now also supports animated backgrounds and widgets. For the latter, Apple was inspired by the complications of the Apple Watch.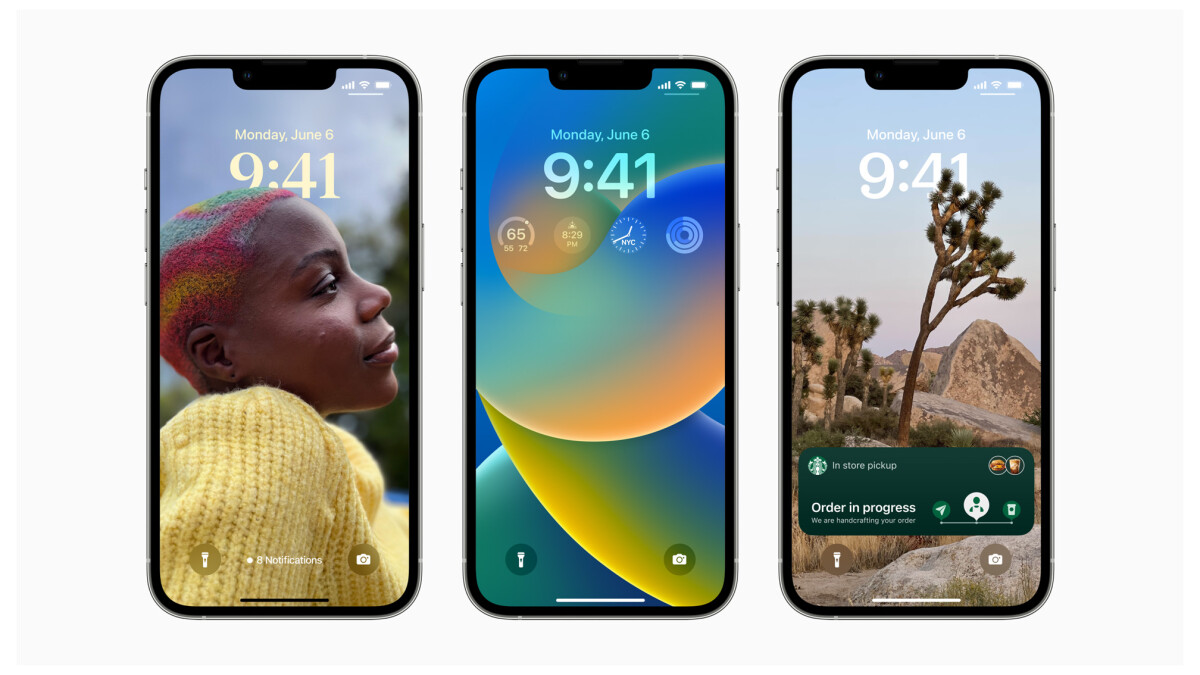 Apple even goes so far that you can create multiple lock screens and manage them using the focus function. If your focus is on work, the appropriate lock screen will be displayed. You can find templates for this in a gallery.
The new programming interface "Live Activity" should even be able to bring constantly updated content – such as a live sports ticker – to the lock screen at a later date.
So that notifications do not cover any elements on the lock screen, which you have lovingly designed, they will be displayed here at the bottom of the screen in the future.
iMessage

iMessage is also getting a major update with iOS 16. From autumn you can edit sent iMessage messages or call them back completely. Apple gives you 15 minutes to do this.
In addition, the feature previously limited to FaceTime "SharePlay" extended to iMessage. In addition, you can now edit your children's ScreenTime requests directly from Messenger.
Other innovations

In addition, Apple is making numerous minor innovations, which we have summarized for you below:
Apple Maps now gets bike navigation. You should also be able to plan routes with up to 15 stopovers.
You can create a personal Spartial Audio profile using the iPhone's TrueDepth camera.
The next generation of CarPlay should not only adapt better to the screen available in your car, but also be able to "talk" to the components of your car and read out and display data from them.
The dictation function now also understands emojis and should automatically set punctuation for longer messages. Furthermore, the on-screen keyboard now remains visible when dictating, so you can quickly switch between text and speech input.
The live text function is also getting an update. You can now convert prices in foreign currencies. The feature should now also work with videos.
iOS 16 offers door recognition for blind and visually impaired people.
With iOS 16, Apple Wallet will offer you the opportunity to verify your ID to apps that require it. You can show a car sharing app directly that you have a valid driver's license.
You can also come with me Apple Pay soon pay amounts in installments. "Apple Pay Later" is what Apple calls this function, which allows you to pay the required amount in four installments.
These iPhones will get iOS 16

Apple releases iOS 16 for all iPhone models released since 2017. This includes the following smartphones:
iPhone 8 (Plus)
iPhone X
iPhone XR
iPhone XS (Max)
iPhone 11
iPhone 11 Pro (Max)
iPhone SE (2020)
iPhone 12 (Mini)
iPhone 12 Pro (Max)
iPhone 13 (Mini)
iPhone 13 Pro (Max)
iPhone SE (2022)
At the same time, this means that iOS 15 was the last major update for the iPhone 6s (Plus), iPhone 7 (Plus) and the iPhone SE (2016).
Try iOS 16 in advance: When does the beta start?
Apple is now offering developers the opportunity to try iOS 16. A public beta for fans is scheduled for release next month.
How do you care for the Sign up for the iOS betawe show you in the linked instructions.
Planned Apple iOS update for…
The update to Apple iOS Apple iOS 16 is to be rolled out for the following devices:
Don't miss anything with the NETWORK-Newsletter
Every Friday: The most informative and entertaining summary from the world of technology!