News
Samsung unveils an application to store passwords, bank cards and even keys
Samsung intends to bring its Pay and Pass applications together on a single platform, which now supports cryptocurrency.
Samsung will centralize its security and payment applications. The Korean manufacturer has announced the arrival of Wallet, a new versatile platform that should replace not only Samsung Pay, but also Samsung Pass. Objective: to centralize all of its sensitive data on a single, secure interface. Available since today on certain devices of the brand, Wallet should greatly facilitate the life of its users.
Samsung integrates crypto
Cryptocurrency may be at the heart of an unprecedented crash, Samsung continues to bet on non-fiat currencies. The brand's new wallet will logically integrate with the already existing Blockchain Wallet application, allowing BTC owners to check the status of their crypto account. It is currently unknown whether NFTs will also be included, but the initiative could greatly facilitate access to non-fiat currencies for novices.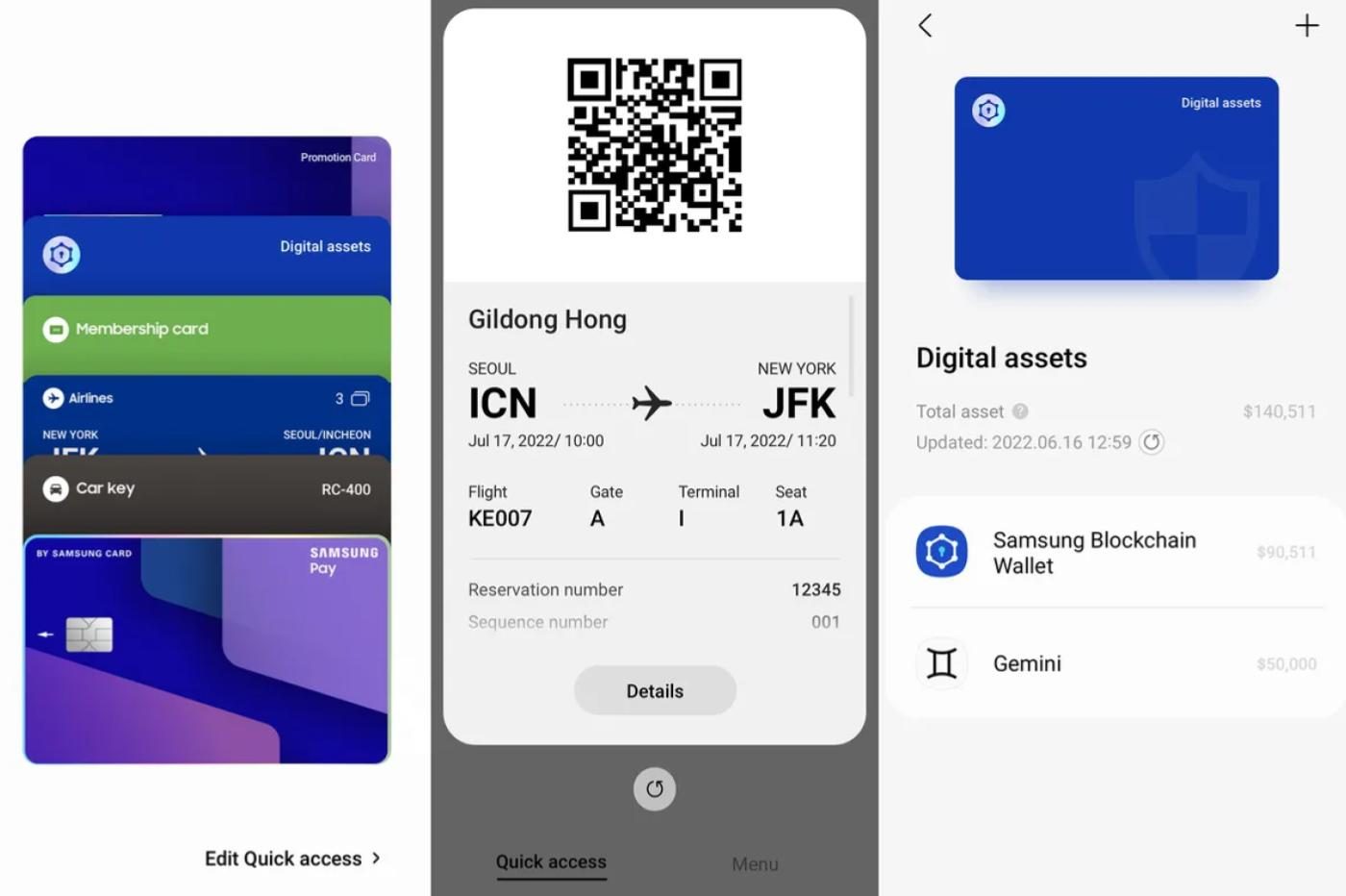 Car keys, house keys and even driver's license
In addition to paying and storing passwords, Wallet will also allow unlock your car : until now, the feature was accessible on Samsung Pass, and only for the Genesis GV60 model. Now compatibility extends to Genesis G90, Hyundai Palisade, as well as select BMW vehicles. In the United States, compatibility with several smart home security companies will also make it possible to integrate the application into the application. house keys. Finally, Wallet now supports Boarding passes from Korean Air. Other air carriers should quickly be added to the list.
The trend is towards everything dematerialized, and Samsung plans, unsurprisingly, to integrate certain sensitive identifiers into its new wallet. Among them, the driver's license, and perhaps the digital id cardwhich has just arrived on iOS and Europe.
And France in all this?
If France already benefits from Samsung Pay and Samsung Pass, the Wallet application is not yet accessible at the time of writing this article. It will probably be necessary to wait a little to see the software arrive with us, the latter being for the moment reserved for the United States, the United Kingdom, and certain European countries. Also remember that to take advantage of these features, you must have a recent Samsung smartphone, running at least under Android 9. For perfect compatibility, it is also necessary that the device be equipped with a dedicated eSE security chip, and UWB (Ultra Wide Band) connectivity. Only the Galaxy Note 20 Ultra, S21+, S21 Ultra and Z Fold 2 models tick all the boxes.