Do you want to create a personalized ringtone for iPhone, without Mac or computer? There is an easy-to-learn solution.
If you have an iPhone, you probably know that unfortunately it is not possible to configure a personalized ringtone. You may download this sound, this same audio, this music that makes you want so much: iOS does not let you do what you want. Don't worry, there is a solution, rather simple at that. Surprise: no need to use any computer or Mac for this, everything happens directly from the touch screen of your iPhone!
Create the ringtone on your iPhone via an app
For the time being, Apple does not offer any official application allowing you to create your own ringtones. If this type of functionality was legion in a now distant era, a plethora of ringtones are already offered in smartphones and via dedicated applications. Therefore, developers must probably say that creating their own ringtone was no longer necessarily useful?
Nay, many of us want to keep this touch of personality when we receive a call or a message. To be able to do this, you must first download an application to create a ringtone, here we have chosen Ringtones Maker. Don't worry, it's available for free on the App Store; you will simply need an iPhone running iOS 9.0 at least. Suffice to say that if this is not your case, you have in your hands a relic of a bygone era.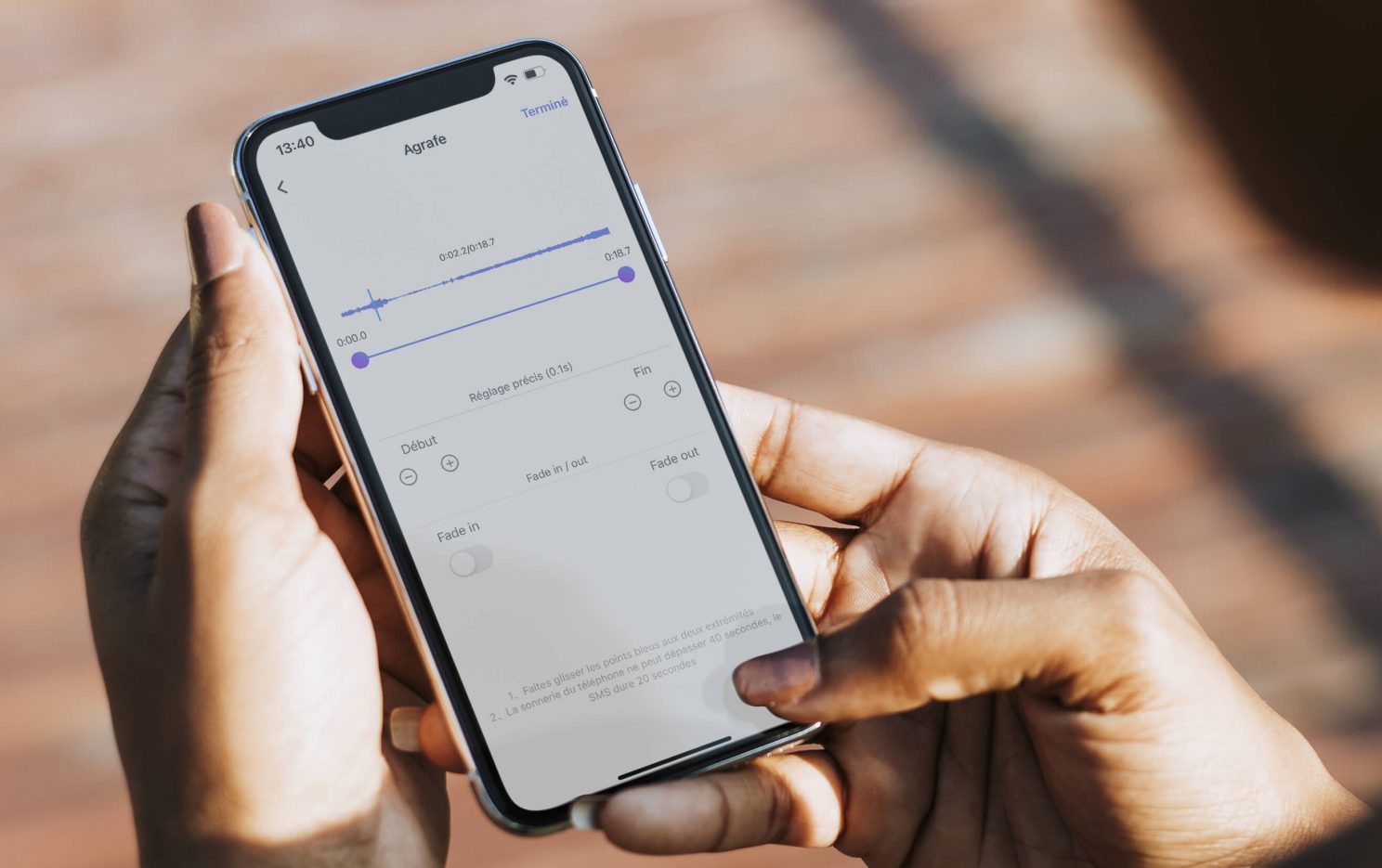 Once the application is downloaded on your iPhone, the procedure is rather simple. Click on the "+" at the bottom of the screen to initiate the creation of a ringtone, then several choices will be offered to you:
Import an audio track from a video;
Import from computer;
Download an audio track from the application library;
Synthesize a voice by writing the desired text;
Record your own voice;
Import from Apple Music;
Import from file;
Import from another application.
In addition, you have many possibilities here. Within the limits of legality, you can therefore use music (free of rights) and cut it as you wish. After selecting the audio track via one of the many possibilities offered by the application, you can therefore choose a part to isolate via the Ringtones Maker interface.
Just tap on the sound you just imported, then tap on the scissors icon captioned "staple"; then select a maximum of 30 seconds on the track. It is necessary to respect this defined time, since a ringtone cannot last more than 30 seconds on iOS. Once done, simply click on "done" at the top right of the screen.
Set it as your iPhone ringtone
The ringtone is ready, but beware: iOS does not allow (for now?) to set any audio file as a ringtone. To do this, we have to go through another application, called Garage Band. If how many people you didn't want to keep Garage Band on when you first turned on your iPhone, it's time to go re-download the app for free from the App Store.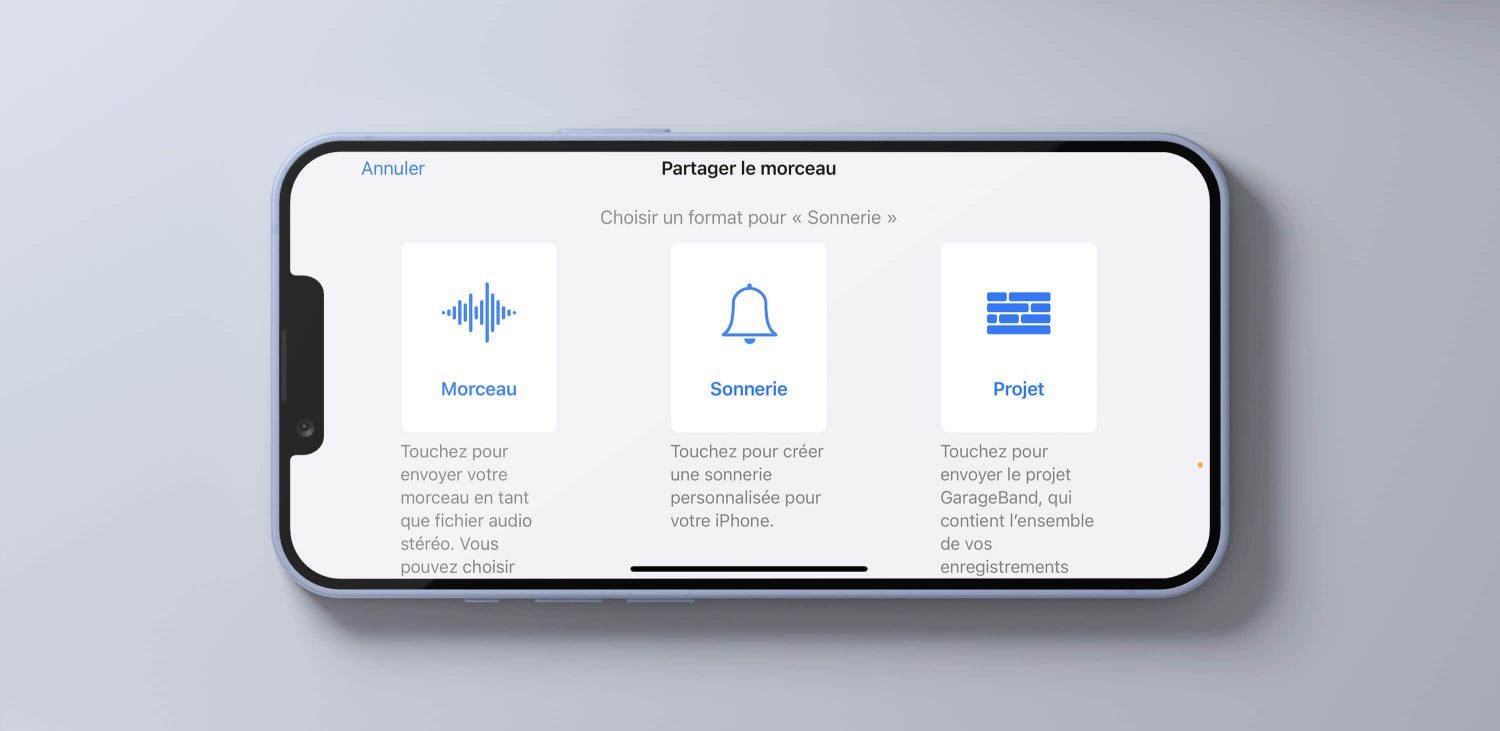 Once the app is available on your iOS, return to Ringtones Maker. Find the ringtone you just created in the previous step, then click on the "do" button. This opens the sharing window for you. From the list of apps, choose Garage Band. The file you just created will be available in Garage Band's "recent files". Long-press it, then click "Share" in the menu. Next, tap on "Ringtone". Choose the duration of it, then press "continue".
The last step offers you to change the name of the ringtone, if you wish. Once done, click on "export" at the top of the screen, then go to your iPhone's ringtone settings. In the list, you can select the one you just generated. Choose it, and that's it! Your custom ringtone has just been set as your iPhone's ringtone.